In 1848 gold was first discovered in the Kenia River in South Central  Alaska. Along with that gold find, many gold prospectors hurried to this wild frontier to strike it rich. Many people have lost their lives in this wild country. But gold has been found in almost every part of Alaska making it one of the most gold-rich states in the Union.
With all those prospectors of old occupying Alaska stories of lost treasure are bound to come with it. From lost gold mines to sunken shipwrecks full of treasure and even a story of a ghost ship that holds valuable furs. You will learn about these stories and more as I take you on a wild ride of the 13 Lost Treasures of Alaska.
13 Lost Treasures of Alaska
| TREASURE | AMOUNT | LOCATION |
| --- | --- | --- |
| The Lake of The Golden Bar | Sand Bar of Gold Nuggets | Small Lake in the St. Elias Mountains |
| Lost Gold Ore In The Harris River Mine | 18 Sacks of Gold Ore | north side of Harris River about 3/4 of a mile from the mouth of the Twelvemine arm and its underwater |
| The Seal Captains Treasure | Million Dollars in Gold Coins | Red Bluff Hill on Adak Island in Alaska |
| Mad Trapper Johnsons Cache | An untold amount of gold | Near Eagle River around the Richardson Mountains |
| Baychimo Ghost Ship | Preserved Valuable Furs | Alaskan waters |
| Sour Dough Sailers Lost Mine | Gold Mine | Near California Creek |
| Lost Klondike Gold | Fruit Jars full of gold dust and nuggets | Klondike in Alaska |
| Lost Cabin Mine | Gold Mine | Southeastern Panhandle of Alaska |
| Northwest Airlines Plane Crash Treasure | Millions in Chinese Gold Bullion | Canyon in Mount Sanford |
| Charlie Stone's Golden Ledge | eight-foot ledge full of golden laden quartz | Half-moon lake eight miles from the right side of Patterson River. |
| Lost Frenchman's Mine | Gold Mine | The southern tip of Dall Island |
| Lost Placer Gold | Placer Gold | 70 miles North of the Kuskokwim River |
| Lost Gold-Bearing Ledge on the Fortymile River | Gold-bearing ledge | 20 miles up from the mouth of the Fortymile River on the right-hand side |
The Lake of The Golden Bar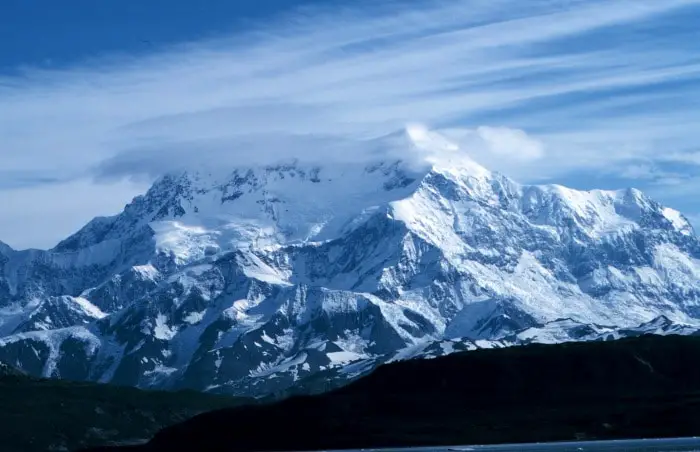 Mount St. Elias
In the year 1884 three men set off over the St. Elias Mountains which are located close to the Yukon River. Their names were Charles Ulrich, Hartford, and Gault all of which were former workers on the Canadien Pacific Railroad. They were looking to strike it rich in the Yukon Gold Rush.
Ulrich, Hartford, and Gault came upon a small lake that they noticed something shining brightly on a sand bar that was in the distance. The three men then decided to swim to the sand bar. What they saw amazed them. The sand bar turned out to be full of gold nuggets glistening in the sun.
So the men built a small cabin there so that they could prospect the area. The prospectors decided to stay there for a few weeks storing the gold nuggets that they picked up in a nearby cave. The prospecting was going so well that they decided to stay longer which turned out to be a bad idea.
It was getting close to winter when they were attacked by the Tlinghet Indian tribe that was nearby. The cabin ended up being burned to the ground and one of the prospectors was killed. But Charles Ulrick ended up making it out by hiding in a cave made of log debris.
It's not clear which one of the other two died or what happened to the third man but Charles Ulrick ended up getting out with his life and 1000 ounces of gold. He made it to California and settled in Montana until his death in the 1930s.
Charles never returned to the lake with the golden bar so it could still be out there waiting to be rediscovered near St. Elias Mountains in Alaska!
---
Looking For a Top Rated Metal Detector That Won't Cost You Thousands of Dollars but works like a $2000 machine? Then you will want to check out the Garrett AT Pro. This Metal Detector Has all the top features you would expect in a quality metal detector. Check it out today it's available on Amazon!
---
Lost Gold Ore In The Harris River Mine
In the late 1920s, there was a man named John Vial. John was a miner at the Harris River mine. When John was drilling in, ore that looked promising he would go to the tunnel after supper telling everyone he wanted to see how the ground broke after blasting. But he had other intentions in mind.
John was actually picking quarts samples that showed free gold. He would hide some in sacks and leave them in the tunnels, and when he found extremely rich ore samples he would put those in a glass jar and would hide them under the cabin he was staying in.
In 1927 there was a rock slide that nearly killed him and he ended up in the hospital and didn't return for a year. When he returned his jar full of rich ore samples was gone. But John had 18 sacks of gold ore that hidden in the mine. Unfortunately, John was too weak after his accident to move the heavy sacks of ore.
He ended up leaving the sacks in the mine. He never returned to the mine and anyone since has recovered the gold ore because in January of 1929 the mine was shut down. The mine was eventually flooded by the Harris River. A man that John had told about the sacks of gold ore didn't think it was worth pumping out the water of the mine to find the ore.
If this gold ore exists today, it is located on the north side of Harris River about 3/4 of a mile from the mouth of the Twelvemine arm and it's underwater.
The Seal Captains Treasure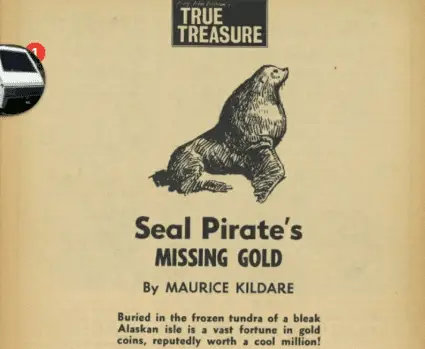 Gregory Dwargstof was captain of the Hitsap that was a ship that was used for the killing of seals for their skin and oil. Captain Dwargstof had stolen a million dollars worth of gold coins from the Sealing Association that he was a member of.
It is said that he buried the gold somewhere on Red Bluff Hill on Adak Island in 1892.
According to a story in a 1971 issue of True Treasure Magazine, some of the buried coins were found by two U.S. Army soldiers in WW2. The soldiers were digging a footpath around Red Bluff Hill when they dug up two 2-1/2 sized tin cans that were filled with $10 gold coins. More coins were found in 1959 by Navy men in the areas. They found $800 in gold coins in rusted tin cans.
Although some of the gold coins have been found most of the reported million dollars could still be buried somewhere on Red Bluff Hill on Adak Island in Alaska.
---
BOOK: 10 Treasure Legends: Alaska 
                Lost Gold Hidden Hoards & Fantastic Fortunes

AUTHOR: Jovan Hutton Pulitzer

PAPERBACK: 276 pages

WEIGHT: 1.23 pounds

DIMENSIONS: 8 x 0.63 x 10 inches

Available on Amazon.
---
Mad Trapper Johnsons Cache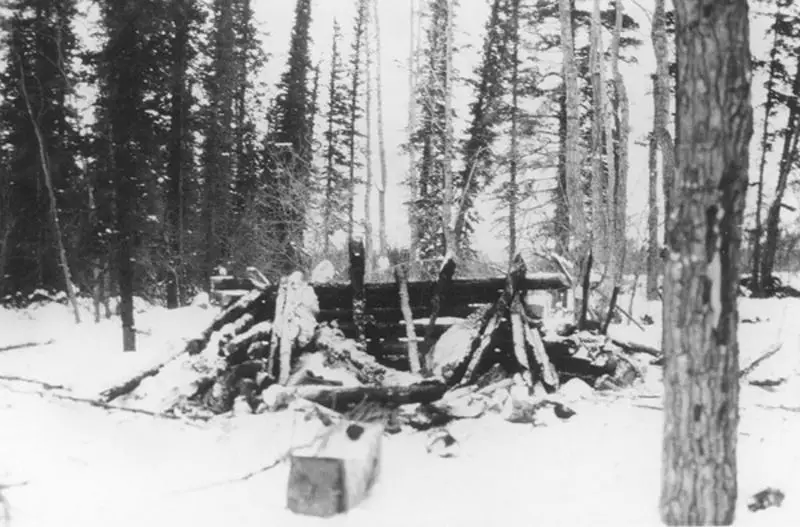 Albert Johnson although some think this was a false name was a trapper in the Northwest Territories and Yukon in Northern Canada. The story starts with Albert Johnson making his way down the waterways in a homemade raft until he got to the Mackenzie River delta. He then landed on the banks of Rat River where he built a small 8ft. x 10ft. cabin.
In December of 1931, a trapper complained to the Royal Canadien Mounted Police or (RCMP) in Aklavik that someone was tampering with his traps by tripping them and hanging them in trees. He pointed his finger at Albert Johnson. After hearing of this accusation the RCMP decided to send two mounties to question Albert about the issue.
Special Constable Joe Bernard and Constable Alfred Kind were sent to Alberts cabin to question him on December 26, 1931. Albert wouldn't talk so they decided to go back to Aklavik and get a search warrant.
The constables got the search warrant and went back to Alberts cabin with two other men. Albert Johnson wouldn't talk and the mounties decided to try and break down the door. Albert Johnson opened fire and shot Constable King through the door wounding him. The four mounties subsequently went back to Aklavik.
Posse Pursues Johnson
The RCMP decided to form a posse of nine men, 20lbs of dynamite, and 42 sled dogs. Once they reached Johnson's cabin they lit a charge of dynamite and threw it into the cabin. The little cabin collapsed and the mounties tried to go in but Johnson had dug a five-foot hole under the cabin where he opened fire at the mounties.  After a 15 hour standoff, the mounties went back to Aklavik again to regroup.
By now the whole world knew about the manhunt for Johnson. A bigger posse was formed and set off to Johnson's cabin once again on January 14, 1932. Johnson was not at his cabin. They ended up surrounding him in a thicket on January 30th. A firefight broke out and Johnson shot and killed Constable Edgar Millen. The posse withdrew. They then enlisted the Inuvialuit and Gwich'in native peoples to help in the search because they knew the rough terrain and backcountry very well.
Johnson left for the Yukon and got away by climbing over the Richardson Mountains. The RCMP enlisted aviator Wilfrid "Wop" May to fly his Bellanca monoplane across the Richardson Mountains in an attempt to locate Johnson.
On February 14, 1932, he located Johnson's tracks. They eventually caught up with Johnson at a camp he had made along the Eagle River. Gunfire broke out and an RCMP officer was wounded and Johnson was finally killed.
It is said that Johnson had a lot of money and gold and some think he buried on the border of Alaska and the Yukon. So if you are ever in the area of Eagle River around the Richardson Mountains you might want to have a metal detector handy because you might stumble upon Mad Trapper Johnson's Cache!
Baychimo Ghost Ship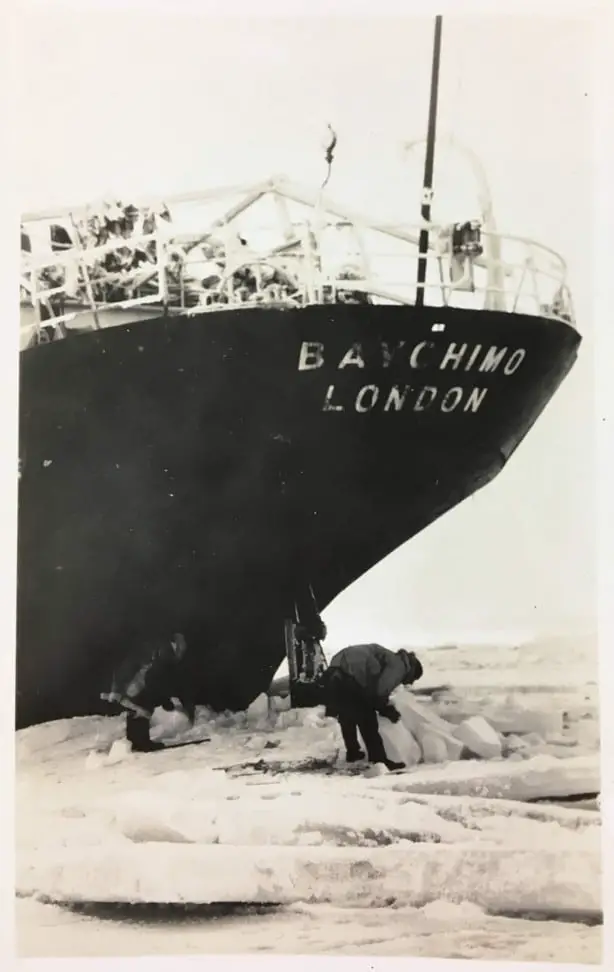 The story of the SS Baychimo is an interesting one, to say the least. Baychimo was a cargo steamer that was built in Sweden in 1914. She was used for transporting fur pelts that the Hudson Bay company purchased from the Inuit people along the Victoria Island coast of the Northwest Territories in Canada.
On October 1, 1931, the Baychimo was along the Alaskan coast and was abandoned by the crew because she was trapped in an ice pack. She was loaded down with fur at the time. The crew left the ship and went to the town of Barrow for shelter. They were gone for 2 days and when they returned the ship had broken from the ice.
On October 8th the ship was again trapped by ice and on October 15th the Hudson Bay Company sent out an airplane to rescue the 22 crew members. 15 of the men stayed to wait out the winter. The men stayed in a wooden shelter that they had built. A blizzard hit on November 24th and when the blizzard was over the Baychimo was nowhere to be seen. The captain came to the conclusion that she had sunk during the blizzard.
A few days later a seal hunter spotted the Baychimo about 45 miles away from where it last stood. The crew decided to leave the ship where she was because they didn't think she was going to survive the winter. They removed as much of the fur cargo as they found and abandoned the ship.
Baychimo was spotted numerous times over the years and attempts were made to board her but none were successful. The SS Baychimo was last seen in 1969. Is this ghost ship still sailing unmanned around Alaskan waters? Who Know but if the SS Baychimo is ever found afloat she might still have valuable furs aboard that would be preserved from the cold!
Sour Dough Sailers Lost Mine
A man only known as Irish Casey had been a sailor before he started prospecting in the Yukon in 1897. Casey lived in a small town called Fortymile which lay along the Fortymile River.
Casey was trying to cross from Franklin to Davis creek where a man named Howard Franklin had found coarse gold deposits back in September. Casey got lost out there but eventually made it to California Creek. He wandered upon a birch tree that had a rusty ax hanging from it.
He then saw an opening in a hillside that had quartz that was decomposing. A large quantity of gold ore had been left exposed. Casey was able to pick it up by hand without any equipment. Casey then went back to with some of the gold ore he had found. He ended up dying soon after and right before his death he made a map of the location of the mine and gave it to a man named Jim O'Brien. O'Brien then gave the map to Arny Hart in 1898.
In 1920 Hart went to California creek to look for the mine but he never found it. That mine is still out there waiting to be rediscovered.
Lost Klondike Gold
A man only remembered by the name of Frank lived in a small settlement called Welsh Hill in Pennsylvania. In July of 1897, Frank heard the news of the Klondike gold rush taking place. Frank got excited by the news and decided to get all his things together and take off for Klondike. He believed he could strike it rich.
Frank did strike it rich and filled a dozen fruit jars full of gold dust and nuggets. He went back to Welsh Hill four years later with the gold.
Frank told everyone that what he brought back was only a sample of what was out at his claim near Dawson. After a few months, Frank decided to go back to his claim which was about 50 miles from the Alaskan border. After he had been gone a couple of months there was no word from Frank until one day a letter was sent to Frank's relatives from a stranger. The letter stated that Frank died in the Klondike of an illness.
Franks's sister was skeptical about his death and decided to go find out what had really happened to her brother. She made it to his cabin and found him frozen dead on his bed. The cabin was all tore up inside from someone trying to find his gold stash.
Friends of Frank felt that he would have been more clever than to hide the gold in his cabin. They believe he would have hidden the gold somewhere outside the cabin possibly in the ground or in caves. Some of Franks's friends said they would return to Franks's claim to find his gold but another was ever found. It could still be hidden somewhere in the Klondike area near Alaska.
Lost Cabin Mine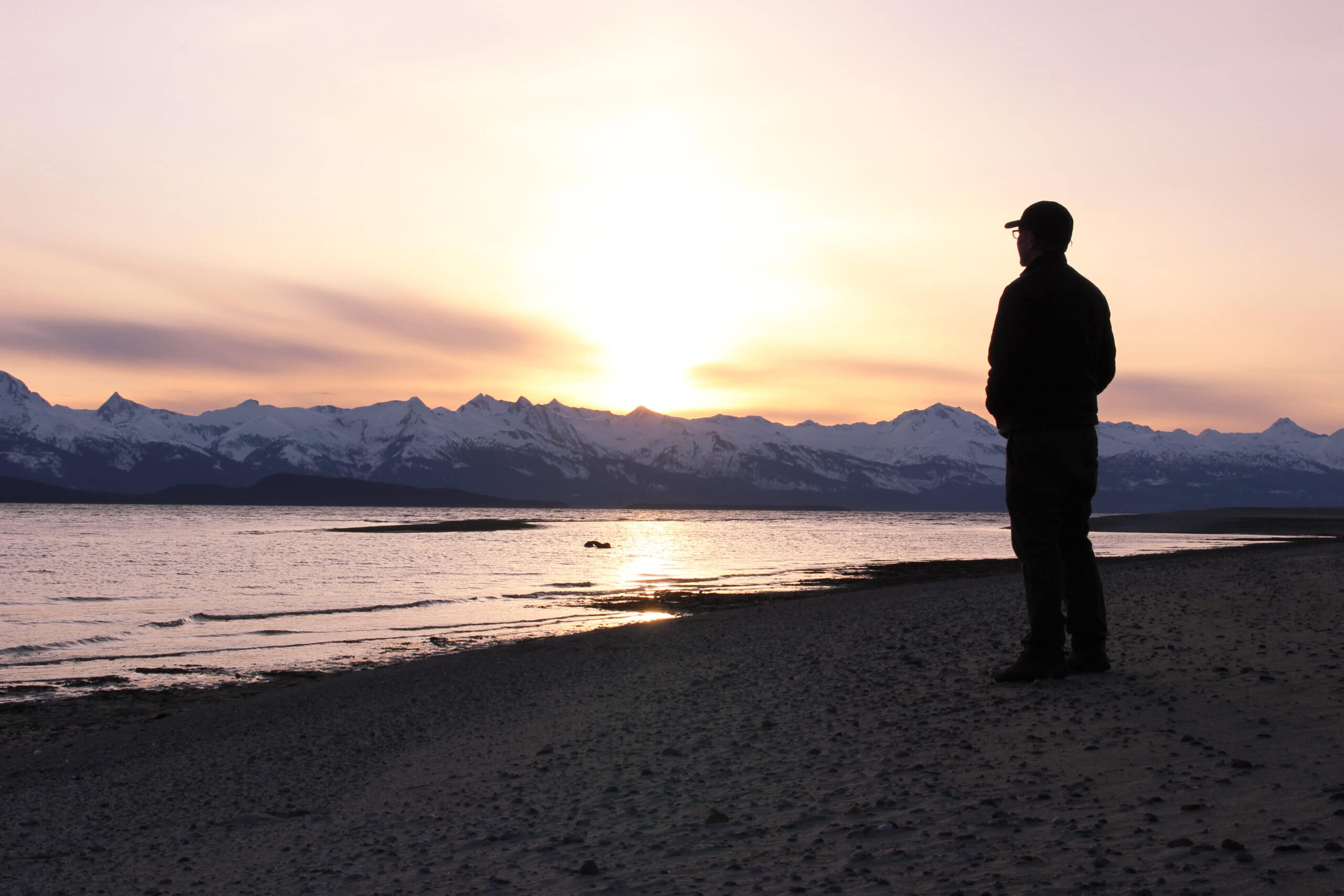 In 1902 a gold prospector was working in an area on the remote coast of Southeastern Alaska discovered an area rich in gold-bearing quartz. He put up a cabin there and spent a few weeks working the area digging up samples and doing assessment work.
He drew a detailed map of the area and decided to head back to Seattle by steamer ship. Once in Seattle, he had no problem finding others to invest in his venture. Once they found out that the gold samples that he brought back were worth $1370 a ton he gained a few partners to go back with him to mine the claim.
The following spring they all hoped on a steamer that was headed for Juneau, Alaska. Once they got to Juneau they made it to the settlement of Haines. After this, they made their way up[ the St. Elias mountains a very wild and wicked country at the time.
Days later one of the partners made his way back to the Haines settlement where he told a tail that everyone else had died trying to cross the glaciers. They never made it to the cabin.
To this day the cabin had never been found but if you are a rugged individual and think you are up to it you can take a trek up to the top of the Alaskan Panhandle and try to find the lost cabin mine!
Digging Deeper: 14 Lost Treasures of Wisconsin [Stake Your Claim]
Northwest Airlines Plane Crash Treasure
According to the Anchorage Daily news issued in 1977 states that a DC4 Northwest airlines plane crashed into Mount Sanford on March 13, 1948. The plane was headed to Shanghai China to deliver 30 men that were the crew of a Chinese tanker.
All 30 men died and the 3 man plane crew. The tanker crewmen were rumored to be carrying millions in Chinese gold bullion which was from the sale of the tanker to the Chinese government and also the crew's wages.
A few people have tried to reach the wreck to recover the gold without any luck. One attempt was made by putting lightweight ladders up the slopes of mount Sanford so they could try to reach the top of the canyon and be lowered in. The closest they got was 300 feet from the wreck. They ended up turning back because they were afraid of triggering an avalanche.
In 1957 a group trying to salvage the plane noted that the plane was all but buried by fallen rocks and only its tail section was still visible. The millions in rumored gold have never been recovered.
Charlie Stone's Golden Ledge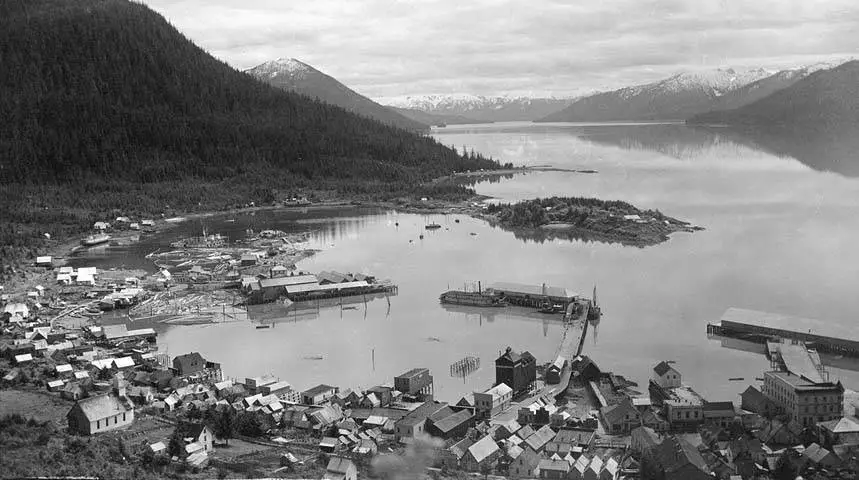 Wrangell Alaska around the time Charlie Stone would have been there.
In June of 1900, a man by the name of Charlie Stone had an Indian guide who told him after much coaxing about a golden ledge that lay about 50 miles northwest of Wrangell, Alaska. The Indian guide even showed Charlie a piece of quartz that was laced with gold that he had found there.
The Indian went on and told Charlie where to find this golden ledge. He said to go to the Bay of Death which was the Indian name for Thomas Bay and camp on the right side of Patterson River. Then he said to go up the river eight miles to the high country then walk a mile and a half and you will come upon half moon lake that's where the golden ledge lays.
Charlie did just like his Indian guide to him and he found a lake shaped like an S. He panned the lake and found some gold but nothing too exciting until he saw a shiny piece of quartz that was laced with free gold. There lay an eight-foot ledge full of golden-laden quartz. Knowing that he found a rich deposit of gold he quickly covered it up and made a map of the landmarks in the area.
There was Point Vanderput at the mouth of Thomas Bay. Also  Cape of Strait light and Frederick Sound were in the vicinity. On his left, he also saw the mouth of Wrangell narrows and the Sukhoi Islands.
Charles brought some samples of ore back to Wrangell. He showed his friends and told them about the golden ledge. He then promptly left for the U.S. never to return to Alaska. Stones' friends spent many years looking for the golden ledge but it had never been found.
Lost Frenchman's Mine
In the early 1880s, a Frenchman came to the village of Howkan to get more supplies for his prospecting venture. The Indian villagers were excited because a white man was in town and he paid for his supplies with pure gold.
Howkan was a small island village of the Haida Indians. It's located on Long Island and one of the small islands that are known as the west coast of Prince of Wales Island. 100 Haida native Indians lived there and there was also an established Presbyterian mission that set camp there in 1881.
The Frenchman got his supplies and left. He was soon forgotten about. He then returned one day and bought more supplies in which he had more gold with him. The Frenchman came back many times to the Howkan store and bought supplies each time having more gold than the previous.
A new storekeeper came into town and became interested in this Frenchman and his presumably rich strike that he was getting his gold from. The storekeeper asked him many questions about where he was getting his gold but the Frenchman wouldn't tell him. The storekeeper got a few Indians together to follow the French prospector only to lose track of him through the islands and reefs.
One day the Frenchman hopped aboard a steamer and sailed away to Victoria, British Columbia never to return. The gold the Frenchman had found is probably of the southern tip of Dall Island. But the island is so isolated that no one else has mined the area and the Frenchman's mine has never been found.
Lost Placer Gold
Kuskokwim River 1900
In 1912 two men by the names of Russel Hixon and Forrest Hayden came to Kantishna from Ohio to strike it rich prospecting for gold. There was an area 70 miles north of Kuskokwim River that had not been mined up to that point.
They met a half-breed Russian Indian named Anatol who knew the area well to help them find a good spot to pan for placer gold.
The 3 men went out there with one sled and weren't heard of until September of 1912 when Hayden came back to Kantishna with news that they had found a great gold strike on the Kuskokwim River. The men in town didn't believe him. He said he had returned for supplies and more men to help set up a camp on the Kuskokwim River.
Knowing that the men in town didn't believe him Hayden angrily left out on his own to meet back up with Hixon and Anatol. Forrest Hayden and Russell Hixon were never seen again.
But in 1914 a man believed to be Anatol ended up in a small settlement close to modern-day Palmer, Alaska. He had two big bags with him full of placer gold. There could still be lots of gold where Hixon, Hayden, and Anatol found their gold strike because that area on the Kuskokwim River has never been thoroughly prospected.
Lost Gold-Bearing Ledge on the Fortymile River
Two men named Bates and Harper trekked over the mountains from the Yukon River to the Tanana River in the summer of 1881. Bates ended up falling in the river but was saved by some tree limbs that were overhanging. He got himself onshore. Harper finally caught up with him and they set up camp for the night.
While scrounging around for firewood Harper noticed small gold nuggets on a ledge. They took some samples from the ledge and went their way the next morning.
Bates and Harper ended up back in San Francisco, California. They had the ore samples that they retrieved from the ledge assayed. The amount came back as a whopping $20,000 per ton.
Harper tried to find that gold-bearing ledge a year later but was unsuccessful. They said the ledge was located 20 miles up from the mouth of the Fortymile River on the right-hand side. That gold-bearing ledge has never been found to this day.
Final Thoughts
Alaska has a rugged and rough history not only the people that lived and prospected there but also the terrain. These are only a few of the stories of treasure in Alaska. There are many more I'm sure. If you plan on visiting Alaska just keep in mind the laws of the land before you do any metal detecting or digging. You wouldn't want to land yourself in hot water.
I hope you enjoyed the 13 Lost Treasures of Alaska and if you have any stories of Alaska treasure that you would like to share please leave them in the comments section below we would love to hear from you. Until next time Happy Treasure Hunting!