Headphones are an essential piece of equipment that you need for metal detecting. You can always purchase some cheap headphones but if you are going to use them to help you find that hidden treasure then you will want to purchase a set that is specifically designed for metal detecting.
In this article, you will learn what the 5 best metal detecting headphones are and what to look for before purchasing a pair of metal detecting headphones.
What are the best metal detecting headphones? After researching headphones of many different kinds I have chosen the Detector Pro Gray Ghost Ultimate as the best of the best metal detecting headphones that you can find. With this set of headphones, you will hear every tone your metal detector makes with Chrystal clarity so that you will find every target you come across!
---

---
Choosing a Good Pair of Metal Detecting Headphones
Before purchasing a good pair of headphones for metal detecting you will want to take a few things into consideration.
Mono and Stereo
You want to make sure that the headphones offer both mono and stereo. This is because metal detectors come with both mono and stereo. You never know when you need to switch from a mono metal detector to a stereo metal detector or vice versa. If you don't have headphones that have both you will end up not hearing anything at all.
---
Headphones Jack
Most metal detectors come with ¼†plug so make sure that the headphones you buy have a ¼†jack. There are very few metal detectors that have a ⅛†plug so just make sure you check which type of metal detector that you have before purchasing a pair of headphones. This will save you a lot of hassle in the long run.
---
Volume Control
Some metal detectors don't come with volume control so make sure you some sort of volume control on your headphones. There's nothing worse than not being able to control the volume when you are metal detecting.
If you have hearing problems you could opt for a set of headphones that has separate volume control for each ear. Having double volume control will really help you fine-tune your headphones for the best audible experience possible.
---
Noise Canceling
You will want to pick a set of headphones that are excellent at canceling out external noise so that you can hear the beeps and click that the detector makes when it detects metal. If it's quiet enough in the area that you are detecting then this isn't an issue.
But if you are in a noisy park or around flowing water then a good pair of noise-canceling headphones is a must. They should fit snuggly around your ears in order for them to be good at canceling out noise.
---
Comfort
Of course, you want to get a set of headphones that is comfortable to wear with enough padding because you will be wearing them for hours at a time more than likely and if they are uncomfortable to wear you won't want to metal detect with them on for very long.
So make sure there is plenty of padding around the ears and the top part as well because when you take them off you will be putting them around your neck and you want them comfortable for that as well.
---
Digging Deeper: Do You Really Need Headphones For Metal Detecting?
---
5 Best Metal Detecting Headphones
Now that you know more about what to look for in a good set of metal detecting headphones I have compiled a list of 5 of the best metal detecting headphones on the market today. Once you have a great set of headphones you will enjoy metal detecting much more and have more success at it.
The following are my picks for the 5 best metal detecting headphones.
---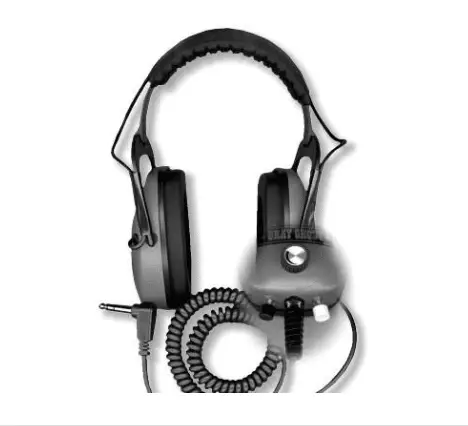 First on my list and the number 1 pick is the Gray Ghost Ultimate Headphones by Detector Pro. This is the upgraded version of the Gray Ghost and Detector Pro, knocked this one out of the park!
You get it all with the Gray Ghost headphones. You can hear the smallest targets and still have the power at full volume. There are easy-to-use push buttons to control the headphone's volume which is shielded out of the way.
The sound quality on the Gray Ghost Ultimate is superb because they added special elements in a tuned cavity design. There are also push buttons instead of a switch that's located by the main strain relief.
There is also a limiter circuit that helps in smooth reduction at high volume levels. The limiter can be disabled by the push of a button.
Another added feature is an industrial-grade nylon 6/6 strain relief that is at a new angle so that it hugs your neck better. This added feature helps reduce the stress that you sometimes get on the cable so that it hangs closer to your body. This, in turn, helps in keeping the cable from getting snagged on trees and brush that you sometimes find while metal detecting in wood-covered terrain.
Top Features
Single rotary volume control

Push-button switch that activates limiter

Heavy-duty muff-to-muff connection cable.

Industrial grade Nylon 6/6 pigtail strain relief on cord termination.

Heavy-duty polymer muffs with full-ear surround, soft comfortable cushions.

Special low-noise signal limiting circuitry protects your hearing from high volume hits without batteries

.

Push-button selector switch for metal detector compatibility without adapters.

Heavy-duty coiled cord with a special three conductor 1/4″, 90-degree angle stereo connector.

Industrial grade Nylon 6/6 pigtail strain relief on cord termination.

A padded headband that can be adjusted

Speaker elements are the ultimate in sensitivity, efficiency, durability, and signal quality.

special sound-blocking muff design eliminating environmental ambient noise up to 24 decibels.

Limited Lifetime Warranty
---
Garrett is a company you can trust when it comes to metal detecting equipment. There are two sets of headphones from Garrett that have made our top 5 list and the first one is the Garrett Submersible headphones.
These headphones are essential if you metal detect underwater. They are submersible up to 200 feet. The Garrett submersible headphones are compatible with the following Garrett metal detectors:
Garrett AT

AT Gold

AT Pro

Infinium LS

Sea Hunter Mark II
Top Features
Padded ear cups

Garrett 2-pin connector

Waterproof to 200 feet
---
Fisher is another great company that produces metal detecting accessories. So it's no wonder why their stereo headphones have made my list.
The fisher stereo headphones feature true stereo sound so you will hear every target you find clearly so you know exactly what you have detected. 
The well-padded headband and ear cups provide for a comfortable day of metal detecting. Nothing is worse than uncomfortable headphones that you can barely stand to wear for an hour. The headband is adjustable for more comfort options.
Top Features
Adjustable Headband

Adjustable Volume Control

Stretchable Cable

Padded Headband and Ear Cups
---
The second set of headphones that made my list from Garrett is the Clearsound Easy Stow headphones. These headphones are basic but the sound is clear with the inline volume control so you can hear every little beep and never miss a target.
The Clearsound Easy Stow is priced right at under $30 but they simply have the sound you need to make a successful day of metal detecting. As the name suggests they are designed for easy stowing.
You get a long, 41 inches coiled cord that extends to 82 inches. This gives you ample room to get around. The ¼†plug allows you to plug it into most metal detectors making for very versatile headphones.
Top Features
Inline Volume Control

Padded Ear Cups

¼†Phone Plug

41†Cord that extends to 82â€
---
Bounty Hunter is another company that manufactures excellent metal detectors and accessories. I introduce you to the Metal Detector Binaural headphones by Bounty Hunter.
These headphones give you full stereo sound so you can hear every beep clearly aiding you in finding every target. No scratchy static with these headphones.
If you have hearing problems you will love the dual volume controls so you can adjust the volume for each ear. The padded ear cups make for a comfortable experience for a full day of metal detecting.
These headphones are compatible with all Bounty Hunter metal detectors except the Bounty Hunter Junior model. They also have clear sound across the Bounty Hunter metal detectors. No need to buy a set of headphones for each metal detector that you have.
Adjustment to fit any sized head is easy with these headphones. The earpieces are made of leather so they will last a long time. The leather is soft and shiny to the appearance so they look great.
Top Features
Volume Control for each ear

Padded Ear Cups

Leather Earpiece

8†Cord

¼†Plug

Compatible with most Bounty Hunter metal detectors
---
Conclusion

– Best Metal Detecting Headphones
So there you have it the 5 best metal detecting headphones. Headphones are an important part of metal detecting. Having a great set of headphones ups your chances of having a successful day of metal detecting and they ensure that you hear every target you can before you dig it up.
You should now have all the information so that you can make an informed purchasing decision. I thank you for reading and as always Happy Treasure Hunting!