As a lover of metal detecting adventures, you likely have enjoyed the hobby for a long time. Even if you are brand new to it, though, you might find that it's something that you wish to share with other people. Whether done as a solo activity or done by buying some metal detectors for kids, the fun is so easy to have. That is why I decided to write this article the 9 best metal detectors for kids.
Metal detecting is a fun, engaging hobby and something that you get to enjoy as you get to spend time outdoors. Also, who knows what you might find?
Most of the time, what you find won't make you a fortune. What it could do, though, is leave you with stories to tell for a lifetime about amazing discoveries from regimes gone by and historical figures. That being said, one thing that many people love most about metal detecting is how social it is. Most see metal detecting as a hobby for those who like isolation – but is that really the case? We don't think so, not at all.
---
Best Metal Detectors For Kids
The best metal detecting experiences are those that are shared with others. OK, you limit the chance of finding a big discovery on your own, but it's so much more fun to share with someone. That's why so many parents today pass on their love of metal detecting to their kids. If you are a parent who wants to introduce your kids to the wonder of metal detecting, then you might want to think about the best way to make it happen.
For most parents, trying to pass on the things that you love to your kids is a lifelong labor. You try to get them to see the world as you did/do, so if that includes metal detecting where do you start?
---
Helping your child love metal detecting
So, the first thing that we recommend you do is show your kids some cool stories about major finds in the metal detecting world. Show them things they would be interested in. If your kids like history, then show them some stories about famous artifacts and items from previous historical regimes that were found by metal detecting groups. It shows them that this isn't just some comical endeavor; it's actually something fun!
At the same time, you can find that helping your child to genuinely love metal detecting is easy because of the opportunities. Find a map of some local places that you could go and check out together and show them the kind of amazing things that you could find. Basically, you need to find some means of inspiring their interest and making them want to come along and check it out with you in the future.
Whatever you can do to try and give them a glimpse of what metal detecting can involve is going to help them fall into the lore and the fun of being a metal detectorist. Show them awesome local spots and even places that you could realistically travel to together. It's like trying to get them into any other hobby.
If you love NBA and basketball, for example, you would get your kid(s) into the sport by showing them legendary plays, the big players, and photos of the kind of arenas that you could travel to together in time. That's why if you love metal detecting that you should absolutely look to go along with one of your kids to try it out. Show them the amazing places you could go and visit together; show them the rich potential of what your adventures might eventually contain!
---
Sharing a hobby with your kids is amazing
Trust us when we say that having the joy of sharing metal detecting together is a truly amazing experience. If you are a parent and you want to build a stronger and more comfortable with your kid, you should look to share metal detecting with them. Why, though? Why should you look to share the fun?
Build a better relationship. One of the main reasons that we recommend you get them involved is to enjoy a better relationship together. Your kids will get to enjoy a happier time with their mother/father and will form a relationship with you based on the things that you both share a mutual love of.
See the world. Another bonus of having metal detecting in their life is that your kids will get to travel with you. It can be hard to arrange family holidays but having the chance to attend events together and to go on metal detecting road trips is a pretty awesome way to spend your time.
Learn about the world. Another nice factor about going on a trip together is that your kids get to learn about the world. They will learn about the items they are finding, as their curiosity will make them dig deeper to learn more about the world and what it involves. It helps them to learn!
Build geographical knowledge. At the same time, your kids will learn not only about where they are, but where they are digging. They'll gain a total appreciation for the world they live in and how they go about having a good time when metal detecting. This makes it very fun indeed for everyone.
As you can see, then, getting your kid(s) involved in metal detecting is a very good idea for most parents.
---
Digging Deeper: How Metal Detectors Work
---
What does a kid need to get into metal detecting?
Before you head off on that big adventure together, though, it makes sense to invest in a few essentials. Pick up some of the following items, and you will find that planning your big trip together is about to become so much simpler than it might have first appeared. So, what should they bring with them?
Versatile clothing. We recommend packing some clothes that are comfortable yet waterproof. You could be out here for hours, and a sunny morning can turn to a rainy afternoon without notice.
Protective clothing. Be sure to bring a sunhat and also a waterproof jacket. You can keep them sun protected with a sun hat, but you can also keep them dry if the weather turns for the worse.
Comfortable shoes. Always be sure to look to the shoe aisle, too. Bring them a comfortable pair of hiking shoes and a pair of shoes they could wear for trips along the beach and other softer terrain.
Accessory bag. Always look to fill out a small accessory bag for them, too. This should include things like first aid equipment, storage for any essential goods, and space for their spare clothing.
Grab bag. Another bag to bring is a grab bag. This is for safely storing and categorizing everything that you both find on your trip around the place. Look for bags with plenty of spare compartments.
Signal booster. Who knows what you have found on your trip? Having something that can boost your internet signal might help you to identify what you have just come across in the ground easier.
Metal detector storage. Make sure you have a place to keep the metal detector itself, too. You want to make sure you can keep it stored until it's needed.
Supplies. Foods, drinks, and anything else that you might need for the journey should be packed together. This makes it much easier to find the supplies to turn a session into a full day.
---
Buying the best metal detector
Of course, what use is all of the above without a good quality metal detector for kids?
If you want to enjoy the experience, then it really does pay to invest in the best metal detector that you can find for your kids. In a bid to help you make the right choice, here are some of the best detectors on the market. Choosing the right detector can seem like a daunting decision, but this should hopefully remove some of the uncertainty around your choice moving forward.
If you want to make sure that your kids have fun, it has to be a metal detector that is friendly and appealing to kids. Handing them something that is out of their skill level is naturally not going to help them much. So, too, will handing them a metal detector that lacks any kind of adult features. Avoid buying them a toy, but also avoid buying them something for professionals.
---
Digging Deeper: How to pick the right metal detector
---
Before you buy…
Before you go ahead and make a purchase, though, we think it's important to note just what you are going to be buying. When you go to buy a metal detector today, you have plenty of choices to go through in your head. In a bid to help you make the best choice, here are some useful choices to take into account when you are making your call.
What will you be looking for? First off, work out what you will be searching for. Most of the time you will be looking for smaller items like coins and jewelry. Work that out before going further.
Where can you go adventuring? Geography obviously plays a big role. If you live in a mountainous area then you might need something that is made for more rugged and rough terrain, for example.
How skilled is your child? Does your child use technology much? Think about that closely. If they are not very tech-savvy, then you want something that can minimize the work needed first and foremost.
How heavy is the detector? Always factor in the weight, as if it's quite a heavy detector you might want to make provisions for carrying it further. Keep this in mind, as it will play a huge role in your progress.
What is your budget? Naturally, you want to set some kind of legitimate budget for buying a quality metal detector. We recommend you look to try and set a fair budget that allows for progression.
The aim here is to buy metal detectors for kids that are useful, easy to use, suited to their skill level, but challenging enough to offer them a mental reward for finding something precious.
---
The Best Metal Detectors For Young Children
Before you go ahead and buy anything, though, we recommend you take a look at the following metal detectors for younger children. These are aimed mostly at children in the age range of around 4-10, so should be suitable for most youngsters. Basically, if they are brand new to metal detecting this should help to whet their appetite.
---
1.      The Bounty Hunter Junior
By far and away the best choice for most kids would be the Bounty Hunter Junior. It's a brilliantly priced model and is easily the best starting place for the vast majority of parents. Such a purchase is going to be easy to use and should, in theory at least, be exactly what you are looking for.
Most of the time, it offers you the cheapest entry point for a metal detector for kids. It's simple to use, too, so it should be easy to grasp the basics within an afternoon. Within a few sessions, your kid should have total control over the Bounty Hunter Junior.
Definitely, a good place to start if you want something that's easy to use, simple, effective, and more or less reliable for any youngster who is still learning about the wider industry.
---
2.      Garrett Ace 250
The Garrett Ace 250 is a spectacular choice for most kids who are looking to take the next step up from the Junior. However, it's easy enough to learn that you could easily hand this to a kid and make this their first choice of detector.
It's easy to use but it will also introduce them to some of the more advanced features. It also comes with enough versatility that you could maybe go and take a metal detecting session to a new piece of terrain. For that reason, you should definitely look to use the Garrett Ace 250 in any evaluations of the best metal detectors for kids.
---
3.      The Bounty Hunter Quicksilver
If you like the Bounty Hunter brand over some of the other options, though, take a look at the Bounty Hunter Quicksilver. This is a very impressive piece of kit and one that has gathered a fair amount of attention in a very short space of time.
It offers the most features, so it would be a fine upgrade on either of the above options. This is very easy to handle, too, making it a good choice for a child who is growing more into the advanced years.
---
4.      National Geographic Junior Metal Detector
If your little one is still growing into the idea of metal detection, then investing in the National Geographic Junior Metal Detector is a good idea. It's a high-quality choice for kids because it has an adjustable arm, comes with a full-color learning guide that will teach your child all about metal detecting and how it works.
This metal detector is lightweight and has a waterproof search coil so getting it wet at the beach is no problem. This detector can detect up to 6″ deep into the ground for small coins and other metal objects. An LED light will flash and the machine will beep when a metal object has been detected
Overall, it makes an ideal introduction to the industry for kids.
---
The best metal detectors for teenagers
---
5.      Garrett Ace 400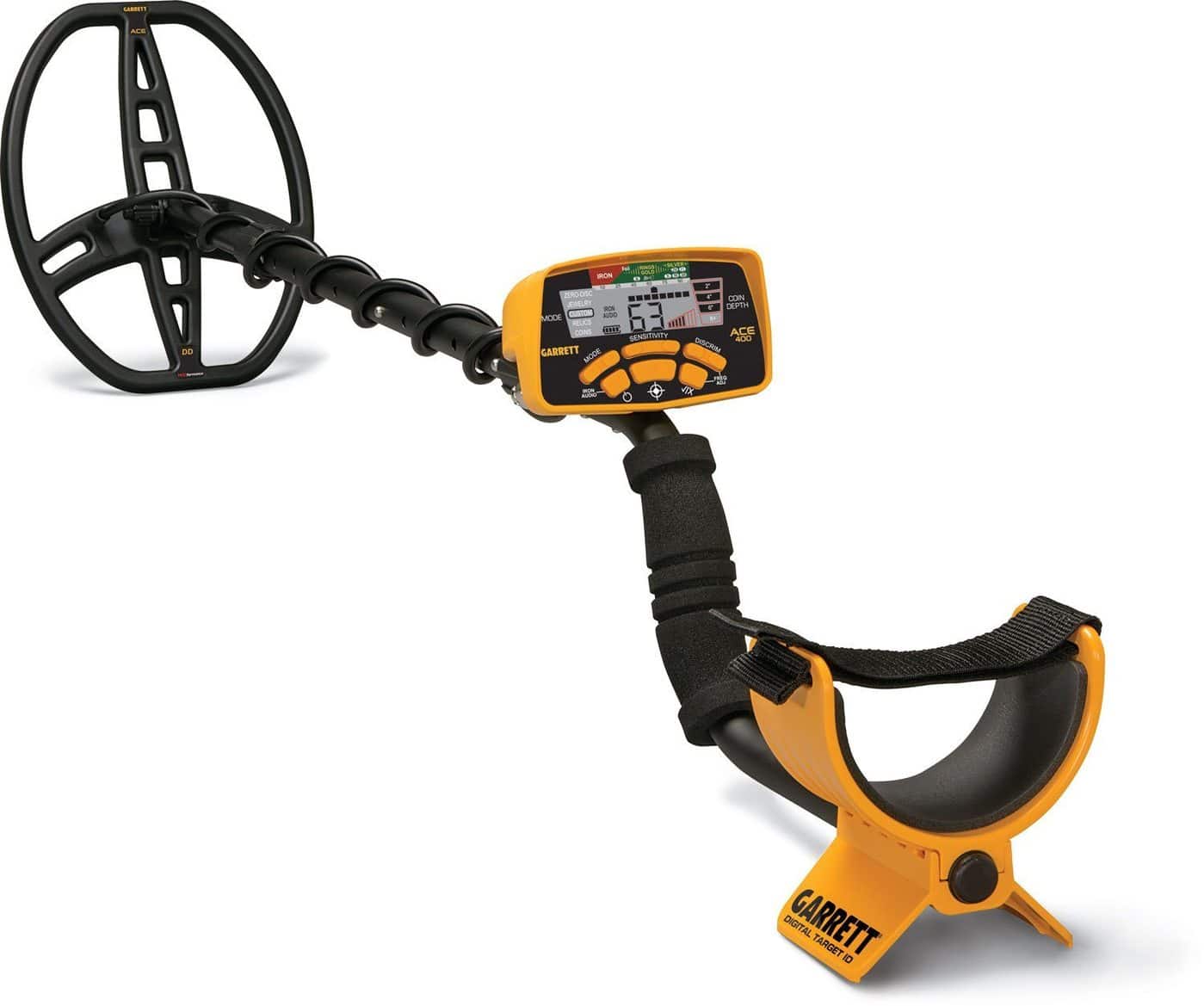 If your kid loved the Garrett Ace 150, then they will absolutely adore the Garrett Ace 400. This is a top-quality choice, and that is extremely suitable for both younger users and adults. If your child is over the age of 10 and they have your supervision, they should have an easy enough time getting to understand the Garrett Ace 400.
However, we do recommend making sure you spend some time with them to help them understand exactly what it does and why. For a newbie, it can be a bit confusing – at least initially. Once they get their head around its advanced features, though, they should start making some very impressive discoveries when out and about with you or alone. For any youngster who is moving from taking this as a fun hobby to something genuinely serious, consider the Garrett Ace 400.
---
6.      Fisher F22
The Fisher F22 is a fine choice if you are looking for something easy to carry around. If you and your kid are going for a camping trip with some light metal detecting thrown in, an F22 is more than good enough to suit your personal needs. This should work well as a simple solution to allow you to easily and effectively control the experience, as the F22 offers plenty of options for someone still growing into the role of metal detecting.
At the same time, though, any child should enjoy using this as it allows them to be a bit more advanced in their decision-making. That's why we highly recommend you look to get a Fisher F22 if you are looking for something that is going to be easy for them to use but also easily scalable as their experience levels grow in the near future.
---
7.      Dr. Otek Metal Detector
One for most kids who want something that is easy to learn from is the Dr. Otek metal detector. OK, it's a touch basic if they are running around with either of the above but it's a good place to start. We would generally recommend this to anyone who is looking for something simple, effective, and easy to help a child understand the basics of the experience.
It's a simple, easy enough starting point for anyone aged 10 or above if they are brand new to metal detecting. If they use either of the above, though, look elsewhere.
---
8.      Kentoktool
This metal detector is for kids and beginner adults, the Kentoktool metal detector, makes a fine addition to any young metal detecting lovers' collection. It's got a lot of features packed in that they might not have used on other models, and it's also got a very unique sensitivity mode for a beginner. This allows them to scour much deeper than they normally would/could when it comes to metal detecting.
For a youngster and someone who is new to the experience, this is a very good starting place. It also has a pretty high-end discrimination filter, so it can quickly and easily rule out the kind of junk that you want to get them out of the habit of looking for. If your child has made some good progress with some of the more newbie-friendly options we have considered so far, this is definitely something for you to look at.
---
9.      Minelab X-terra 305
Lastly, we recommend you take a look at the highly impressive Minelab X-terra 350. This has become a good choice as it has so many unique settings and so much bespoke customization. If you want to help your child become confident enough that they can set up their own parameters, then you should definitely look to pick up one of these items. They are a good choice for many reasons, not least because using one is going to prove a challenge for most youngsters.
Try it out, and you will soon see why so many kids who use a Minelab model soon become far more experienced and refined in general. It's a tough learning curve, but one that just about any child should enjoy taking part in if they wish to become a better, more rounded metal detector.
It's an easy model to master once they get used to the basics, though, making it a fantastic starting point.
---
Making a choice – Best Metal Detectors For Kids
With the above metal detectors for kids, you now know what to look out for when it comes to making the purchase. Now, you just have to work out what detector you would like to use the most. Pick wisely and talk with your child about the kind of options that are open to you both.
This will help you to easily make a choice regarding what metal detector for kids is going to be most useful to them personally. As ever, take their personal wants and needs into consideration before you go ahead and make any choice.
I hope I provided some useful information for you so you can make a wise purchasing decision. If you have any questions or comments feel free to leave them in the comments section below. Until next time Happy Treasure Hunting!