If you are looking for a metal detector that won't break the bank but has many of the essential options necessary to find treasure then you will want to stick around for my Garrett Ace 300 review.
Metal detecting is an exciting hobby to get into and the right metal detector will make it all that much more enjoyable. After you have read this review you will have all the most important information you will need to make a sound buying decision. 
So sit back and take it all in as I give you my take on the Garrett Ace 300 metal detector.
Garret Ace 300 Review
If you are looking for a metal detector that is one step up from an entry-level machine then the Ace 300 is for you. It's an affordable detector that has all the right settings to help you find more coins, jewelry, and relics that have been lost in the ground.
Top Features
The Ace 300 has some features not always found in metal detectors of the same price level. All these features come in handy when it comes to finding the treasure you are searching for. So the following are the top features that will help you in your metal detecting adventures.

Adjustable Frequency
When detecting in groups where there are other metal detectors around or a lot of electrical interference the being able to adjust the frequency of your metal detector is crucial to your success.
The Ace 300 allows you to do just that.
Digital Target ID
The digital target ID helps you identify what type of metal you are detecting based on the conductivity of the target. You get a digital reading 0-99 of the target that displays on the front of the control panel.
If the target you are detecting is highly conductive like silver, copper or gold the scale will read in the higher numbers such as the 80s or 90s. Iron because of it's low conductivity will ring anywhere from 0-30 on the digital scale.
For best results using the target id, you will want to center the target under the search coil and sweep flat keeping the search coil at the same height at all times.
Electronic Pinpointing
Finding the precise location of your target has never been easier with the electronic pinpointing setting that you get on the Ace 300. It's a non-motion all-metal pinpointer built right into the search coil.
Iron Check
If you are detecting in an area littered with iron trash just switch on the iron check function and you will get enhanced iron discrimination that will help you find the treasure beyond the junk that might be buried alongside the treasure.
Graphic Target Analysing
This setting shows the conductivity of the target along with the discrimination pattern that accompanies the target. This gives you a clearer picture of what your target is.
Who is the Ace 300 For?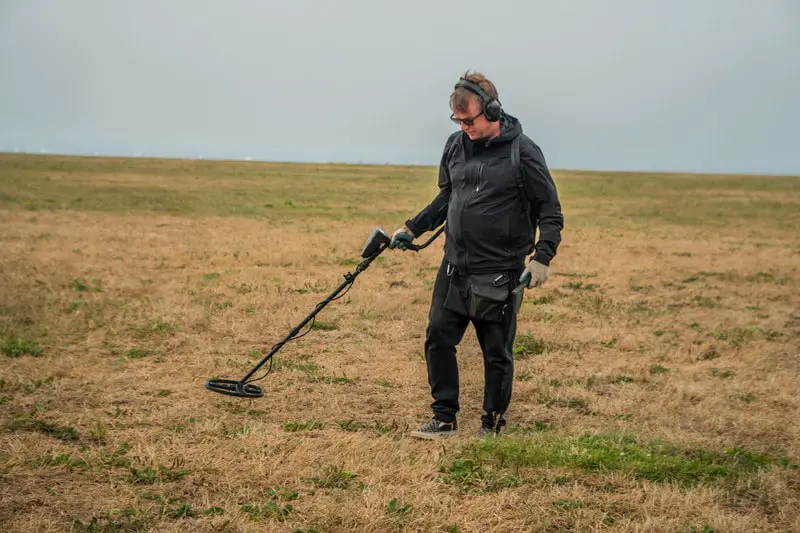 The Ace 300 is for anyone who has been metal detecting for a while and wants a step up from an entry-level machine. You get many features you don't find on an entry-level machine.
So if you are looking for a metal detector that can find coins, jewelry or relics with a little more accuracy then the Ace 300 is for you. The price is right as well!
How Does The Ace 300 Work
It's easy to get the Ace 300 up and running. Here's a quick start guide to show you how.
Hold and release the on/off button. If you have used the metal detector before it will start at the last settings that you used. The machine will automatically adjust for ground minerals and you are ready to detect.

Use the mode button to change your detection modes.

Adjust the sensitivity or discrimination settings if you like.

Start scanning about an inch above the ground sweeping back and forth about 3 feet a second.
Control Panel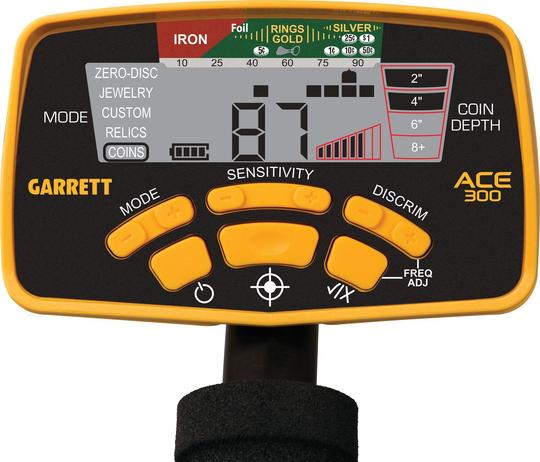 Now I will show you what's all on the control panel of the Ace 300.
Mode Indicator – You can choose from Zero Disc, Jewelry, Custom, Relics, and Coins.

Target id legend indicates the type of metal you are detecting.

Digital Target ID

Target ID cursor gives you an idea of the target you are detecting.

The lower scale indicates a notch discrimination pattern

The depth indicator indicates how deep coin-sized targets are.

Battery Level Indicator

Mode Button for discrimination patterns

On/Off Button

Sensitivity Button which you can increase or decrease sensitivity.

Pinpoint Button to precisely locate the target.

Discrimination Accept Reject Button

Frequency Adjust

Sensitivity Settings Indicator
Batteries Included
This metal detector comes equipped with 4 AA batteries already installed. You can expect the batteries to last about 20 to 40 hours of operation depending on the battery type that is installed. You can also use a 1.5-volt cell lithium battery but don't use a 3.7-volt battery because it will wreck the machine.
What Comes With The Garrett Ace 300?
You get a ton of extras when you purchase the Garrett Ace 300 in the bundle package on Highplainsprospectors.com. Here's what you get:
Ace 300 Metal Detector
AT Pro-Pointer Pinpointer
Garrett Keepers Treasure Box
Vaughn Garrett's Full Color Finds Book
Waterproof search coil
Serrated Digging Tool
Headphones
Coil Cover
High Plains Treasure Pouch
Do I Recommend The Ace 300?
If you are fairly new to metal detecting and want a quality metal detector that has the essential features necessary to find treasure and that's at an affordable price then I definitely recommend the Garrett Ace 300.
With the control, you have with this machine and at the price point, it's at it's well worth a look. Don't just take my word for it here is a screenshot of some happy verified customers on Amazon.
Pros
Accurate
Easy to use
Lightweight
Affordable
Great for beginners
Cons
Forearm support does not adjust enough for people with long arms.
Get to Know Your Machine
Before you take your metal detector out in the field do some bench testing first so you can get to know how your detector responds to different objects and types of metal. Here's how you can conduct a bench test.
Lay the metal detector on a table or flat surface with the search coil laying on its side. Make sure there are no metallic objects laying nearby.
Select mode to Zero-Disc.
Put various objects like different size coins, bottle caps, nails, etc. about 4 inches in front of the search coil. The metal detector will identify these targets using audio and visual signals.
Repeat this test in all modes making note of the different sounds and visual cues the metal detector gives off. This will help you learn what you need to look and listen for when detecting a number of different targets in different modes.
Write down the results of the tests and use them as notes when you are in the field.
Test on Sand and Loose Soil First
After you perform your bench test you are ready to take the detector out in the field for real-world treasure hunting. But first, test your detector on sandy or loose soil so you can get a feel for how things work. This makes it easier to learn how to pinpoint targets and dig.
For best results keep your search coil about one inch above the ground keeping it level with the ground. Keep the coil parallel with the water edge if you are detecting on a beach and at any time go with the natural lay of the land. By doing this you will get the most accurate performance of your machine.
Final Thoughts
Well, there you have it the Garrett Ace 300 review. All in all, it's an excellent metal detector especially for beginner detectorists, and it won't break the bank. Every feature necessary to start metal detecting is on this machine so you won't have any trouble finding that elusive treasure buried under your feet.
It's a great metal detector for detecting a range of objects like coins, relics, and jewelry. If I had to pick one of the best metal detectors to start with it the Ace 300 would be at the top of my list. Garrett is a top-notch company that knows what they are doing when it comes to manufacturing metal detectors. You can count on them to deliver a quality product for an affordable price.
If you have any questions or comments please leave them in the comments section below. Thanks for taking the time to read my review and I hope I provided you with some useful information so you can make a sound purchasing decision.
And as always Happy Treasure Hunting!