There are so many metal detecting digging tools on the market today it will make your head spin. So I thought I would do some research and I came up with a list of the 5 best metal detecting digging tools that you can purchase.
After researching these tools I found a lot of cheap poorly rated tools so I weeded all of them out and came up with only the best. Three of the five are knife-like digging tools that are used for digging small-sized holes and two of them are mini spaded shovels.
What is the best metal detecting digging tool? My pick for the best metal detecting digging tool is the Garrett Edge Digger. 
This tool is made of strong steel. It comes with a comfortable handle that will save your hands after digging for a long time and it also comes with a nylon sheath for easy transport. 
And the Edge Digger is manufactured by Garrett a name you can trust in the treasure hunting industry. Garrett is a solid company that stands behind every product they sell.
---
---
Why Are Small Digging Tools Important?
These tools are best used for digging up objects that are fairly close to the top soil-less than a foot down. Using these tools will make your life a lot easier and they will help you for a quick recovery of your treasure. Digging out coins and other small objects like rings and jewelry are easy with digging tools.
Digging tools help you cut through the toughest of soil like a hot knife through butter. A good tool will always have serrated sides of some sort that help you scrap and dig much easier than without.
With small digging tools, you don't have to lug around full-sized shovels everywhere you go. Just hook them up to your belt and carry them along with you. And they are so handy. Take them out of the sheath and your good to go.
How to Dig for Minimal Disruption of The Soil
In order to keep your digs clean and disrupt the surrounding area as much as possible, you will want to dig straight down and lift the soil up in square flaps. This way you will be able to easily replace the topsoil when you are done. By doing it this way you make it look like you were never there and you won't kill the grass.
When you have retrieved your find carefully put the flap of soil back where you dug and stamp it down with your feet. It's just good metal detecting ethics to do it this way and this will ensure that you will be allowed back to metal detect in that area again in the future.
---
5 Best Metal Detecting Digging Tools 2022
The following is a list of the 5 best metal detecting digging tools of 2022. These are the best tools I found while doing research. Any one of these tools will make your digging up of treasure much easier. And some of them can be carried on your belt or put in a backpack for easy transport and accessibility!
Garrett Edge Digger 
First on our list is the Edge Digger by Garrett. This is a survival knife like a digging tool that is made of carbon stainless steel that can dig through the toughest of ground. You get along 7.5†digging blade that is serrated on both sides. A non-slip guard will save your hands from accidentally slipping onto the blade while digging.
You will love the comfortable handle and the sheath that allows you to attach this tool to your belt. This makes your digger easily accessible and portable. When you need it it's right by your side and when you are done just slip it back into the sheath for next time.
All in all the Edge Digger is the perfect tool for digging plugs and with a 2-year warranty, you can rest assured if anything happens to the tool you will get your money back or a replacement.
Top Features
Stainless Steel Blade

Saw Teeth

Non-slip Guard

A sheath that fits on a belt
---
Lesche Digging Tool with Screw Cap 
Next on our list is the Lesche Digging Tool with a screw cap end manufactured by W.W. Manufacturing Co. Inc. This tool has serrated teeth on one edge and is made of heat-treated steel making a tough and rugged digging tool. Slice through the hardest ground with ease.
Unscrew the cap at the end of the handle to reveal a waterproof compartment where you can keep smaller survival items. The handle is made of slip-proof plastic with a non-slip guard before the blade so you don't slip your hand to the blade while digging.
You will love the handy corduroy sheath belt holder for easy accessibility and portability. The blade is 7†long with a 12†total length.
There are left and right-handed versions of this tool so it's perfect for whatever side of your brain dominates. The only difference from the left is that the left-handed version has the serrated teeth on the left side of the blade instead of the right.
Just plunge the blade into the ground and pull forward. Great for digging plugs and prying rocks out of the way. You also get a full 5-year warranty for greater peace of mind
Top Features
Saw Teeth

Heat-treated Steel Blade

Waterproof Compartment in the handle

Non-slip Guard

Corduroy Sheath Belt Holder

5-year Warranty
---
Whites Digmaster Digger 
The Digmaster digger by whites is another useful digging tool. Whites is a company that is one of the best manufacturers of metal detecting accessories and the Digmaster is no different.
With this digging tool, you get a 7.25†double serrated blade that is made of heat-treated steel for strong effective digging power. The bright orange handle makes this tool easily found if lost in the field. The handle is comfortable to dig with and comes with a thumb guide. There's also a slot on the end for an optional lanyard to be tied to.
A handy engraved ruler that is in inches and centimeters is engraved right in the blade. This is great for measuring your finds or knowing how deep you are digging. And store your tool when not in use with the handy sheath that is self-draining.
Top Features
Heat-treated Steel Blade

Double Serrated Blade

Sheath Included

Orange Comfort Grip Handle
---
Lesche 18†T-Handle Sampson (mini)
The 18†T-Handle Sampson by Lesche is next on our list. This is a mini shovel that comes with a serrated edge and pre-sharpened edge great for cutting through the toughest of soils.
With the Sampson mini, you get a durable digging tool that any detectorist would be proud to have in your digging arsenal. The overall length is 18†long and the shovel dimensions are 7 ½†long and 4†wide. It's a strong digging tool that is small enough to carry with you.
You get a ton of leverage with the t style handle in a low-profile shovel. Just hook it up to the holster on your belt and your good to go for easy portability. The whole shovel is heat-treated for extra strength. You get a portable shovel with the strength, durability, and earth-moving power of a full-size shovel.
Top Features
Serrated on one edge pre-sharpened on the other edge

Heat-treated steel

T-handle for extra leverage
---
U-Dig-It Pro SS Shovel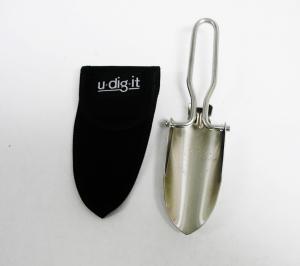 Last but not least we have the U-Dig-It Pro SS Shovel with Pouch. This little shovel comes in handy for the quick removal of your finds from the ground. Made of stainless steel the U Dig It Pro is easily transportable with the pouch it comes with. It also folds up for even easier storage takes up little space.
This little shovel only weighs 5.2 ounces and measures in at Weighs 5.2 ounces and measures 8.9 x 2.5 x .75 inches when fully extended, and folds to 5.75 x 2.5 x 1 inches. It's small and light enough to fit in a backpack. Great for metal detecting, rock removal, camping and even digging holes for gardening.
I recommend adding this shovel to your outdoor survival gear. So many uses in such a small shovel.
Top Features
Made of Stainless Steel

Nylon Pouch

Collapsible for easy storage

Many Uses
---
Metal Detecting Digging Tools Buyers Guide
There are a few things that you will want to consider before purchasing the perfect digging tool. 
Handle
The first thing to consider is the comfort of the handle. You want a handle that is comfortable and grips well while digging and one that has a non-slip guard so your hand doesn't slide down to the blade while digging.
---
Blade
The blade of the tool should be serrated on at least one edge and sharp so you can easily dig into the earth no matter how tough of soil you encounter. You will also want the blade to be made of stainless steel or heat-treated steel so that it doesn't bend if you come across rocky soil.
---
Portability
For a digging tool, portability is important so you will want to find a tool that comes with a sheath that you can attach to your belt or some kind of way to carry it on your person. 
Purchasing a good utility belt you can add your tools to so you can carry them around on your waist is a smart idea.
---
Conclusion – Best Metal Detecting Digging Tools
A good digging tool can go a long way in making your life much easier while metal detecting. The 5 best metal detecting digging tools that I have laid out in this article should give you a good idea of what's on the market.
I hope you enjoyed this article and have learned what you need to know before purchasing a good digging tool for metal detecting.
If you have any questions or comments please leave them in the comments section below. And as always Happy Treasure Hunting!