You have found it! The Minelab CTX 3030 bundle review. Minelab makes some extremely accurate metal detectors. The CTX 3030 is state of the art and has all the bells and whistles you need in a top-of-line professional-grade metal detector.
If you are planning on treasure hunting on land or in the water the CTX 3030 can weather any terrain you take it to. The CTX touts many advanced features that are not found on all metal detectors.
Is it worth the hefty price tag? If you are serious about metal detecting then it is worth every penny! Take it to extremes. The CTX 3030 can do it all.
In this article, you will learn all about the CTX 3030 by Minelab. What comes with it, how it performs, what it's best used for, and the pros and cons of this powerhouse of a machine.
---
Summary – Minelab CTX 3030 Review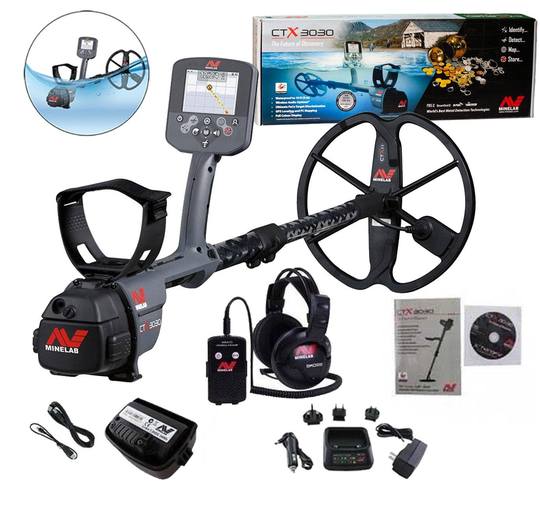 Product: Minelab CTX 3030
Weight: 5.2 Pounds with Battery Pack
Warranty: 3 Years Control Box & Coil
Uses: Coins, Gold, Jewellery, Beach, and Relic detecting
My Rating: 9.6 out of 10
---
Minelab CTX 3030 Bundle Review
Now I will walk you through some of the top features of this metal detector and what people like and dislike about the machine. You get a ton of great features and a lot of useful extras in this bundle. Along with the Minelab CTX 3030 you also get:
Minelab CTX 3030 Metal Detector
17″ Smart Coil
11″ DD Smart Coil
Coil Cover
UR-30 Headphones
WM-10 Charging Cable & Auto Charger
Battery Holder
WM-10 Wireless Module & Belt Clip
Removable Headphone Module
Universal AC Wall Adapter
Li-ion Rechargeable Battery
Armrest Strap
---
Top Features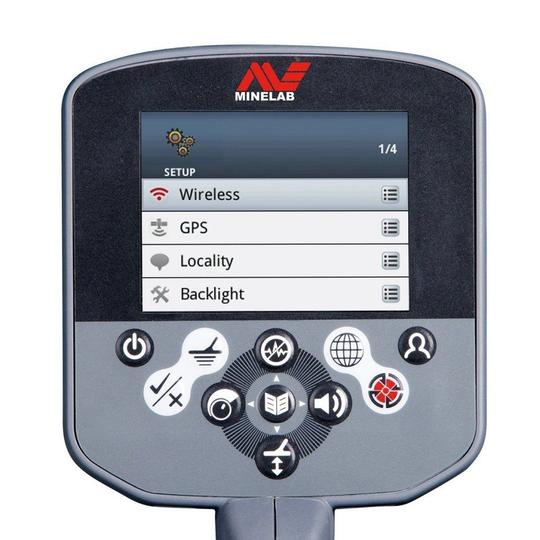 The CTX 3030 has many advanced features that are not found in all metal detectors. There is a slight learning curve to this metal detector but if you read through the manuals that come with it you will be able to master it in no time. The following are some of the top features and there uses:
---
FBS 2
The FBS 2 comes in handy when you are detecting in different soil environments. It uses multi-frequency transmissions. The coil also sends data to the detector allowing for a more accurate reading if the soil composition is constantly changing.
---
GPS Locating
The GPS system that is installed in the CTX 3030 is useful for locating where you are and where you have been. But unless you specify the CTX 3030 will not recall this information. Many detectorists don't know this so a lot of the time the GPS locating is not used.
If you save the data on your detector you can later upload the information to a pc and store it on the ExChange 2 software that Minelab has produced. This way you can store the information safely on your computer and you can also at a later date load the data back to your metal detector when you might need the information.
Other features included with the GPS locating are:
3 Map Zoom Levels
Navigation Tools
Direction Indication
Distance Indication
GPS Coordinates
GPS ON/OFF
Geo Trails
Waypoints
---
Waterproof
The CTX is waterproof up to 10 feet. You can also turn seawater on or off depending on what type of water you are detecting around or in. The 3030 works great at the beach or small streams and rivers. Finding treasure in water has never been easier with the CTX 3030!
Although the CTX is waterproof it's not for deep-sea diving or underwater metal detecting.
---
Multi-Language Options
You get 9 language options with the CTX 3030:
English
French
German
Italian
Polish
Portuguese
Russian
Spanish
Turkish
---
Wireless Audio
You get wireless audio that is possible because of the Wi Stream that is installed in the CTX. Listen to the beeps and tones through the built-in speaker or with a pair of wireless headphones.
---
Full-color LCD
You get a full-color LCD screen so you can see clearly your options on the screen. Included on the screen you will see:
FeCo Target ID
Depth Indication
Discrimination
Patterns
Accept/Reject Target
Cursors
Sensitivity Panel
Visual Pinpointing
Status Bar with time
---
Quick Menus
Find things quickly and easily with the quick menus. On the Quick menu you will find:
Identify
Detect
Map
Store
Sensitivity
Audio
Noise Cancel
Ground Balance
---
FeCo Discrimination
This feature helps you find more treasure amongst the trash that you might find metal detecting. FeCo stands for ferrous and conductivity. Features in the FeCo discrimination are:
35 Fe x 50 CO Resolution
Target Trace
Target Trace Pinpoint
Tone ID Profiles
Ferrous Coin Separation
Ground Coin Separation
Target Color Intensity
Target Trace and Target Pinpoint
The target trace and the target pinpoint on the FeCo discrimination screen allow you to see what the different compositions are if you have more than one target in your sights. To activate these you will need to hold the detecting button down for 3 seconds and then scroll down until you see the option to activate them.
With this feature, you can find and isolate targets that are close to one another. Resulting in finding more treasure. These features come in handy when you are in the field where there are multiple targets to be found in close proximity to one another. You will find the treasure that other metal detectors wouldn't have picked up.
---
Pros
State of the art technology
Waterproof
Highly Advanced Target Separation and Discrimination
WiFi Technology
GPS Mapping Capabilities
All Terrain
Cons
Expensive
High learning curve
---
Easy to Use
The CTX 3030 does have a learning curve to it but with the manuals and videos available online you have plenty of information to get you up and running. Once you learn the basics of this metal detector it becomes much easier to operate.
---
Dimensions and Design
The CTX 3030 is well designed and durably built. It has a black and grey color scheme to it and a matte finish on the stem.
The stem can be extended from 37″ to 55.3″ giving you plenty of flexibility no matter how tall or short you are.
Weight has been an issue. It weighs 5.2 pounds with the battery pack. So it's not a light machine. This is to be expected considering all the options on it. If you have back problems you might want to opt for a lighter metal detector.
It balances well and feels solid when you hold it. It is certainly well constructed so it can take a beating out in the field. Which is something you want if you do a lot of metal detecting in various areas.
It comes with a lithium-ion battery pack that is rechargeable. So you save money on batteries. And it charges rather quickly but at the same time, the battery drains fast because of the bright screen and the WiStream and GPS locating and mapping features that are on it.
---
Search Coils That Are Compatible With The CTX 3030
This bundle of the CTX 3030 comes with a 17″ and 11″ waterproof DD search coil. But there are a few other coils you can purchase that are compatible with the CTX. They are:
CTX 6″ Smart Coil
---
CTX 17″ Smart Coil
---
Coiltek 10×5 Elliptical Coil
---
Coiltek 14×9 DD Coil
---
What Can You Find with The CTX 3030?
With the CTX 3030, you can find all types of treasure including:
Coins
Gold
Silver
Relics
Musket balls
There are five pre-set modes which are:
Coins
Beach
Relics
Silver
High Trash
You also have five extra custom modes that you can customize to whatever you want. This makes for a very versatile metal detecting machine. The CTX 3030 is specially designed to weed out any trash that you may find while metal detecting so you don't waste your time. Find treasure, not junk!
---
Frequently Asked Questions
There are a few questions that customers frequently ask and I have included them in this section.
---
Should you ground balance the CTX 3030 before using it?
The CTX 3030 is already ground balanced for most types of ground you will find yourself in. Adjusting ground balance should only be used in extremely mineralized ground. Don't manually ground balance when you are beach detecting because doing this will confuse the metal detector.
Is the CTX 3030 Worth The Price?
In my opinion yes. If you are serious about finding hidden treasure in any condition the CTX is worth the money. This metal detector has all the advanced features you would need to successfully locate buried treasure be it in shallow water, open fields, at the beach, or whatever situation you find yourself in.
Can the CTX 3030 Find Gold?
Yes, the CTX 3030 can find gold! With the Relic mode, you can find gold deep in the ground that other metals detectors may have missed. So if it's gold that you're after the CTX 3030 would be an excellent choice.  Locate gold deep or shallow. Either way, if there is gold there you will find it!
Is the CTX 3030 waterproof?
Yes, the CTX 3030 is waterproof up to 10 feet of water. So it's ideal for detecting in streams and rivers or at the beach. Great for salt or freshwater. Just turn the seawater switch on when detecting at the ocean.
Does the CTX 3030 come with a warranty?
Yes, the CTX 3030 comes with a 3-year warranty on the search coil and control panel. So if anything breaks in 3 years you can get a replacement. Check the owner's manual for full details.
---
Conclusion

– Minelab CTX 3030 Review
If you looking for a waterproof all-terrain metal detector that can do and find almost anything then the Minelab CTX 3030 bundle is what you want. You get tons of extras with the bundle that will make your metal detecting ventures complete.
Compared to the amount of treasure you can find with this metal detector it is well worth the investment. You will find more treasure even at places that have been picked over with cheaper less advanced metal detectors. I recommend you read over the owner's manual and watch some informative videos on Youtube to get the most out of the CTX 3030.
There's still tons of treasure out there that hasn't been discovered yet so get out and find your hoard today!
Until next Happy Treasure Hunting!