Metal detecting is a fun hobby and with the right equipment, you will have a much easier time when searching for the lost treasure below. If you are serious about metal detecting like I am then you will need these 9 essential metal detecting tools. 
What tools are needed for metal detecting?
You will need these 9 metal detecting tools for a successful treasure hunt:
Metal Detector
Headphones
Rechargeable Battery
PinPointer
Shovel
Trowel
Sand Scoop
Storage Bag
Metal Detector Bag
These are the tools you will need for a successful hunt. In the following article, I will explain each tool and there uses.
1. Metal Detector
First and the most obvious tool you will need is a reliable metal detector. There are hundreds of metal detectors that range in price from as little as $100 to more than $10,000.
But if you are a novice metal detectorist you can pick a good one up for a few hundred dollars that would do what you need. If you are metal detecting for a living then you will want to get a metal detector that costs $10,000 or more.
There are 3 main types of metal detectors that you can choose from. They are:
Beat Frequency Oscillation – Used for finding items that are up to 2 feet underground. These use separate frequencies so that when the search coil passes over a metallic object in the ground the transmission signal is interrupted which tells you that you have passed over a metallic object.
Very Low Frequency – This type of metal detector is the most commonly used because it has a variety of uses. The technology used in VLF detectors is usually state of the art. With an electric circuit called a tuner, you can filter out aluminum and steel so that you can focus on finding more precious objects like silver and gold.
Pulse Induction – Induction type metal detectors are used for deep metal detecting purposes for relics. This type sends out a strong magnetic pulse into the earth. These are usually the most expensive metal detectors because of the strength of the signal they use.
It is important that you do some shopping around before you decide on which metal detector is right for you. Metal detecting is not a cheap hobby but with the right detector, you can make some very valuable finds. 
2. Headphones
The second piece of equipment you will need is a good pair of headphones. Using headphones helps you hear more clearly the distinct beeps that a metal detector will give off.
The last thing you want is to miss a vital beep that might mean a valuable find could be underneath. A good pair of headphones will also cancel out the sound around you so that you only hear the metal detector signals.
Make sure that your headphones are compatible with the kind of metal detector that you have. The following are some key features that your headphones should have:
¼" Headphone Jack – Most metal detectors have a ¼" receptor jack so make sure your headphone jack is compatible with the metal detector receptacle.

Stereo and mono capabilities

Volume control because some metal detectors don't come with anything to control the volume.

Make sure the headphones are durable so they withstand the riggers of the hunt.

If you have hearing problems make sure your headphones have separate volumes for each ear.

Comfortable to wear for long periods of time.
3. Rechargeable Battery
Another essential accessory you will need is a rechargeable battery. And if you are going to be out metal detecting for long periods at a time it's a good idea to have a backup rechargeable battery as well. This way you will have a fresh battery at all times.
Once your battery had died and you don't have an extra battery or charger then your treasure hunt is over. Having a rechargeable battery will also save you money in the long run. Be ready for a long hunt! Get yourself a reliable rechargeable battery.
4. PinPointer
Having a good PinPointer will help you nail down exactly where an item is in the ground. Metal detectors will get you in the general area of where the treasure is and a PinPointer will tell you exactly where you need to dig.
The pinpointer would be the second most important tool to have other than a metal detector. You will save a ton of time by not having to dig a lot of holes to find that elusive treasure.
5. Shovel 
You will want to have a sturdy durable shovel so if you have to do some major digging you will be ready. A regular garden spade will do but there are also special metal detectorist shovels that you can get that have serrated edges.
Also if you can find a shovel that is collapsable will help in keeping your overall tools more portable. The less bulk you have to carry around with you the better.
If you are searching for relics that are buried deep in the earth a shovel will be one of the most valuable and time-saving tools you can have in your arsenal.
6. Trowel
Having a trowel or digging tool will help you dig deep with the smallest radius possible to that you can leave the site looking as if you were never there. This is very important if you are digging on other people's land or in public places.
A good trowel will be sturdy and sharp so that you can dig a clean hole that is as small as possible. Just big enough to extract the item you are searching for. 
There are many trowels and digging tools that you can buy so do some shopping around and pick the one that would be best for the type of metal detecting you are going to be doing.
7. Sand Scoop
You never know when you will run into sandy soil when you are treasure hunting and if you are metal detecting at the beach you will definitely need to have a sand scoop along with your other metal detecting tools.
A sand scoop will help you sift through the sand to locate the treasures that you are looking for. It's nearly impossible to metal detect on the beach without a sand scoop. 
This tool also works wonders for finding very small items in the sand. So make sure you have one of these tools in your arsenal.
8. Storage Bag
A storage bag or pouch is an essential tool to have with you because you will need something to put your treasure finds in when you dig them up. Of course, depending on what size items you are searching for will depend on what size storage bag you will want to bring along with you.
I use a duffel bag that has many separate pockets in it. I like to keep my items separated as much as possible while I'm in the field.
You could also get yourself a belt-type pouch so that you have a bag right on your hip or just a little bag that you can carry around with you. Backpacks work well also. It all depends on what you feel most comfortable carrying around with you. 
Whatever type of storage bag you use,  make sure it's comfortable and durable and you can't go wrong.
9. Metal Detector Bag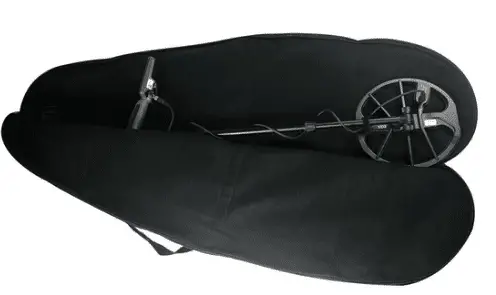 Last but not least you will want to have a bag that you can store your metal detector and the other tools that you have.
A good metal detector bag or case will keep all your essential tools safe when not in use and will keep everything together so you won't have to go searching for the various tools you have.
A lot of metal detectors will come with their own cases but you can also buy cases that will fit all of your accessories as well. Make sure the case is sturdy and well built and I would also add that you get a case that is easily portable as well.
More than likely you will be doing some traveling on your treasure hunting adventures and you will want to be able to port your metal detector easily from point a to point b.
You Are Now Ready to Go Metal Detecting!
Now that you know the 9 essential tools you need for metal detecting you are ready to go. Metal detecting is fun, exciting and with the right tools on your side, you will be a success at it.
Prices will vary wildly on these tools so make sure you compare prices and features of each tool before you purchase. And make sure the tool is the right tool for you.
I want you to make some valuable finds and with these tools, in your arsenal, you will have the best chance of making big finds more easily.
I hope this article helped you find the information you were looking for. If you have any questions or comments please leave them in the comments section below.
Thanks for reading and Happy Treasure Hunting!