When metal detectors were new they didn't detect titanium but with the advancements of technology metal detectors are now savvy to this premium metal.
If you are new to metal detecting you are probably wondering can metal detectors detect titanium? The answer is Yes, metal detectors can detect titanium because of the advanced technology now in metal detectors. But you will need the right kind of metal detector in the right setting to detect pure titanium or titanium that is mixed with other metals like silver, copper, or gold.
Follow along in this article and I will explain what kind of metal detector you need to detect titanium and how to use the metal detector for best efficiency when detecting for this metal.
Understanding Titanium
Titanium is not metal at all. It's a chemical element. The symbol is Ti and the atomic number is 22. Titanium is used as an alloy for many things including jewelry, earrings, and rings. These are what you would be looking for when metal detecting for titanium.
Titanium is useful as an alloy because it is as strong as metal but lightweight and corrosion-resistant. That's why it is used in so many products. Titanium is the ninth most abundant metal in the crust of the earth. It is not found in large deposits but is found in most rocks.
You will find titanium mixed with other metals such as aluminum, nickel, vanadium, iron and other metals to make a strong alloy that you see in all the products that are produced with titanium.
Detecting titanium is not easy because of its low electric conductivity which is why original metal detectors couldn't detect this substance. The best chance you will have detecting titanium would be with a very low-frequency metal detector.
You will want to avoid ground that is highly mineralized and wet when detecting for titanium because this will cause issues with detection. If you have a detector that has special adjustments for titanium then this would not be a problem.
Along with using a VLF metal detector, you will want to adjust the settings for light metal. Doing this will help in the detection process.
What Valuable Titanium Items Can Be Found Metal Detecting?
Like I mentioned earlier titanium is used in many products but there are a few that you might find while metal detecting that is valuable. You are more than likely not going to find prosthetic limbs or dental implants when detecting for titanium but there are other objects made of titanium that people might lose. And they are:
Jewelry is the most found titanium item while metal detecting is jewelry. People lose jewelry all the time such as rings, earrings, and necklaces. So chances are you will find some of these valuable items while detecting for titanium.
Ball Bearings are usually made of stainless steel but they are not as corrosion resistant as titanium. The invention of the Nitinol 60 alloy which is 60 percent nickel and 40 percent titanium ball bearing are now sometimes made with this allow. Ball-bearings are small and easily lost so you might find these while detecting for titanium.
Nuts and Bolts if you are detecting around construction sites you will more than likely find nuts and bolts made with titanium.
Tools are made of titanium and can be also found around construction sites that might have been lost while the construction workers were working. Some tools that could be found made of titanium are:
Hammers

Knifes

Wrenches

Screw Drivers
What Type of Metal Detector is Best For Detecting Titanium?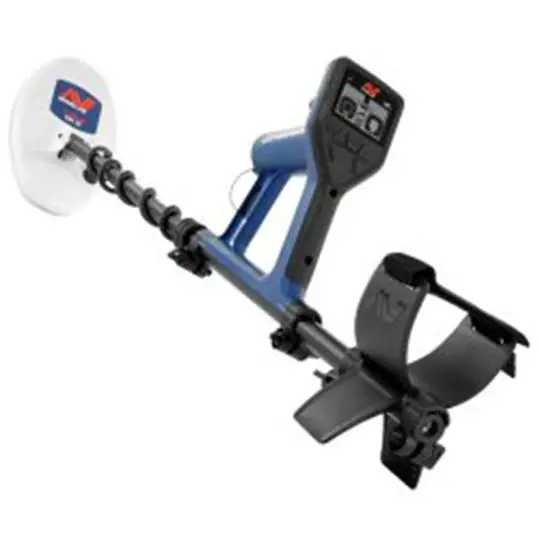 If you are going to focus on metal detecting for titanium you will want to pick up a specialized type of metal detector. The less expensive ones just won't do for detecting titanium.
First off you will need a VLF type metal detector because the detector will need to detect metal that has less electrical conductivity and the very low-frequency detectors do this job very well.
The next thing you will want is a good ground balancing feature on your VLF metal detector. Ground balancing will help in pinpointing the titanium from the interference of soil minerals making it much easier to detect.
If you want a solid metal detector that works great for detecting titanium I would recommend the Minelab Gold Monster 1000. 
This monster of a metal detector has is highly sensitive with its very low frequency at 45 kHz making it detect titanium much easier than most metal detectors. The Gold Monster 1000 also provides auto ground balancing that is needed when detecting titanium in wet and mineralized soil.
How to Clean Titanium Finds
Once you have spent a day searching for titanium and you find items made of titanium you will want to properly clean those finds because being in the ground they are going to be as dirty as the day is long!
You want to make sure you don't damage your titanium finds while cleaning them so I have provided cleaning instruction to keep you from damaging your valuable finds.
Titanium Cleaning Instructions
You will need a bowl, liquid dish soap, water, and a soft cloth.

Fill the bowl full of warm water.

Place the titanium items in the bowl of water and let soak for 5 to 10 minutes.

Once the items are clean rinse them with water and thoroughly dry them. Titanium will become spotty in appearance if they are left to air dry.
Alternatively, you can use ammonia to clean titanium. Titanium is not scratch-resistant so keep that in mind when cleaning titanium items.
Following these instructions will keep your titanium finds safe from damage while cleaning and they will turn out looking great!
Will Titanium Implants Set Off Airport Metal Detectors?
Titanium is widely used in medical procedures and particularly implants. So people that are thinking of flying many times ask if titanium can set off the TSA metal detectors in airports?
It's possible that titanium can set off metal detectors but unlikely. Titanium is used in implants that go into the body because it's easily seen in X-rays. But with titaniums low electrical conductivity metal detectors have a hard time detecting it.
If you are worried about problems with airport security you can get yourself an implant card that you can show security at airports before you are screened. You will still need to be screened but you will probably get a private screening if you have an implant. Especially a pacemaker that might cause issues with the metal detecting process.
It is advised if you have any medical implants that you let Social Security Service know about it and where the implant is located in your body.
This way the TSA can check with social security and get the information they need easily before they start screening you at the airport. We all know that airport security can be a long wait and any information that the screeners can get about you ahead of time will keep the process of screening as smooth as possible.
What Does Titanium Look Like?
Titanium comes in a mix of colors and depending on what environment it is found in those colors may differ. But the main colors for titanium are silver, white and grey. Titanium is very lightweight but strong and not easily detectable.
When Was Titanium Discovered?
Titanium was discovered in 1791 by geologist William Gregor who was a Reverand geologist from England. He happened upon some black metallic-colored sand in a creek. He checked it out and found iron oxide and compound that he had never seen before. He called it Manaccanite after the parish he was a Reverand at.
It wasn't until 1795 that a German scientist named Martin Heinrich Klaproth discovered this chemical element again and gave it the name titanium because of its strength.
Martin later found out about Gregor's find and determined that the Manaccanite that Mr. Gregor called it was titanium. 
It wasn't until the 1930's that titanium was able to be extracted to its
purest form so that it could be used in medical devices and other products. A man named William Justin Kroll invented the process of extracting titanium and from there the age of using titanium on an industrial scale was born!
Martin Heinrich Klaproth
Now You Can Confidently Detect Titanium
Knowing what you know now, you can confidently metal detect for titanium. Titanium is not easy to detect but with what I laid out in this article you will have a better chance of finding it while on your treasure-hunting expeditions.
With the right type of metal detectors and the right settings, you could find some very valuable finds. Remember to clean your titanium finds properly and you won't have any issues selling them if that is what you are going to do with them.
If you make any titanium finds because of the information you learned in this article I would love to hear about them.
I hope you have found this article informative and I thank you for reading. If you have any questions or comments please leave them in the comments section below. And as always Happy Treasure Hunting!