Looking for a metal detector that can help you find gold and that is waterproof in up to 10 feet of freshwater? Then you will want to stick around and check out this Garrett AT Gold review.
Garrett makes some of the best metal detectors in the industry. The AT Gold metal detector is one of their best of the best especially when it comes to detecting for gold. This machine operates at a high frequency which makes it ideal for gold prospecting.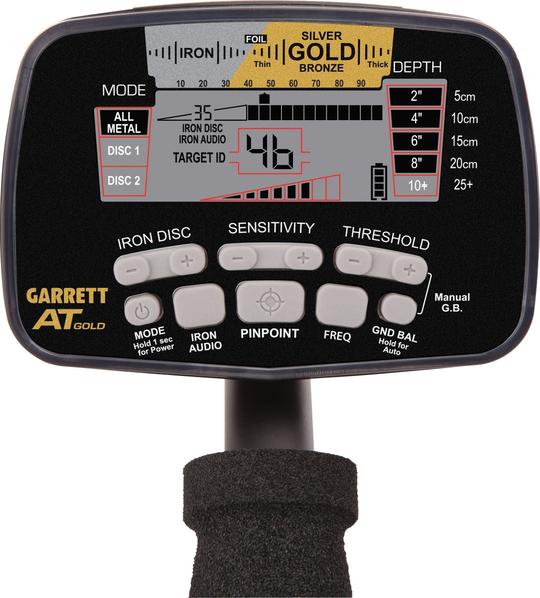 This metal detector can take whatever terrain you find yourself in. You can find the treasure you are searching for even when the ground is rocky or
highly
mineralized.
The AT Gold has a ton of high tech features you don't always find on other metal detectors of this caliber. If there is gold where you are detecting then you will find it with this top of the line metal detector.
Top Features of the Garrett AT Gold

The AT Gold has many features that come in handy when metal detecting. There is a bit of a learning curve.
So make sure you read the owner's manual and watch some of Garrett's instructional videos so that you can familiarize yourself with the product
.
The best way to learn your machine is to get out in the field and try all the features out. Listening to the tones and beeps it makes with different types of metal.
You can test the machine out by placing the detector on a flat surface. Place different types of metal in front of the search coil and listen to what you hear for each type of metal. Play around with different settings. Make sure to take notes of what you hear in various settings and situations with the metal objects.
The following are some of the AT Golds' top features.
Proportional Audio
Proportional audio allows you to tell which targets that are close to one another or treasure that's buried amongst a lot of trash
. You will hear faint signals if the target is small and deep in the ground. And louder signals the bigger and closer to the surface the target is.
If there are two targets at the same depth but they are different sizes you will hear a fainter signal for the smaller target
. You will hear a louder signal for the larger targets. This allows for the faster recovery time of the targets even when they are close to one another.
Iron Audio
The iron audio feature can
be switched
on in two different modes:
When there is a lot of iron objects in the ground you can get false readings on your metal detector or no signal at all. With iron audio in disc mode, you can hear iron signals which you
normally
wouldn't hear without it.
This helps you get a bigger picture of what's buried beneath. This way you know the good and bad targets before you dig them up.
Iron audio in all-metal mode
is used
for telling if a target
is made
of iron.
It's not recommended to have iron audio always switched on
just
when you are checking for the iron content of the target
.
Adjustable Threshold
This feature lets you
manually
adjust the audio so you can tune out unwanted humming or interference noises
. This helps you hear the distinct tones of the metal detector more
easily
.
Adjustable Frequency
The AT Gold has four different frequencies that you can adjust. This allows you to avoid interference with electric sources that may be close by. It also helps to reduce interference from other metal detectors that might be in the area.
To check the frequency
push the FREQ button once. If you press it twice you can change between settings. The different frequencies are so slight that it won't affect the target detection of the machine.
Fast Track and Manual Ground Balance
Grounding your machine is important especially if the ground in of various mineral types
.
With the AT Gold, you can either fast track the ground balance which the machine will
automatically
do for you or you can do it
manually
.
If you read the owners
manually
it shows you how to do both.
Electronic Pinpointing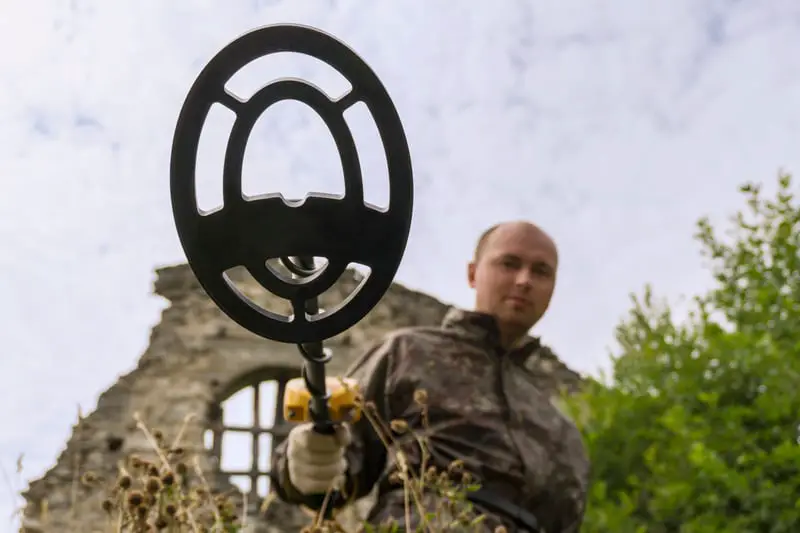 The pinpointing feature comes in handy when you want to
precisely
locate the target you have detected
. Hold the pinpointing button down while moving the search coil back and forth and side to side. Make sure to keep the search coil at a constant height above the target this will help avoid false signals.
You can also watch the bar graph of the screen the higher up the scale on the bar graph the stronger the signal.
Once the target
is pinpointed
the symbol PP will show up on the scale meaning the target has
been pinpointed
.
All Metal Mode
In the all-metal mode, you will hear everything that is in the ground.
It is important when detecting in this mode that the AT Gold is
properly
ground balanced so that you hear the right signals and don't get false positives
.
With this mode, you get the greatest possible depth and sensitivity. This is why gold prospectors love the all metals mode. If there are gold nuggets in the ground you will find them in this mode.
All ground minerals must
be canceled
out
in order to
hear
just
the metal targets in the ground.
What comes with the AT Gold?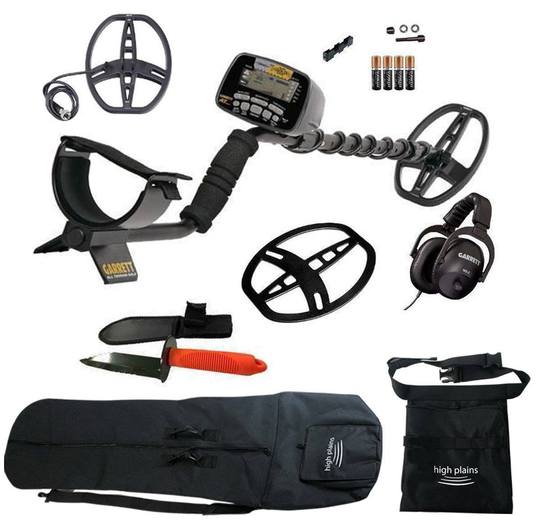 If you purchase the AT Gold through High Plains Prospectors you get a ton of extras included with the purchase. You Get:
The AT Gold metal detector

5 x 8†DD search coil

Left and right serrated digging tool

50†black all-purpose travel bag with 2 zippered pockets

Black 10†deep pouch with 48†belt

Extra inside zipper pouch with and front loops for pointers sheath attachments

Garrett MS-2 Headphones

4 AA batteries
Compatible Search Coils
There are also a number of search coils that you can purchase separately that are compatible with the AT Gold. They are:
9 x 12″ PROformance concentric search coil
8.5 x 11″ PROformance DD submersible search coil
6.5 x 9″ PROformance concentric search coil
5 x 8″ DD submersible search coil
4.5″ Super Snipper search coil
Gold Prospecting with the AT Gold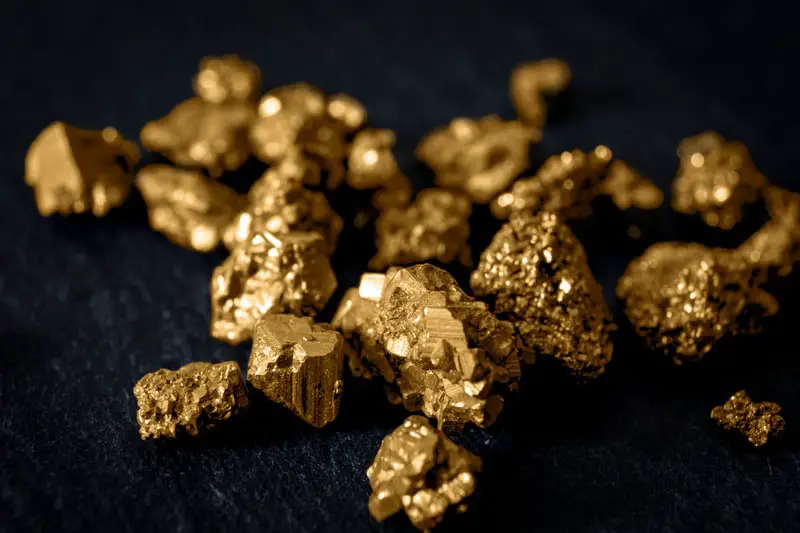 One of the things I love about this metal detector is that you can take it prospecting with you.
It makes gold prospecting easy because you can submerse this detector in water and detect for the presence of gold before you even start panning for it
!
That alone will save you a lot of time because when you start panning you know that there will be gold when you
are done
at the bottom of your gold pan
! Now if that doesn't get you excited I don't know what will.
You can also use the AT Gold to find gold veins and deposits that are at the bottom of rivers and streams. This is possible because this machine is waterproof up to 10 feet of freshwater. It's not recommended for use in saltwater. The minerals in salt will interfere with the readings causing false positives
But you can use the AT Gold on dry sand beaches for searching for coins and jewelry.
[table id=1 /]
Pros
Adjustable

Great for gold prospecting

2 year limited warranty

Waterproof 

Made for all types of metal detecting
Cons
Stock headphones are not waterproof
Conclusion
You can see that if you are serious about using a metal detector for gold prospecting and underwater use. Then the Garrett AT Gold would be your first choice.
Find gold nuggets, coins, jewelry, and relics all with one metal detector. A great thing about Garrett's products is you get a 2-year limited warranty on parts and labor. So you can feel confident that your metal detector will work the way it's supposed to or your money back.
I hope you got some useful information from my Garrett AT Gold review. If you have any questions or comments please leave them in the comments section below. And until next time Happy Treasure Hunting!