Are you thinking about getting into metal detecting? Then one of the best places to go hunting is in the woods. We all love an adventure in life, and a metal detector should make it much easier to go hunting in the woods today.
The fun, the thrill, and the findings alone can make a trip into the woods for some metal detection a really fun and engaging experience. If you are looking to have some proper fun in the woods, then a trip in there to try out some metal detecting is a really good idea.
Yet just like anywhere else to go hunting for metal, woods aren't as easy as simply walking in with your detector. There are some fundamentals to metal detection in the woods that we want to try and press on so that you understand exactly what it is that you are dealing with.
---
How To Metal Detect In The Woods
With that in mind, we want to focus on helping you learn how to metal detect in the woods. It's a hard thing to get right at first, but once you get the basics down it does become so much easier to master.
Once you start to understand the differences between, say, beach metal detecting and then metal detecting in the woods you might be much closer to enjoying the experience. At first, it can seem a little daunting but it's not as confusing as it might appear just now. To help you make the most of the experience, we'll break down the most important factors in enjoying metal detecting when you are in the woods.
To help make sure you can enjoy the experience, we'll try and point out some useful tips that could help to turn around the experience for you as a whole. So, where do you start?
---
Be open-minded
The first piece of advice that we have about wood metal detecting is that you need to retain an open mind. Many people see it as a pointless endeavor. After all, who takes trips through the woods, right?
Now, ignoring the fact that millions of people go camping and outdoor adventuring on a yearly basis, we need to look back in time. In the past, riding through a forest was the simplest way to get from A to B. We didn't have roads or cars, so a walk or a trot through the woods was usually the best place to start.
That's why having an open mind is essential. If you wish to catch as much stuff as you can when out and about in the woods, you need to be open-minded about what you will find. Basically, think outside the box!
---
Understand the area
Another factor in going through the woods for metal detecting purposes is knowing the area. The woods are often rife with nature, which can mean that many items will be buried far under the ground. Years and years of natural activity will likely mean that many of the most valuable items will be quite far under the ground by now.
So, keep that in mind. When you go metal detecting on the beach you are normally keeping an eye out for things that are relatively recently buried. In the forest, though, it's important to understand that many of your finds might be more dated.
While the average person might not be trekking through the woods as they would have done in the past, many older trips have yet to be claimed. The lack of modern items and findings can be made-up by the (relative) abundance of older goods.
---
Bring your essentials
We'll break down some of the most useful add-ons in a short moment, but for now, it's vital that you make space on your backpack for the essential items. We recommend that you always try and make space for the following if you are very light on space and have no room for anything else:
Always bring your metal detector. This goes without saying, but make sure you bring some kind of coverage for it as well – if the weather turns nasty, you want some protection.
Make sure you bring a shovel, as well. Even a small hand shovel is going to be enough. This will give you some kind of help in making sure you can dig up any of your finds moving forward.
Bring a GPS or a cell phone with GPS functionality. If you end up going too far into the woods and getting lost, this is sure to help you find your way back home.
If you think you might be out until the light goes down, bring some kind of natural lighting solution. Even a basic torch will do; avoid using the light on your smartphone as it will kill the battery.
If need be, try and fit in a smaller camera for the same reason. If your camera on your phone runs out, it's useful to be able to grab as-found images of all of your discoveries to help with disputes.
While we also recommend making room for a few other very useful items (including a storage bag), this is the minimum that you should look to travel with. Packing up all of the above is absolutely going to help you get ready for the trip and ensure you have all of the items and equipment that you could need to start with.
---
Digging Deeper: 9 Essential Tools Needed For Metal Detecting
---
Find room for a compass, too
While it might be a touch old school for some, we cannot recommend bringing a compass along on your journey enough. A compass is such a useful tool to have, and it could be the difference between a major find and simply being stranded!
---
Gain permission
BEFORE you do anything else, make sure you have permission to be there. You always need to make sure that you know that the wood is not owned by someone and that it is not private land. If it is private land, you need to get permission. This often means paying a fee or having to forego the rights to anything you find. Naturally, that isn't much use to you if you are in this game for a profit.
Still, it's better to know where you stand the legalities of the local area before you start metal detecting. The main problem that many people find is they don't do enough research and thus find everything they have discovered was worthless, or they need to hand it over to someone else.
---
Always evaluate the area
Before setting out, you should look to understand the local area that you are visiting. Typically, the best woods to hunt in are going to be outside of the USA. Most American woods are either combed fully or they are going to be barren due to lack of civilized activity in those woods. Head over to Europe, though, and there is a much richer history of things being found and lost in the woods of the old continent.
That's why if you are going to spend any time looking into metal detecting in the woods you should do some reading. While there isn't likely to be a list of what you might find here, you should look for local information. Find out who lived here, what activities took place etc.
Basically, do what you can to find out what the area involves. This should absolutely help you.
---
Always bring a bag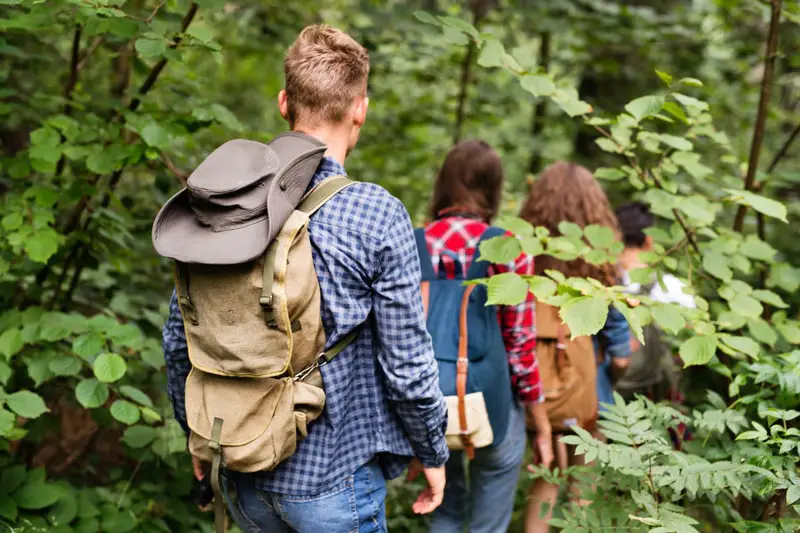 You aren't going to be able to make it back to your HQ as easily as you can if you are just down the local beach or in a more open area. Forest walks can take you around the local area for hours; just remember that you need to make the same walk back. As such, having bags that allow you to not only compartmentalize finds but also split them up is very important indeed.
We recommend that you look to pick up some bags that allow you to easily diversify what you have found. One of the most important factors in bringing a bag is the fact that it can give you such control over what you find. Walking around for a while often means balancing out what you located. With more than one bag, you avoid over-exerting any one part of the body whilst making it easier to sift through and sort your finds when you do eventually get home.
This is a strenuous business, so making sure you have some kind of bag to store it all in is very important indeed. The more bags that you can carry, the more effective your trip is going to be.
Be sure to bring a bag for yourself, too!
However, don't forget to have another bag that you can bring travel essentials. This could even be something that wraps around your waist. It should have general snacks that provide a long-term source of sustenance, and it should have space for first aid tools, survival supplies such as a swiss army knife, and also space for ample amounts of water.
Especially on a warm day, walking around in the woods is going to leave you feeling pretty parched. Making sure you don't forget essential items like snacks and drinks is very important. This will help you to enjoy the whole experience and thus be more likely to come back from the trip feeling healthy. Again, these are endurance trips for the most part so making sure you have the physical means to get through it is very important indeed.
Keep this in mind; having a bag for your finds is useful, but having a bag for yourself is essential.
---
Get ready for the elements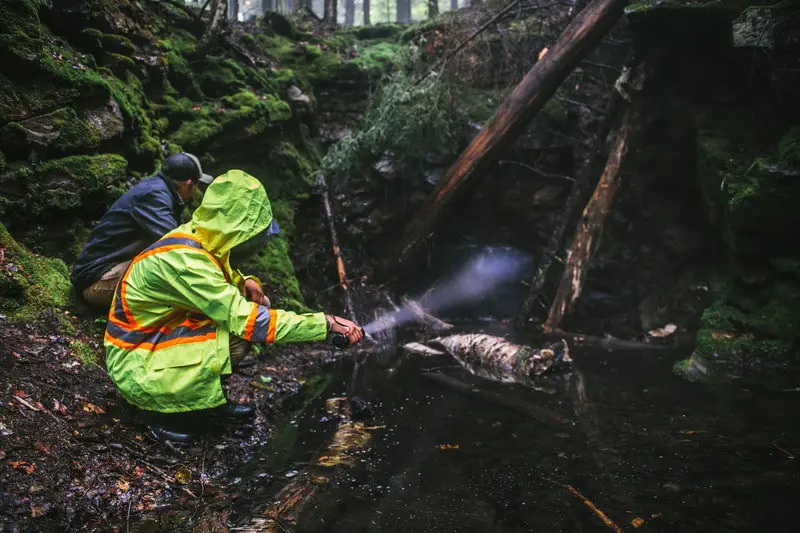 Another factor about a forest trip is that you might need to bring something to keep yourself protected from the elements. Typically, we imagine a forest trip to be a sunny one where we can just take in the nice weather all day. But what if the rain starts to come down? Are you suitably dressed to try and handle heading back in the rough and tumble of the mud?
While it's yet another bag to carry, a small hold-all that can have some spare shoes (something more durable than your summer shoes preferably) and some waterproofs are always useful. While getting caught in a light drizzle on a warm day can be refreshing, getting caught in a downpour when you only have one change of clothes is less fun.
Try and look after yourself accordingly and prepare for the elements. The more time that you can take to pack things away and turn up protected, the more likely it is that your trip will be a success. Basically, avoid taking any risks with the weather as it can turn a good trip into a complete mess. This also means bringing some kind of coverage for your metal detector, too.
Make sure you always have some kind of means of protecting yourself and your equipment. While it might mean lugging around a fair amount of items with you during the trip, it's often worth it if you wish to be prepared for any eventuality.
The more time that you can spend getting to grips with this, the more likely it is that you can head on home and feel good about your day. Don't let a lack of preparation ruin a good trip; be ready, and enjoy the benefits of that preparation.
The same goes for bugs…
At the same time, we recommend that you look to try and pick out the kind of bugs that might come to annoy you. Bring some general bug spray, but also something more specialist for the local nasties in the area. From aggressive wasps and hornets to mosquitos, you want to arrive with a spray that can keep them at bay and make sure you can enjoy the digging process.
You will find that this will allow you to clear a potentially precious area of cargo from invaders. You might find that this will also give you protection from dangerous creatures, including ticks, which can pass on serious illnesses such as Lyme disease.
Basically, the more work that you can do to try and understand the bugs in the area, the less likely it is that you will come home bitten head-to-toe in insect bites!
Bring a spare phone
Even something cheap and cheerful from your local supermarket with a quick Pay As You Go SIM card is a good place to start. Keep this somewhere separate from the rest of your hardware. Even try and keep it in a jacket/coat pocket or in your sock – anywhere you can find space for it, basically. Why?
Because if your main phone dies or is damaged during the trip, this gives you an emergency contact solution. If you get lost, hurt, or otherwise bothered, then having a quick phone that you can use to call for support is very useful. If it has GPS, then even better. Basically, have something that can help you to be found even if you run into deep trouble is very important. The woods offer more opportunity but also more risk, so arriving prepared is essential to getting home.
---
Digging Deeper: Can You Find a Phone with a Metal Detector?
---
Get ready for deeper roots
We mentioned above that you should ideally travel with a hand shovel, but if your body allows for it then bring a full-size shovel as well. Nature is a beautiful beast, but the untamed nature of a forest can mean that many trees have roots that are incapable of being dealt with using something a bit more powerful.
That's why you should definitely look to pick up a shovel that allows you to really dig deep. You'll need something capable of handling everything from deep and ingrained roots to gravel and rocks. Many people arrive in the woods for metal detecting adventures but lack the tools to make progress. Don't let a lack of preparedness in terms of dealing with natural obstacles mean that you need to leave behind a precious find. Be ready to combat the issue, and this can become much easier to overcome as a whole.
---
Protect your hands
When in the woods, you will more often than not run into something that could put your health at risk. While dealing with many plants and the like will post you no problem, some parts of nature are more dangerous. for example, problems like poison ivy can be found without you even realizing it. So, too, can more vicious and aggressive insects than the ones that loiter into your home.
Keep that in mind and protect your hands with a nice pair of gloves. This offers the protection that your hands are going to need if you are spending all day moving around in the muck and the mire. This stops your hands from becoming the victims of anything from a piece of poison ivy to something that could bite you and leave you with an infection. When you are in the woods, hours from home, that can be the difference between a successful trip and a helicopter evac!
---
Look For Landmarks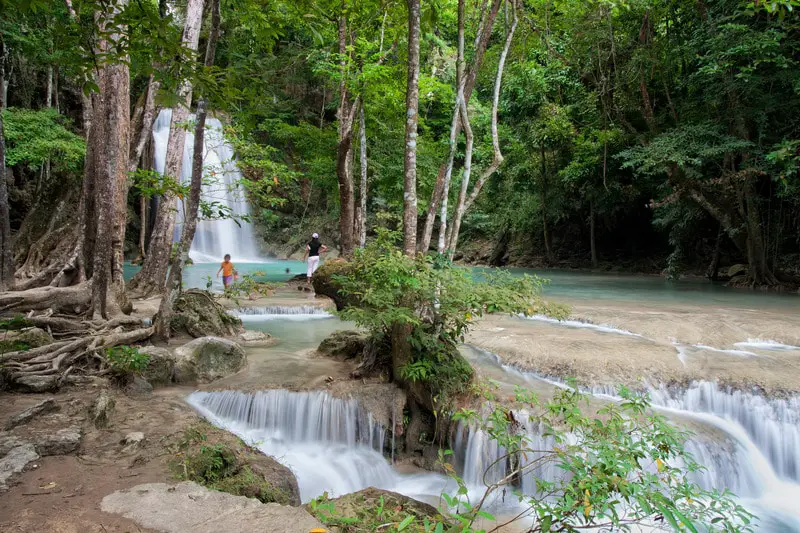 A good way to find items when metal detecting in the woods is to look for areas where people might have congregated. In wooded areas, the higher ground tends to be a good place to look for something to find. You should try and look for elevated areas within the wood to go and investigate. More often than not, this will lead to some pretty impressive discoveries that you might not have found otherwise.
Basically, you should definitely look for some landmarks that stand out as places where people might have met, or even battled, in the past.
---
Check For Signs Of Life
Another good idea when metal detecting in the woods is to look for obvious signs of previous life and civilization. Deep within the forest, finding fruit trees is often a good way for you to find some signs of life in the past. While the person might be long gone, the residue of their impact on nature has remained and thus we have signs of life that remain visible and vibrant.
Keep that in mind, and it can ensure that you have all the help that you need to find potential spots to check out.
---
Bring Your Most Patient Self
Lastly, make sure you bring your most patient mindset. Forest hunting often means finding lots of garbage, especially if you are near any kind of body of water. Most of your discoveries are likely to be things like fish hooks and scrap metal, even cans of old beer. It's not pleasant, but you are going to have to get used to looking for something specific.
Have a target in mind and use the discrimination mode on your metal detector to cut out as much of the junk as you can. You can't avoid it all, but you can cut down on the majority of poor finds for the most part.
---
Conclusion – How to Metal Detect in the Woods?
With this in mind, you should have a much easier time enjoying the art of metal detecting in the woods. Few things can be more enjoyable than a trip into the woods with a metal detector; a fun, liberating experience that often has far less competition. While the local beach might be packed with people, a forest is often far less teeming with life.
As such, you can enjoy an experience that is far more pristine and peaceful. Keep that in mind when looking for places to get involved with, and you should have no problem metal detecting in the woods any longer. A bit of patience, preparation, and practice should be the secret you need to making metal detecting in the woods a whole lot easier!