Arizona is steeped in history, legends, folklore, and lost treasure. From lost gold mines to buried loot you will discover it all in these 16 Lost Treasures of Arizona!
Arizona is the 48th state to be admitted to the Union on February 14, 1912. But even before that time during the Wild West people from all over traveled to Arizona to strike it rich or hide from the law. Before that, the Spanish Explorer Coronado landed in Arizona around 1540.
Take a ride with me through virtual time as we uncover some of the most interesting lost treasure stories of all time.
16 Lost Treasures of Arizona
| | | |
| --- | --- | --- |
| | | |
| Lost Dutchman's Gold Mine | | |
| Herman Wolf's Treasure Trove | Cans and jars full of gold and silver coins | Off the California Santa Fe Trail on the little Colorado river near Canyon Diablo |
| Legend of the Lost Opata Mine | | Near the Tumacacori mission in Arizona |
| The Smiling Bandits Lost Loot | $250,000 and $16,000 gold coins | Opening of an Extinct Volcano near Flagstaff, Arizona |
| Red Jack Almer Gangs Lost Loot | | Somewhere in the Prescot, Arizona area near the Red Jack Almer Gangs Hideout. |
| $72,000 in Gold Coins: Stolen Army Payroll | | Near the old Canyon Station in the foothills of Cerbat Mountain |
| Buried Cans of Gold Coins at Ashurst Ranch | Five and Ten pound cans of gold coins | Ashurst Run 25 miles southeast of Flagstaff, Arizona |
| Lost Gold at Granite Dells | Canvas bags full of gold dust and nuggets | Near a spring in Granite Dells four miles from Prescott, Arizona |
| | Untold amount of stolen loot | Somewhere near the Ghost town of Gillett |
| Hidden Indian Gold Near Lynx Creek | | Lynx Creek area east of Prescott, Arizona in the Northern Bradshaw Mountains |
| Don Joaquin's Lost Mine & Buried Gold | | In a cave close to Montezuma's Head in the Sierra Estrella Mountain range |
| | Untold amounts of stolen loot | Near Solomonville, Arizona |
| | Two bags of gold and silver coins | Veit Spring near Flagstaff, Arizona |
| Kneeling Man Boulder Treasure | | |
| Sunken Loot in Rogers Lake | $25,000 in gold and silver coins | |
| Lost Gold Near Mormon Lake | $315,000 gold and silver coins and cash | Between Morman Lake and Flagstaff, Arizona |
Lost Dutchman's Gold Mine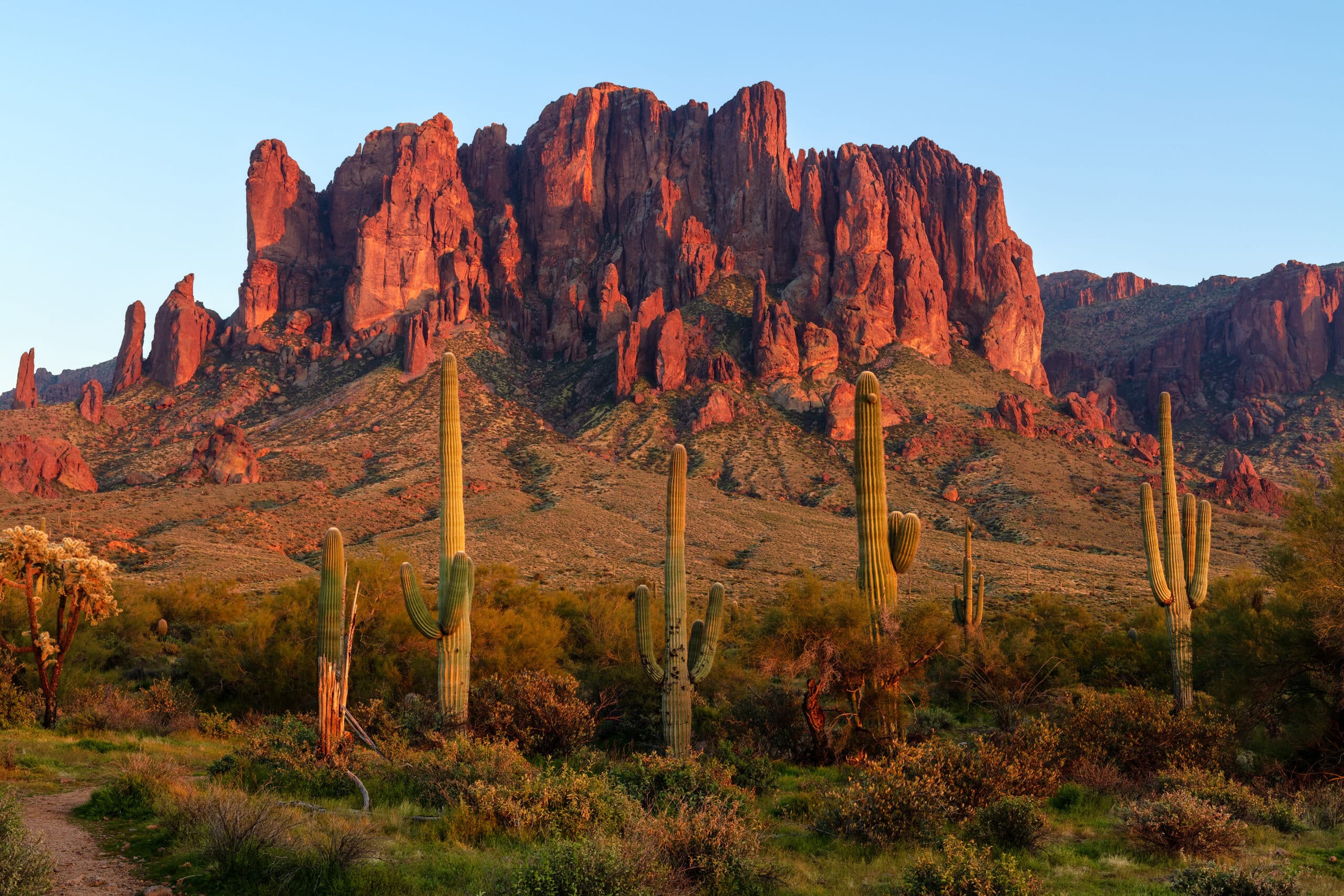 The story of the Lost Dutchmans Gold Mine starts in 1748 when a man named Don Muguel Peralta who was a Mexican Cattle Baron was given a land grant for the rights of the Superstition Mountains.
The Peralta family mined the area for over a century. They would go into the mountains and always come out with loads of gold. They were worried about an Apache attack so they would make these trips short and sweet!
In the winter of 1847-1848 Pedro Peralta made his last trip to the mines. Pedro and the other miners with him got word that the Apache were going to attack so they closed up the entrance of the mine and got out of there. They headed back to Mexico with wagons full of gold. They were attacked by Apache and all of them killed.
In 1864 another member of the Peralta  family Enrico decided to go back to the mine. Enrico took 400 men with him into the Superstition Mountains. They didn't make it. All but one of the men were killed by Apache Indians. The Peralta family never returned to the mine.
Jacob Waltz
Around 1870 a man named Jacob Waltz received info from one of the Peralta Family members of were the mine was located. Jacob Waltz who lived from about 1808-1891. Jacob was actually German not Dutch. People of German ancestry were called 'Dutchmen' in the those days.
Like I said earlier Jacob Waltz was born in Germany in September of 1808. There is an affidavit document of Jacob Waltz being in the U.S. in 1848 saying he was about 38 years old at the time. Jacob ended up in Arizona in the 1860s and according to one popular story he owned a farm north of the Superstition Mountains close to Phoenix.
Jacob by all accounts was a gold prospector. Over the years he would show up with large amounts of gold on him. One story states that he sold $250,000 worth of gold to the U.S. Mint in the 1880s. In today's figures that would be an enormous amount of money.
The Flood
In 1891 there was a massive flood that swept the Phoenix area. The flood destroyed Jacob's homestead and farm. Jacob was saved by two brothers during the flood. Their names were Herman and Reinhardt Petrasch. Although saved from the flood Jacob contracted pneumonia during the flood and fell deathly ill. A nurse by the name of Julia Thomas looked after Jacob until his death on October 25, 1891.
Search For The Lost Mine
Before his death, Jacob asked the two brothers if they would go back to his homestead and see if they could recover the gold he had left behind. Herman and Reinhardt went to his homestead and came back with about $15,000 worth of gold.
Throughout the summer of 1891 while Jacob lay sick he would give out clues of the whereabouts of his gold mine to Julia and the two brothers. Julia, Herman, and Reinhardt went searching for Jacob's mine but they never did find it.
To this day people trek from all over to find the lost mine hidden somewhere in the Superstition Mountains. Be careful if you venture out to that mountain in Arizona because there are rumors of the mine being cursed. Many people have died and small fortunes have been lost in the search for the Lost Dutchman's Gold Mine!
---
LEGEND OF THE SUPERSTITION MOUNTAINS
TV SERIES: Legend of The Superstition Mountains

STARRING: Frank Augustine & Wayne Tuttle

SEASONS: 1

AIRED: History Channel



---
Herman Wolf's Treasure Trove
Herman Wolf was a beaver trapper and trader. Around 1869 he decided to set-up a trading post along the Little Colorado River. The trading post lasted for thirty years from 1869-1899.
Because of the enormous amount of robberies in the 1800s Herman, like many others in those days, would put profits of his trading post in cans and jars and bury them around the fences on his property. He made a fortune in silver and gold coins from his trading in those thirty years so it was imperative that he hid his wealth.
Caches started popping up in 1901 when there were 20 U.S. gold coins found on Herman's property. In 1966 Mexican silver coins were found in a bucket there.
After having his trading post for thirty years Herman Wolf was estimated to be worth $250,000 which was a considerable sum back then. Can you imagine what that gold and silver is worth in today's money? So chances are there is still many unfound cans and jars stashed with gold and silver coins on Herman's property today.
The trading post was located off the California Santa Fe Trail on the little Colorado river near Canyon Diablo.
Legend of the Lost Opata Mine
Near the Tumacacori Spanish Mission south of Tucson near Nogales, Arizona lies the rumored Lost Opata Mine. Spanish missionaries thought it would be wise to convert the Opata and Papago Indians in the area to Christianity. They set up a mission there in which they called Mission San Jose de Tumacacori which still stands today.
The missionaries found rich silver veins in the area and started a few mines in 1766. One of them being the Opata mine. As the name suggests the Opata Indians were made to work in the mine. For some reason, the Opata preferred to work in this particular mine so the missionaries let them.
As the story goes this was a highly profitable mine so much so that there was a huge room in the back of the mine in which they piled up silver in the center of it.
The Opata Indians would use this room filled with silver at night to do their pagan rituals. One day they saw a Mayo Indian Princess. She was traveling across the desert. The Opata obviously listened to a little of the Christian teachings that the missionaries preached because they decided this Mayo Indian Princess was going to be the next Virgin Mary.
They quickly grabbed the Mayo Princess and brought her to the mine where they tied her to the pile of silver. They tried to persuade her to marry their chief. They thought if she married the Chief a savior child would be born. The princess refused to marry their Chief saying she would rather die because she was already promised to be married to a brave from her own tribe.
The Sacrifice
So the Opata Indians decided to sacrifice the young princess to the gods. The Chief cut open her hands and poured sotol cactus juice into her cuts which legend has was poisonous. Supposedly when direct sunlight touches the skin that the sotol juice is on it will rot the skin and cause death.
Sunlight finally hit the princess and she died. the Spanish missionaries heard a noise coming from the mine and went to check it out. To their dismay, they found the Mayo Princess dead tied to the pile of silver. The missionaries decided to blow up the entrance to the mine which left the princess and the silver concealed in the mine.
The lost Opata mine could still be waiting for discovery near the Tumacacori mission in Arizona. But chances of finding it are slim because the mission is now part of the Tumacacori National Historic Park. It would be fun to go there and look around maybe you could locate the blown up entrance to the mine.
The Smiling Bandits Lost Loot
Roy G. Gardner nicked named the 'Smiling Bandit' robbed mail trains during the 1920s. Many times he escaped from law enforcement and prison. He is said to have stolen a total of $350,000 in cash and securities over his career as a train robber.
After escaping many times from Federal prison Gardner finally ended up in Leavenworth prison in Kansas and later was moved to a federal prison in Atlanta. He tried to escape in Atlanta but he was caught and put in the hole for twenty months. When he got out he had gone insane. They sent him to an insane asylum called St. Elizabeth Hospital. After a time in the asylum, he was sent to Alcatraz.
Roy was released in 1938. Now old and tired he shot himself in a small hotel room that he was staying at. It is said that $250,000 of his stolen loot has never been recovered. One story states that he hid $16,000 in gold coins in an opening of an extinct volcano close to Flagstaff, Arizona. The rest of his loot is still out there waiting to be discovered in the deserts of Arizona!
---
ROY GARDNER: My Story / Hellcatraz
BOOK: Roy Gardner: My Story / Hellcatraz

AUTHOR: Roy Gardner

PAPERBACK:  153 pages

WEIGHT: 11.2 oz.

Available on Amazon.



---
Red Jack Almer Gangs Lost Loot
The Red Jack Almer gang was a notorious stagecoach robbing gang during the 1880s. One such incident which ended up being their last robbery took place on August 10, 1883. They robbed the Florance Globe stagecoach that had a Wells Fargo strongbox of gold on it.
Jack Almer the leader of the gang was said to be dressed as a woman and boarded the stagecoach. The other two men of the gang Charlie Hensley and Joe Tuttle road ahead so they could ambush the stage later on the route.
About two miles from Riverside Station they opened fire on the stage killing the shotgun guard Johnny Collins. They then ordered a passenger by the name of Felix LaBlanc to break open the strongbox with a hatchet that they supplied. They road off up the Gilla river with $2500 worth of gold and silver coins.
A posse was formed and caught up with Joe Tuttle at Len Redfield's ranch. Joe confessed to the robberies and was taken along with Redfield to the Florance Jail. While at the jail vigilantes broke down the back door and ended up hanging Tuttle and Redfield.
The other two members of the gang Red Jack Almer and Charlie Hensley were held up at their hideout in the Rincon Mountains where on October 4, 1883, a posse led by Pima County Sheriff Bob Paul and Sheriff Doran ambushed and killed the two men. The stolen stagecoach loot has never been found.
It is said that $8,000 in gold coins is hidden somewhere in the Prescot, Arizona area near the Red Jack Almer Gangs Hideout.
$72,000 in Gold Coins: Stolen Army Payroll
In 1873 a man named Macallum or McAllen no one knows which is correct and an unnamed partner robbed a stagecoach near Canyon Station which was a small stage station in the Foothills of the Cerbat Mountains close to Kingsman, Arizona.
The stagecoach had on it a strongbox consisting of an Army payroll that was estimated to be $72,000 in gold coins. The payroll was being transported from Prescott Arizona to Fort Mohave on the east bank of the Colorado River.
The two men took the strongbox full of gold coins and let the stagecoach go on its way. A posse was formed and sent out after them. Macallum and his partner realized they had a posse on their tail buried the strongbox near where they stole it and headed on ahead. The posse finally caught up with them and Macallum's partner was shot dead. Macallum was taken into custody, tried, and sent to Yuma Territorial Prison.
Desperate attempts were made to get Macallum to give up where they buried the loot but he wouldn't talk.
While on his death bed Macallum confided in another prisoner of the whereabouts of the stolen loot. When that prisoner got out of prison he went in search of the $72,000 in gold coins.
The Search For The Gold
He went to Canyon Station where a man by the name of Andy Goodwill was living. Andy let the man search for the lost loot on his property around Canyon Station. After a long and exhausting search, the man gave up and left.
A few years later a school superintendent by the name of Nellie Clack told a story of some bandits that hid out in a cave in Clacks Canyon that overlooked Canyon Station. This would have been an excellent lookout point of stagecoaches going in and out of  Canyon Station. She did find personal effects that someone left behind in the cave but not loot was recovered.
The $72,000 in gold coins has never been recovered. It's still out there waiting to be discovered near the old Canyon Station in the foothills of Cerbat Mountain!
Buried Cans of Gold Coins at Ashurst Ranch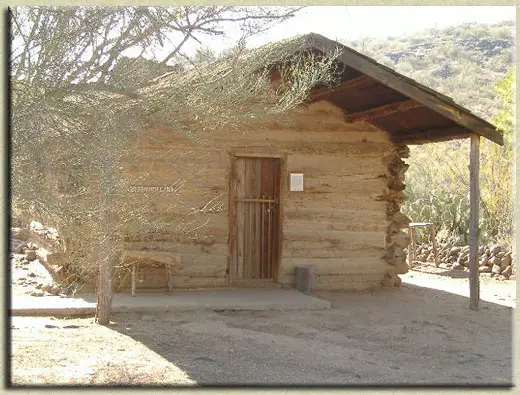 A man by the name of William Ashurst was the father of State Senator Henry Ashurst. William along with his wife Sarah Elizabeth Bogard owned a ranch near what is now known as Ashurst Run which is 25 miles southeast of Flagstaff, Arizona.
It is said that William buried five and ten-pound cans filled with gold coins on his ranch. The gold is said to have never been recovered.
Lost Gold at Granite Dells
In the 1800s some gold prospectors who struck it rich were heading back from Big Sandy River to Prescott Arizona with canvas bags full of gold dust and nuggets. They decided to break for water at Granite Dells. They were just 4 miles short of Prescott when Indians attacked.
They quickly buried the gold while the attack was taking place near the spring. All but one of the prospectors were killed. The surviving prospector later went back to the spring in Granite Dells to locate the buried gold but never found it.
Some stories suggest that the Indians dug up the gold and reburied it somewhere nearby. The gold has never been recovered and could still be out there in the Granite Dells area.
Blacksmith's Lost Booty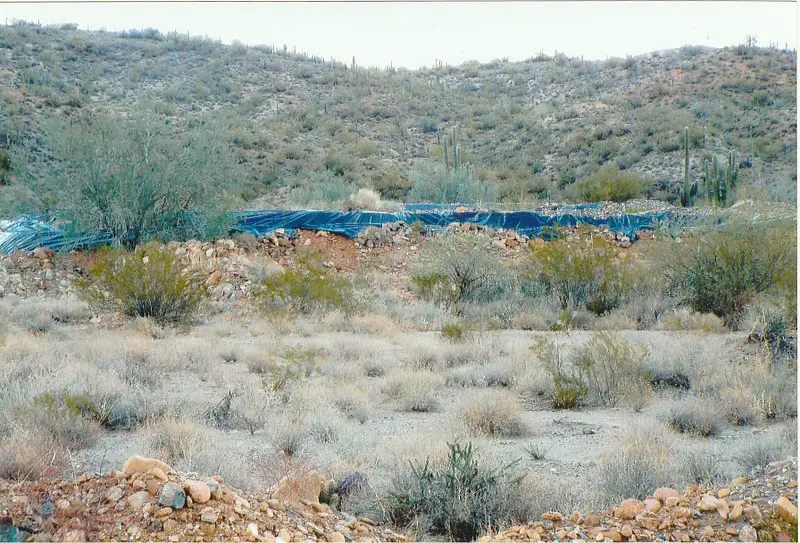 In the 1880s a blacksmith by the name of Henry Seymour lived in a mining and milling town called Gillette. He is said to have robbed three stagecoaches which ended up making him $69,000 richer. He gambled some of the booty in a poker game.
Seeing that he had this newfound wealth people started to think he was the robber of the stagecoaches in the area. So when Seymour attempted to rob his fourth stagecoach the townspeople were aware and they apprehended him.
Henry went to prison and when he got out he left Gillett and his treasure behind. Is his stolen booty still buried somewhere near the Ghost town of Gillett?
Hidden Indian Gold Near Lynx Creek
Lynx Creek which is located east of Prescott, Arizona in the Northern Bradshaw Mountains is said to have produced over $80,000 worth of placer gold during its mining operations between 1863-1940.
A few gold prospectors were able to pull out $30,000 in gold nuggets in 1964. They put the nuggets in buckskin pouches and headed back home. They didn't make it. Two Indians attacked and killed them. The Indians then rode up into the Bradshaw Mountains with the gold.
Within hours a posse was formed that went out and killed the Indians that robbed and killed the prospectors. The posse members didn't find any of the stolen gold on the Indians. Legend has it that the stolen $30,000 in gold nuggets that the Indians stole from the prospectors is still hidden somewhere in the Lynx Creek area.
Don Joaquin's Lost Mine & Buried Gold


A Spaniard by the name of Don Joaquin in 1847 started prospecting for gold in a mine in the Sierra Estrella Mountains. He forced the Indians to help mine the gold. He had an Indian scout who told him that he saw the American Army coming in the direction of the mine.
Don decided to head back to Mexico so he covered up the mine and loaded his 15 mule team with 3,000 pounds of gold. Don and his men headed up the Zig-Zag trail which is where the mine was located and headed to Butterfly Peak.
He needed to hide the gold because the Army was closing in on him so he and his men went to Montezuma's Head and went into a short box canyon that was about halfway down the trail. Don and his men found a cave there and buried the gold in the back of it. He then killed the Indian scout and put his body over the buried gold.
Don Joaquin's men ended up killing him and stealing the treasure map that he had drawn up. The American Army was still after them so they headed back to Mexico with the treasure map.
One day an old man showed up in Phoenix with the original Don Joaquin treasure map. He searched and searched for the buried gold but was scared away by the Indians in the area who were hostile. The gold and the mine have never been found.
The buried gold still remains somewhere in a cave close to Montezuma's Head in the Sierra Estrella Mountain range. Don's gold mine has never been located.
Bronco Bill's Lost Loot
Bronco Bill's real name was William E. Walters who lived from 1869 to June 16, 1921. He started out life as a cowboy and section hand on the Santa Fe Railroad. Later in his life, he started robbing trains and stagecoaches. He even joined the Black Jack Ketchum Gang.
He convinced some of the members of the BlackJack Ketchum gang to break ties and join him in a new gang of his own. They held up many Wells Fargo stagecoaches and even killed a few men. Wells Fargo had enough so they hired two lawmen by the names of George Scarborough and Jeff Milton to get together and go after Bronco Bill and his gang.
Bronco Bill's next robbery at the Grants Station didn't go so well. They were driven away by heavy gunfire from the two lawmen. The pair tracked Bronco Bill and his men down to their hideout that was close to Solomonville, Arizona. They exchange gunfire and in the end, Bronco Bill was wounded and one other gang member was killed.
Walters was sent to prison for life but ended up being released in 1917. He then moved to Hachita, New Mexico. There he worked as a wrangler until his death in 1921 when he fell off of a windmill that he was repairing.
He never did return to his old haunt in Solomonville, Arizona. Wells Fargo never recovered the stolen loot. Legend has it that Bronco Bills lost loot is still waiting to be discovered somewhere near Solomonville, Arizona.
The Bronco Bill Gang
BOOK: The Bronco Bill Gang

AUTHORS: Karen Holliday Tanner & John D. Tanner Jr.

HARDCOVER:  320 pages

WEIGHT: 1.1 - LBS

DIMENSIONS: 5.5 x 1.07 x 8.5 inches

Available on Amazon.


Lost Loot Near Flagstaff
In 1881 a stagecoach of mail was robbed by 5 gunmen. Unknown to the passengers and crew two of the mailbags on board had in them $125,000 in gold and silver that was in two 5 gallon whiskey kegs that were being transported from an Albuquerque bank to a San Francisco bank. It was a secret Wells Fargo shipment.
Wells Fargo decided to use the mail route stagecoach to throw bandits off the trail of any financial shipments because Wells Fargo was getting robbed quite often using regular stagecoach routes. Obviously, these outlaws knew about Wells Fargo's new plans.
The five outlaws took the two bags of gold and silver and sent the stagecoach on its way to Flagstaff where it arrived at 5:00 pm. A posse was then formed to try and catch up with the bandits. They ended up getting help from the U.S. Army, 6th Cavalry, and two Indian Scouts.
They all caught up with the bandits at a spring that later was named Veit Spring. They were way up in the mountains at an 8,500-foot elevation. They came to a log cabin that was near the spring which had five horsed tied to poles in a corral. The bandits tried to ride away and started shooting at the posse. The posse fired back killing each of the bandits.
The posse immediately searched for the stolen loot but didn't find it. The next day more men arrived at the cabin to search. They dug the whole area up but never found the loot.
The property owner George Veit spent the next thirty years digging and searching in caves but no treasure was ever found. The lost loot could still be out there around Veit Spring near Flagstaff, Arizona.
Kneeling Man Boulder Treasure
---
In the late 1870s, five miners were taking ore samples and trying to stake a claim to a mine in the Prescott, Arizona area. They found what they were looking for a rich mine and they started to mine the gold ore out. They would put the gold ore in packs that the mules and horses were carrying. They ran out of packs so they cut up their tent to make more packs for the gold ore.
The miners started running low on supplies and water was scarce because the seasonal rains had yet to arrive. A cavalry soldier who was a member of the party noticed a pack of Apache Warriors headed in their direction. So the miners quickly concealed their mine and took all the packs of gold roe and headed to Fort Whipple where they would be safe.
The miners were dying one by one from lack of water so they decided to bury the packs filled with the gold ore along the way. They let the horses and mules go in hopes that the Apaches would follow the animal's footprints giving them a better chance of getting away.
One man remained and he buried the last largest pack of gold ore under a large boulder that looked like a kneeling man near a tree that was marked with a cross and half a circle. The last miner collapsed at the foot of the mountain near Prescott.
Another man came along and spotted him. The dying miner told this man the whole story and where they buried the gold ore. The miner died shortly after and was buried close to the spot that he collapsed.
No one has ever located the kneeling man boulder or the gold ore buried by the miners. It could still be out there waiting for discovery. If you could find the miner's grave you would have a good clue to the location of the Kneeling man boulder.
---
Looking For a Top Rated Metal Detector That Won't Cost You Thousands of Dollars but works like a $2000 machine? Then you will want to check out the Garrett AT Pro. This Metal Detector Has all the top features you would expect in a quality metal detector. Check it out today it's available on Amazon!
---
Sunken Loot in Rogers Lake
---
Two bandits by the names of Ralph Gaines and Henry Corey stole eight large gold bars from the Tip Top mine near Gillette, Arizona. The two men buried these huge bars close to a cabin on Rogers Lake.
They then proceeded to Flagstaff, Arizona where they stole $25,000 worth of gold and silver coins from a stagecoach. They returned to the cabin and dug up the gold bars and placed them and the stolen stagecoach loot into two large wooden kegs. They then went out and cut a hole in the ice of Rogers Lake and dumped the kegs into the lake.
A posse was formed to go after Gaines and Corey. The two men took off leaving the treasure behind. Gaines was later killed in a bar fight and Cory ended up being arrested during a hold up close to  Globe, Arizona. He was sent to prison.
Upon his release from prison 24 years later Corey tried to search for the stolen loot at Rogers Lake but he never was able to find it. The two wooden kegs are probably rotted away by now but the gold and silver that were in the kegs should still be there lying on the lake bed of Rogers Lake.
Lost Gold Near Mormon Lake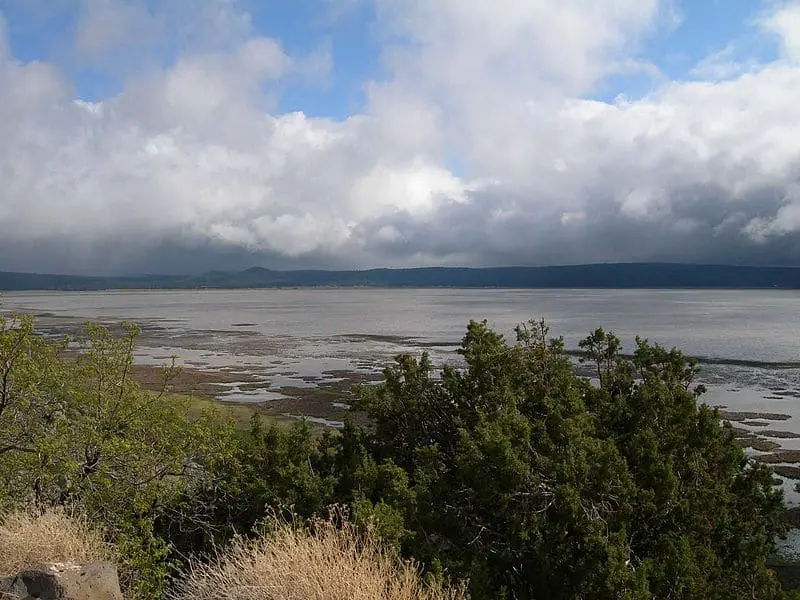 A stagecoach was held up near Stanwix Station in 1879. Four bandits got away with $60,000 in cash and $140,000 worth of gold coins. The day before the thieves stole $125,000 worth of gold coins from a stagecoach near Gila Bend close to Flagstaff, Arizona.
The outlaws took off to the northeast into Tonto Basin. A posse was catching up with them so they turned northwest. The posse finally caught up with them and shot and killed two of the outlaws but the other two got away to Holbrook. While in Holbrook one of the bandits was killed during a poker game. The other outlaw named Henry Tice then shot and killed the other gambler. Then Tice was shot by another man.
With the gang, all dead no one ever found out where the stolen gold and cash was hidden. The legend has it that it still waits for discovery between Morman Lake and Flagstaff, Arizona.
Final Thoughts
---
Well, there you have it the 16 Lost Treasures of Arizona. There are more treasure legends and stories about Arizona that would take a whole book to write about them all. The Wild West was a wild and crazy time, especially in the Arizona area. There are tons of treasures to still be found but with a little luck and a strong desire you might be able to find some of them.
Make sure you know the laws of metal detecting and where you can and cannot dig. Wouldn't want you to get in trouble for trespassing or worse yet get yourself killed. If you enjoyed these treasure stories from Arizona you might also enjoy 13 Lost Treasures of Alaska. 
I hope you enjoyed this journey through virtual time and if you have any questions or experiences we would love to hear from you about them. Until Next Time Happy Treasure Hunting!