There are a staggering 229 lost treasure sites that dot the state of Texas. In this article, lost treasures of Texas, we will be discussing 8 of the most popular lost and buried treasure legends of this state. You will learn about lost train robbery loot too buried pirate booty of Jean Laffite and also the lost treasure of John Singer the brother of the founder of the Singer Sewing Machine Company among others.
So read on if you are interested in some of the history of Texas and its lost treasure tales. I know you will enjoy it!
---
8 Lost Treasures of Texas
| TREASURE | AMOUNT | LOCATION |
| --- | --- | --- |
| Little Cypress Creek Treasure | Gold and silver coins, worth millions of dollars. | Little Cypress Creek north of Gilmer, Texas. |
| Stolen Bank Loot Buried Near Red River | $10,000 in gold coins | Somewhere between a bridge off of Highway 81 and the entrance to the Little Wichita River. |
| Jackson Massacre & Their Buried Gold | Metal Container of Gold | Somewhere in southeast Mills County Texas. |
| Pirate Jean Laffite's Lost Silver Load | $2 million in silver bars and ingots | Bottom of the Sabine River or in Hendricks Lake. |
| Newton Gang's Buried Train Robbery Loot | $100,000 in cash | Somewhere on Fredericksburg Road or the road to Bandera, Texas. |
| Buried Loot of Outlaw Sam Bass | $60,000 in gold and silver coins and other unknown amounts. | In a cave near Big Blue Spring, Tx. On East Mountain near Mineral Wells, Tx. Longhorn Caverns in Hill County. In a creek bed near Castell, Texas. In a cave on Packsaddle mountain. |
| Lost Padre Mine Treasure | 4,336 gold ingots, 5,000 silver bars, and nine burro loads of jewels | In a filled in mine on Franklin Mountain in El Passo County just north of El Paso, Texas. |
| Lost Treasure of John Singer on Padre Island | $80,000 worth of jewelry and coins | The southern end of Padre Island. |
---
Little Cypress Creek Treasure
On July 15 and 16 of 1839 there a battle took place near Tyler, Texas called the Battle of Neches where over 100 Cherokee Indians were killed and the rest were sent fleeing to the Indian Territory of Oklahoma. The Mexican Army at the time met up with the fleeing Cherokees. The Mexicans were holding gold and silver coins that they had promised to give to the Cherokee people if they helped drive out the White Settlers from Texas.
While the Indians were in retreat along with the Mexicans they found their way to a swampy area now known as Little Cypress Creek just north of present-day Gilmer Texas in Upshur County. While here many of the Indians spread out in the swampy wooded areas.
Legend has it that the Mexicans being fearful for their lives couldn't go far with all the gold and silver coins they were carrying so they decided to hid the treasure in a deep spot in Little Cypress Creek. Soon people in the area heard about the hidden Mexican cache and many started searching for it.
No treasure was ever found and some believe that it's still waiting to be recovered in a deep sinkhole in Little Cypress Creek north of Gilmer, Texas. If this treasure is really there it would be worth millions of dollars!
---
Stolen Bank Loot Buried Near Red River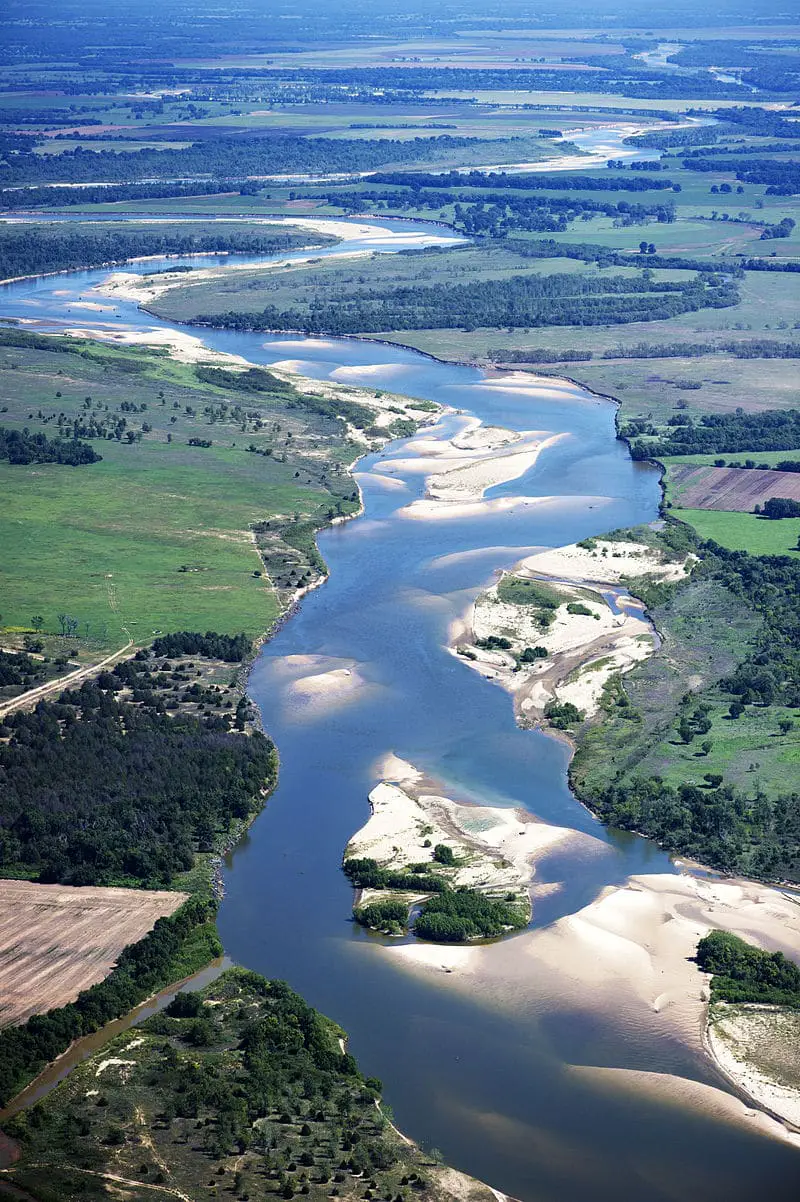 The First National Bank in Bowie, Texas was robbed in 1894. The bandits got away with $10,000 in $20 gold coins and $18,000 in paper currency. The bandits quickly headed north to the Oklahoma border with Texas. They stopped near the Red River and camped for some time.
Soon U.S. Deputy Marshall Lewis Palmore with the Indian Territory got word by telegraph about the robbery from the Bowie, Texas Sherriff. Knowing that the bandits were probably going to try and cross the Red River at Rock Crossing he formed a posse to wait for them there.
When the bandits took off from their camp they noticed a posse was coming after them so they tried to cross the Red River with their horses. Little did they know that on the other side Lewis Palmore's posse was waiting for them. The four bandits were apprehended by Palmore and they only had the $18,000 in paper currency in their saddlebags. The gold coins were nowhere to be found.
The four bandits were brought to Fort Smith in Arkansas to be put on trial and hanged. While one of the men was waiting to be hung he stated to one of the guards there that they had buried the $10,000 in gold coins on the south bank of the Red River where they were camping.
Although Palmore and later his son Frank searched for the lost gold coins they were never found and some believe they are still buried somewhere between a bridge off of Highway 81 and the entrance to the Little Wichita River. With all the flooding over the years that treasure might have washed downriver.
---
Jackson Massacre & Their Buried Gold
This legend states that Moses Jackson made a bundle in gold when he sold some of his cattle in the summer of 1858. In October 1858 Moses and his wife Lydia and four of their seven children took a small trip to go see some of their friends. While on their way they were attacked by Commanche Indians. Both Moses and Lydia were killed along with two of their children.
The other two children were taken by the Indians but they left them a couple of weeks later alive. After walking for a couple of days some Texas Rangers happened upon them and they were taken to safety.
Soon after the massacre stories started to go around that Moses Jackson had buried the gold he had received from the sale of the cattle somewhere near their cabin. One of their sons who didn't go on the trip with them overheard his dad and mom talking about the gold. He also witnessed his father dump the gold into a metal container and leave the cabin. He later came back without the container of gold.
Moses's son Javan spent some time searching for his father's buried gold but he never found it. Over the years treasure hunters have searched for Moses's buried gold near his old cabin but as far as we know it has never been located and is presumed buried somewhere near Jackson's cabin in southeast Mills County Texas.
---
Pirate Jean Laffite's Lost Silver Load
Jean Laffite the notorious pirate spent the years 1817-1820 headquartered on Galveston Island. While there he and his brother Pierre would loot ships that came from the Gulf of Mexico. Lafitte even built a village here called Campeche where he would keep track and store the immense wealth that he and his brother gathered from raiding ships up and down the Gulf of Mexico.
Legend has it while Laffite was in Texas controlled by the Spanish at the time that he raided a Spanish Galleon and took over $2 million dollars in silver. This amounted to wagon loads of silver. The legend goes on to state that Laffite and his men dumped that wagon loads of silver bars and ingots into the Sabine River in Texas to keep it from Indians that they were worried would attack them.
Laffite and his men later left Texas when the U.S. government decided to crack down on them. By all accounts, they never retrieved the silver from the Sabine River. Over the years many treasure hunters have searched for this treasure to no avail. Some went as far as dynamiting the bottom of a nearby lake called Hendricks Lake no silver was found.
In the 1880s a few silver bars were caught in some fishermen's nets but that is all that has been found of this treasure. There could still be a ton of silver bars and ingots underneath centuries of muck and mud at the bottom of the Sabine River.
---
Digging Deeper: How to Metal Detect Rivers and Lakes – (Complete Guide)
---
Newton Gang's Buried Train Robbery Loot
The Newton brothers Joe, Willie "Doc", Jess, and Willis were a gang of outlaws that started small robbing from stores when they were young and worked their way up to robbing banks and trains. Over their career as outlaws in the early part of the nineteenth century, they held up banks and trains in many states such as Texas, Kansas, Nebraska, Oklahoma, Iowa, Wisconsin, North Dakota, and even parts of Canada.
During the years of 1919 to 1924 the Newton Gang is reported to have stolen more loot than the James-Younger Gang, Butch Cassidy's Gang and the Dalton Gang combined. According to the brothers they never killed anyone during that time and by witness accounts, the Newton Gang was always courteous when committing their crimes. The brothers are said to have robbed 87 banks and six trains during their career from 1919 to 1924.
On their last major robbery which was the largest train robbery in history on June 12, 1924, the Newton Gang along with gangsters and a postal inspector out of Chicago robbed a train at Rondout, Illinois.
Train Robbery at Rondout
The story states that Willis Newton and the Postal Inspector named William J. Fahy and boarded the mail train in Chicago. They ordered the train to stop at Rondout and told the mail handlers to throw the sacks of mail-carrying $3 million out of the train. Willie Newton was shot in the leg from the crossfire and they loaded him into a car that was waiting and proceeded to flee with the $3 million in tow.
A witness hear the name Willie shouted during the robbery which gave the police an idea of who the robbers were. A few days later, Willis, Doc, and Joe were arrested in a house in Chicago but Jess Newton was on his way to Texas with $35,000 from the robbery.
While in San Antonio Jess stopped off at a bar and got drunk. He decided he needed to hide the loot so he hailed a cab and buried the loot out in the country. After burying the loot Jess decided that he should go to Mexico and hide out so he went back to dig up the loot but he couldn't remember where he buried it because he was so drunk at the time. Jess even asked the cab driver if he remembered where he had driven him that night but the cab driver had too much to drink as well and he couldn't remember either.
Newton Gang Sent to Leavenworth Prison
After searching for the buried loot unsuccessfully Jess finally decided to take off for Mexico where he later was apprehended in Via Acuna by a federal agent and brought back to the states to stand trial.
Everyone involved in the train robbery at Rondout, Illinois was convicted and sent to Leavenworth Prison in Kansas. After serving their rather light sentences Jess and Joe Newton went back to their hometown in Uvalde, Texas. While Willis and Dock had a longer sentence when they got out they went to Tulsa, Oklahoma
In 1934 Joe and Willis were sentenced to 10 years in Oklahoma prison for robbing a bank that they claim they didn't do. They were released after 7 years.
What Happened To The Newton Gang After Prison?
In 1968 Willie " Dock" Newton tried to rob a bank in Rowena, Texas but it didn't go so well and he was apprehended because he was in his late 70s at the time he was let go. Doc was beaten badly during that bank robbery that he never fully recovered from and died in 1974 at the age of 83.
Jess Newton lived his life after prison as a cowboy in Uvalde where he died in where he died on March 4, 1960 in a VA hospital. Jess was a veteran of WW1 Texas Brigade.
Joe Newton became a businessman in Uvalde and owned a cafe there among other businesses. Joe died February 3, 1989 at the age of 88.
Willis Newton was suspected in a bank robbery in Bracketteville, Texas in 1973 but there was not enough evidence to prove it. Willis died on August 22, 1979.
What Happened to the Buried Loot?
Most of the loot stolen from the train robbery in Rondout, Illinois was returned except for $100,000 of which Jess buried $35,000. The Newton brothers differ on where the money was buried. According to Willis Newton Jess buried the money on top of a hill and put a stone over it.
Jess said under oath that the loot was buried somewhere on Fredericksburg Road while Willis claims it's on the road to Bandera, Texas. Since the loot is in cash it might not be intact after all these years but it would still be fascinating to find the location of where they buried it.
What's pretty cool that you can watch below is that Joe Newton was a guest on the Johnny Carson show before he died. In the following video, Joe speaks to Johnny Carson about his exploits and the train robbery at Rondout. Also included in the video are clips from an interview with Willis Newton.
It's not every day you get to see and hear actual train robbers from the early 1900s that were involved in a lost treasure story! Enjoy.
---
Digging Deeper: Lost Treasures of Illinois
---
Buried Loot of Outlaw Sam Bass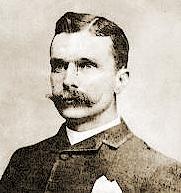 Sam Bass was born on July 21, 1851, on a farm in Mitchell, Indiana. In his early years, Sam worked at a sawmill in Rosedale Mississippi then he went on to cattle wrangling in Denton, Texas. After getting tired of the hard work and little pay he decided to buy a racehorse which he made good money from.
After that, he and a partner Joel Collins started driving cattle for some ranchers in San Antonio, Texas which took them to Nebraska in 1876, and while in the town of Deadwood South Dakota they lost all the money they made from the sale of the cattle while gambling there.
After losing all of the money Bass and Collins started their life of crime by robbing stagecoaches and went on to robbing trains. Sam and his gang made out big time in many of the train robberies. In 1877 they stole $60,000 in newly minted $20 gold coins at Big Spring Station in Nebraska.
Bass robbed a few more trains over the next year or so until people of North Texas started to get worried and the Texas Rangers were called in to go after Sam Bass and his gang. Over the next few months, Bass and his gang had a few run-ins with the Rangers.
Texas Rangers Catch Up With Bass and His Gang
The Texas Rangers finally caught up with Bass and his gang in Round Rock, Texas in July of 1878. The Bass gang was staking out a bank there that they were going to rob. But they were noticed by A.W. Grimes who was the Deputy Sherriff of Williamson County TX. The Sheriff approached the men and told them to put down their weapons. The Bass gang didn't comply and shot Grimes killing him instantly.
A gunfight ensued and Sam Bass was shot in the hand and in the chest. He got away for a short time was caught the next day in a field. He was then taken to a cabin nearby for questioning but he soon died from his injuries on his 27th birthday July 21, 1878.
Lost Treasure Tales of Sam Bass
With all the train robberies that Sam and his gang committed there are rumors that Sam must have buried or hide his ill-gotten gains somewhere in Texas. The following is are some of the stories associated with Sam Bass and his lost treasures.
One story says that he hide some of his gold in a cave near Big Blue Spring before going into Round Rock. Another story states that Bass buried his loot on East Mountain near Mineral Wells, Texas.
Another one of Bass's lost treasures may lie in a creek bed. The story goes that Sam Bass buried $60,000 in gold and silver coins in a creek bed near Castell, Texas. It is said that the spot is marked by a rock in the fork of a tree. Longhorn Caverns in Hill County is another area where Sam might have hidden some treasure. He frequently used this cavern as a hideout during his robberies.
A cave on Packsaddle mountain is another place where legend has it that Sam Bass hide sacks full of gold that were marked with the U.S. on them. No one knows for certain where Sam Bass's loot is buried but maybe someday a lucky treasure hunter will come across some of it in Texas!
---
Digging Deeper: Lost Treasures of South Dakota
---
Lost Padre Mine Treasure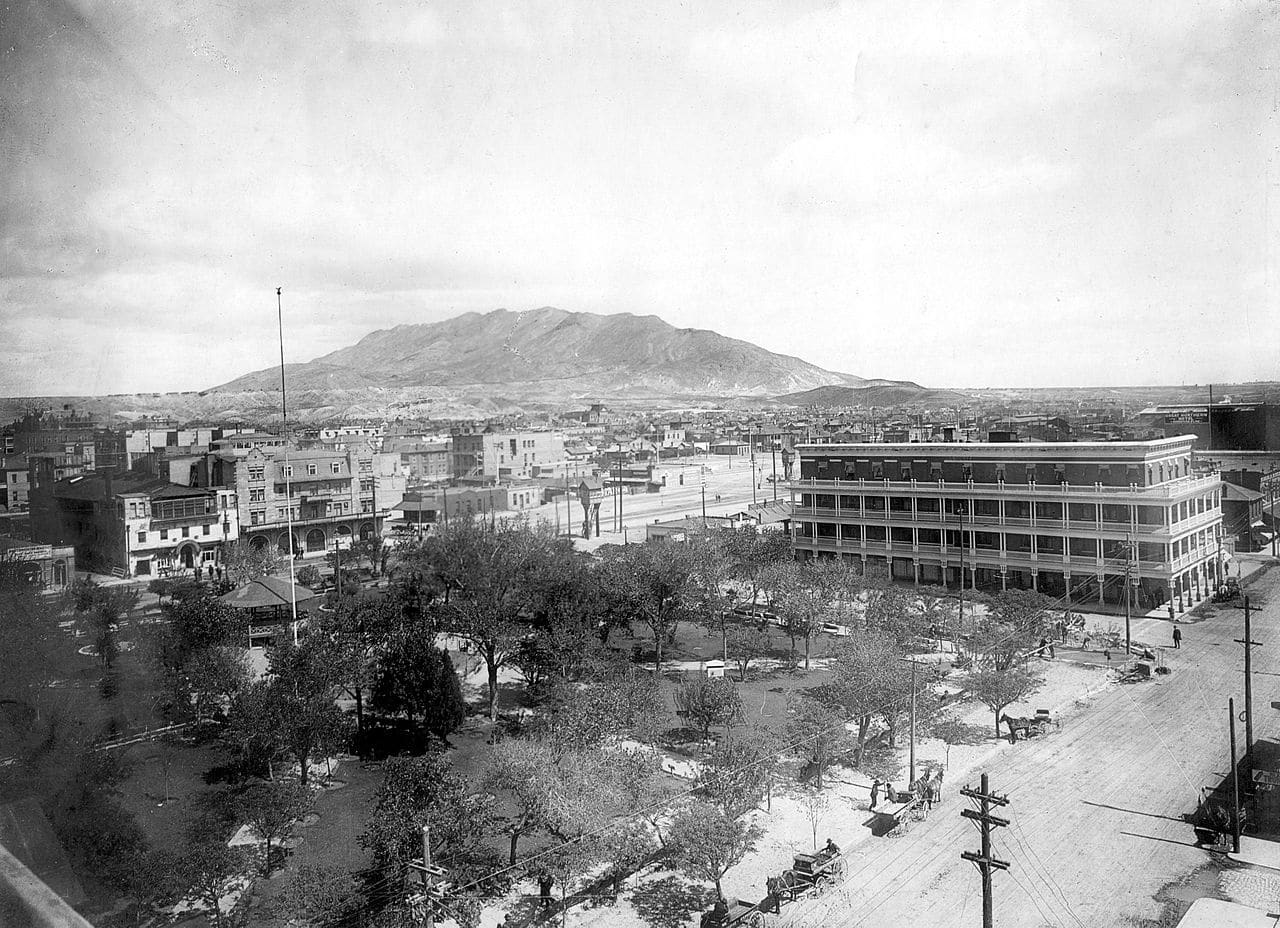 Legend has it that in the 1580s and later the Spanish Conquistadors would travel by the Franklin Mountains in El Paso County while on their way to set up camps in New Mexico and conquer and convert the peoples there. 
One of these stories says that on one of these trips the Spanish were hauling 300 burro loads of silver when they decided to hide it in a mine on Franklin Mountain. They then filled the mine shaft in with dirt.
Another story states that Juan de Oñate the first Spanish Governor of New Mexico hide 4,336 gold ingots, 5,000 silver bars, and nine burro loads of jewels in a mine around the year 1596. Some say that the shadows of the Guadalupe Mission in El Paso point the way to the Lost Padre Mine on the nearby Franklin Mountains.
So there could be a Spanish treasure of immense wealth waiting to be discovered on Franklin Mountain in El Passo County just north of El Paso, Texas in what is known as the Lost Padre Mine.
---
Lost Treasure of John Singer on Padre Island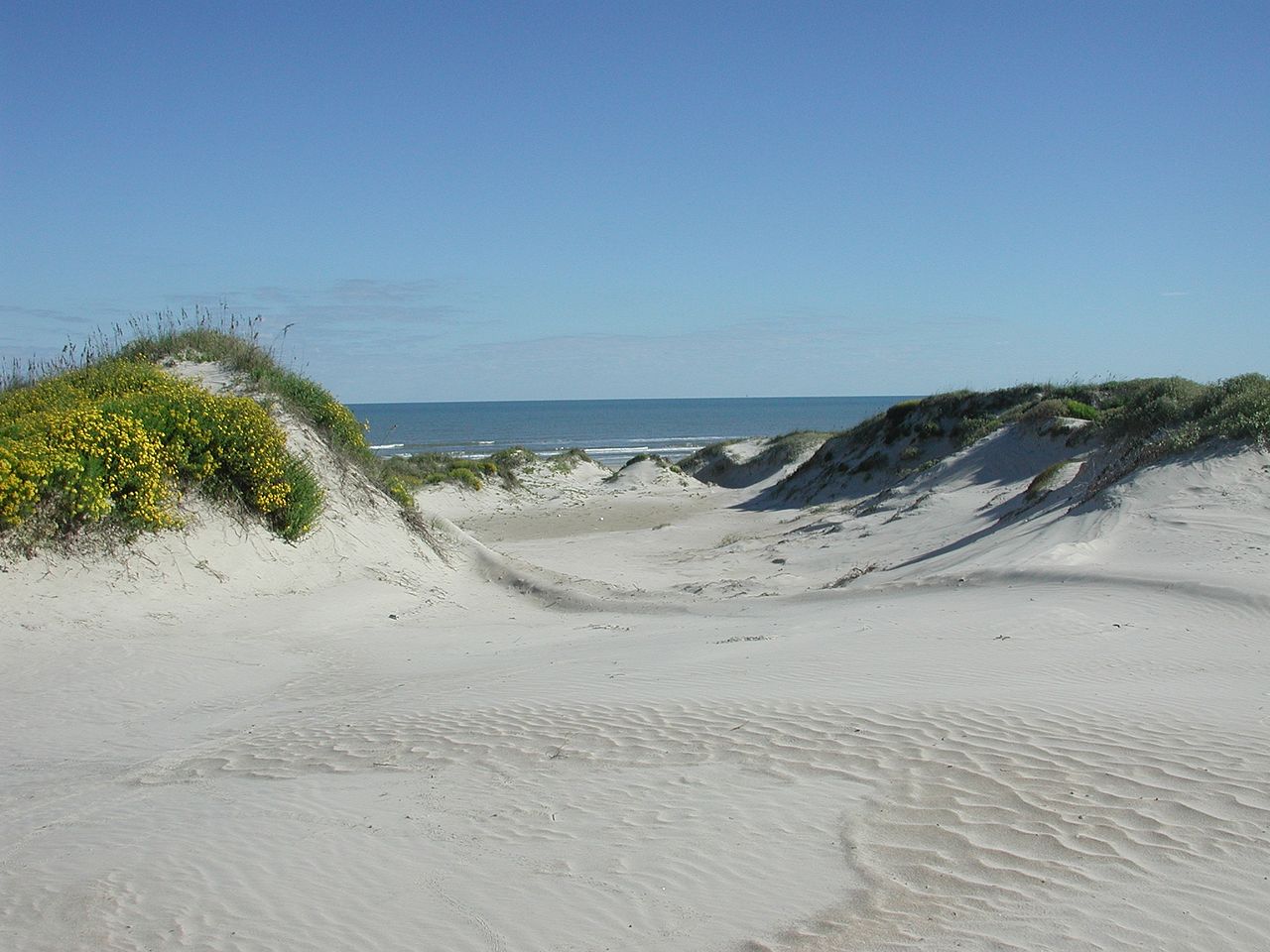 John Singer was the brother of Isaac Singer the man who started the Singer sewing machine company. John not being interested in his brother's business decided to set off for the coast of Texas to explore and start a life there.
John arrived in Texas with his wife Johanna Shaw Singer and their children. They quickly set up a shipping business in Port Isabel. One day while John and his family were sailing from port bad weather arose and they had to try and make it to Padre Island which was the closest land they could anchor near.
But as they neared the coast of Padre Island their schooner the Alice Sadell was smashed and they had to jump ship. They all made it safely to shore. They proceeded to make a tent out of the wrecked sails of the ship. After some time they built a small house on the Island and grew to love the place.
John Finds a Spanish Treasure Chest
Here they prospered for years with John making a small boat which he would go back and forth from the mainland of Texas where they would do business. While on the island they came across many Spanish coins on the beach and John also dug up a Spanish treasure chest that had $80,000 worth of jewelry and coins in it.
John would rebury this chest in a sand dune he called Money Hill on the Island to keep it safe. But when the Civil War started they were run off the island by the Confederates because they were known to be loyal to the Union. They ended up leaving their treasure behind.
After the Civil War, the Singers returned to Padre Island only to find that everything including their house was lost not only from war but from a hurricane that ravaged the area. John searched and searched for his treasure and money hill but the sand dune where it was buried was gone and so was his treasure.
Years later John and his eldest son went back to Padre Island and searched for the lost treasure chest but it was never located. So either that chest was pushed deeper into the sands or it may have been washed out to sea. The lost treasure is believed to be on the southern end of Padre Island.
---
Conclusion – Lost Treasures of Texas
Those are just a few of the lost treasures in Texas. There are many smaller stories of lost treasure but these are eight of the most known lost treasure legends of Texas. I hope you have enjoyed this article and if you have any questions or comments please leave them below. Until next time Happy Treasure Hunting!