Looking for a top-quality metal detector for gold detection? Then you will want to check out this review of the Fisher Gold Bug 2 metal detector! Gold is one of the most sought-after metals that every detectorist is wanting to find when out treasure hunting. 
If there is gold in the ground be it gold coins, nuggets, or artifacts you can rest assured that the Gold Bug 2 will find it! So owning a Gold Bug metal detector could be worth its weight in gold!
So if you are ready let's dive into the review of the Fisher Gold Bug 2 review and get you to find more gold!
---
Fisher Gold Bug 2 Metal Detector Review
The Fisher Gold Bug 2 is specifically designed for the detection of small gold nuggets. The operating frequency is 71kHz which is a perfect frequency for gold detection. You get an iron disc mode that will sort out the iron that may be in the ground and also a hot rock rejection mode.
The Gold Bug 2 is lightweight and you can also mount it on your hip. You get two elliptical search coil choices of 6-1/2″ or 10″. Both are perfectly designed for gold nugget detection.
---
Top Features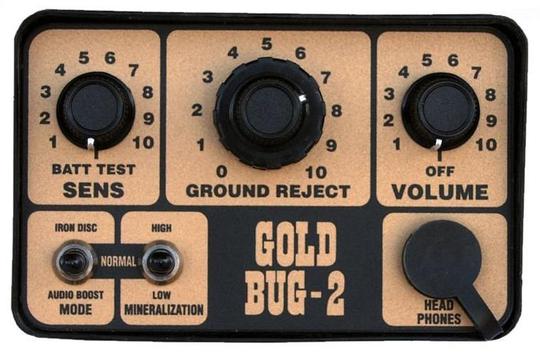 The Gold Bug 2 comes with all the features necessary to find gold wherever it may be located. It has an easy-to-use and understandable control panel as you can see in the image above.
Frequency
The high 71 kHz frequency makes the Gold Bug 2 highly sensitive to small gold nuggets. Since this frequency is higher than its predecessor you are able to use both the original Gold Bug and the Gold Bug 2 next to one another when metal detecting. This allows you to cover more ground if you have a treasure-hunting partner with you.
---
Digging Deeper: Metal Detector Frequency – Explained
---
Mineralization Switch
There is a new mineralization switch that lets you switch between low, normal, or high ground mineralization. Whatever ground you are detecting in you will be able to fine-tune this detector for the best possible detection of gold nuggets. This new feature will let you detect in high mineralization ground that you previously would have had a hard time detecting in.
The Gold Bug 2 sets new standards in located small or large gold nuggets at whatever depth they may be at in whatever ground conditions you find them in.
Iron Discrimination
The iron discrimination feature or IRON DISC allows you to check the iron content of a find in trashy areas before digging it up. Switch this feature on when you are detecting in areas that might have a lot of rusty nails or other iron objects that you don't want to waste your time digging up. This feature alone saves you a ton of time by letting you discern between the treasure and trash.
Audio Boost Mode
With the audio boost mode, you can detect small gold nuggets that are buried deep in the ground. A faint signal gets a boost when a small nugget is detected deep in the ground. It does this without increasing the volume of larger gold nuggets that might be in the shallower ground. The sound of gold is very distinct and will be of a higher pitch than other metals you are detecting.
Other Features
Dust and moisture resistant control box
Removable control housing that mounts on your hip and
reduces the weight on your arm.
Drop-in battery compartments for easy battery replacement.
 An elliptical, 10-inch, shielded search coil that's lighter, covers
more ground and gets into tighter places than a circular coil.
Optional 6.5- and 14-inch elliptical search coil.
Lightweight design, only 2.9 lbs. with cushioned armrest and
foam-grip handle.
Built-in detector stand.
Dual-knob, coarse/fine, manual ground-adjust control.
Double-locking, fiberglass-reinforced, nylon lower stem.
Quartz-crystal-locked electronics.
Source: Fisherlabs.com
---
Digging Deeper: Metal Detectors vs. Gold Detectors: Is There A Difference?
---
How Do You Use Fisher Gold Bug 2?
The Fisher Gold Bug 2 comes almost ready to use straight out of the box. There are a few steps you need to do to get the Gold Bug 2 set up and ready for use. First, we will run through the steps that need to be taken to get the metal detector adjusted for your height and stance so that you have the most comfortable experience while metal detecting.
Second, we will explain how to power the metal detector on and how to use its many features.
Adjusting The Gold Bug 2
Take the Gold Bug 2 out of the package and make sure to save the packaging and inserts for future storage of the metal detector.
Lock the lower stem into the upper stem.
The stem and coil need to be adjusted to work the best for your height. You do this by adjusting the stem length and coil angle so that the coil sits flat on the ground about 6″ to the front and to the right of your foot. If you are left-handed the coil should sit flat about 6″ to the left of your left foot. While doing this you should grip the handle loosely with your arm straight.
Tighten the nut and wing nut on the search coil.
Wrap the loop cable around the stem tightly and use the velcro straps to secure it to the stem. The cable connector should now be connected to the control housing.
Now with your arm straight lean in a little and lift until the search coil is about 2″ above the ground. At this point, you may have to adjust the length of the stem for your perfect fit and feel. You want your search position to be comfortable while metal detecting.
Adjust the armrest to the desired comfort level. It can be made wider or narrower.
Turning the Gold Bug 2 On
Now that you have the Gold Bug 2 adjusted for a comfortable and accurate metal detecting experience it's time to turn it on.
Control Settings should be the following:
MODE: NORMAL
MINERALIZATION: LOW
SENS: 10
GROUND REJECT: 10
VOLUME: OFF
2. Hold the search coil about waist higher and away from any metal objects.
3. Turn the volume control slowly from 0 to 10 especially if you have headphones on and if your headphones have a volume control set it to 0 starting out and 10 on the metal detector. Slowly increase the volume on the headphones until it's at a comfortable level.
4. While the search coil is in the air rotate the control on the back called the THRESHOLD until you hear a very faint continuous signal. This is the sound you will want to hear telling you the metal detector is working at its optimal performance.
To read more in-depth on the features and how to use the Fisher Gold Bug 2 check out the operator's manual which can be found here.
---
Pros
Made for small gold nugget detecting
Lightweight
Adjustable for comfort
Hip Mounting
Cons
Control Panel is not waterproof
---
Is The Gold Bug Pro 2 Waterproof?
The Gold Bug 2 is not completely waterproof. The search coil and the main shaft are waterproof but the control box is not. You can use the gold bug 2 only for shallow water detecting just make sure the housing control panel and the connections never get wet. This will short out your metal detector. This metal detector should not be used in saltwater or underwater metal detecting.
---
What Accessories Come With The Gold Bug 2?
You get many great free accessories with this package they include:
Reinforced plastic scoop designed to recover nuggets and help you locate them in the scoop with your detector. Available in blue, green, and black.
Black 10″ deep pocket finds a pouch with a 48-inch belt, extra inside zipper pouch, and front loops for pointer's sheath attachments
Mini Folding Shovel With Pick, Saw & Carrying Case
2-inch Loupe
Triton T2 Precision Scale
Nylon Holster
---
Conclusion of The Fisher Gold Bug 2 Metal Detector Review
If you are looking for a metal detector that has the gold detector at heart then you will want to pick up a Fisher Gold Bug 2 as your next metal detector or if you know someone who loves metal detecting for gold the Gold Bug 2 would be the perfect gift. Find gold nuggets, gold coins, and gold relics at any depth with this premium gold detector.
Click on the button below and get yours today!
Thanks for reading and if you have any questions or comments please leave them in the comments section below. Until next time Happy Gold Hunting!