In this Fisher F22 review, you will learn everything you need to know about this beginner-friendly, all-purpose, weather-resistant metal detector. I have reviewed many metal detectors but the F22 is one of the best beginner metal detectors that I have come across.
The F22 is the perfect beginner metal detector because it is easy to understand and operate. It's lightweight so you won't break your back while metal detecting. You will not have a problem if you run into bad weather while you are metal detecting because it is weather resistant. And this machine can be used for many different types of metal detecting like jewelry, coins, and artifacts.
You can also metal detect in various types of ground conditions like wet or dry sand and highly mineralized ground.
Product: Fisher F22 Metal Detector

Product Dimensions: 22" x 8" x 5"

Product Weight: Â 2.3-lbs

Guarantee: Â 5-year Limited Warranty

My Rating: 9.8 out of 10

>> Get The Fisher F22 Metal Detector Here...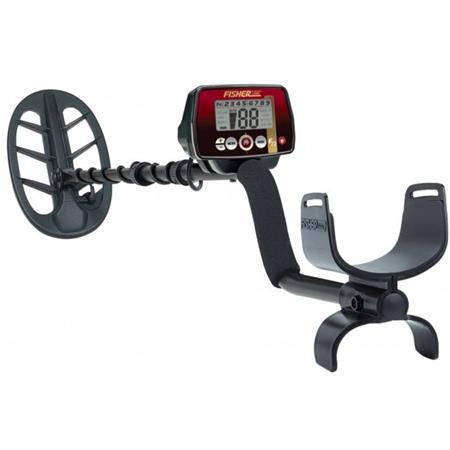 Fisher F22 Complete Review
---
What Makes The F22 a Great Beginner Friendly Metal Detector?
There are a few reasons why the F22 is a great beginner-friendly metal detector. For one it's easy to set up straight out of the box. There are just a few parts to this metal detector. You have 3 shafts that you connect the search coil to. Then you connect the control box to the upper shaft arm. Then connect the arm cuff to the very end of the shaft system. Put in 2 AA alkaline batteries and turn it on.
Then with a little reading from the owner's manual, you will quickly learn what all the features mean. This is not a high-tech machine but it will get you started on the right foot on your metal detecting journey. But the amount of features and quality you get for the price is amazing in itself.
Weather Resistant Not Waterproof
Although the F22 comes with a waterproof search coil you can't take this machine out metal detecting underwater. This will destroy your machine. But it is weather-resistant so at the end of a long day of metal detecting you can hose it off without having to worry that it will short circuit. Just remember not to submerse the F22 in water and you will be fine.
The F22 works great in inclement weather like if you get caught in a thunderstorm you won't have to worry about your machine. It can take it!
The Control Panel
The control panel on the F22 has many features you don't usually see on a metal detector in this price range. It comes with 3 preset modes which are:
You can set it to a particular mode depending on what you are searching for. At the top, you will see 9 segments of visual target id Fe, 2 through 9. With 2 -5 being gold segments and 6-9 being silver segments. Fe has to do with iron object targets.
Then you have a menu button that will bring you through the different menu items. You also will see a big red button in the bottom middle of the control panel with the letters PP. This is the pinpoint mode which when pressed and held down the depth of the target item will appear between 1 and 10 inches. So you know exactly how deep you should be digging for the item.
The mode button will take you through the 3 set modes and there also is a custom mode that you can use to customize your searches. This custom mode comes in handy if you have experience in the field and know exactly what you are looking for.
Other Features
Fixed Frequency of 7.69 kHz
Runs on 2 AA Alkaline Batteries that last between 25-30 hours
1/4′ Headphone Jack
10 Levels of Adjustable Sensitivity
20 Levels of Adjustable Volume
Recommended Uses:
Relic Hunting
Coin Shooting
Jewelry Hunting
Inclement Weather Hunting
Beach Hunting
Compatible Search Coils
There are 3 different search coils that are compatible with the F22. They are:
7″ Round Elliptical
9″ Triangulated Concentric Elliptical
11″ Triangulated Concentric Elliptical
The F22 comes standard with the 9″ triangulated concentric search coil but if you are looking for very small items you could opt for the 7″ round elliptical. And if you want to get deeper readings you can go with the 11″ triangulated concentric elliptical search coil.
9 Segments of Visual Target id
| Segment ID | What Could Register |
| --- | --- |
| Fe/ 1-19 | Iron Objects: Nails or Relics |
| 2/ 20-29 | Aluminum Foil, Pull Tabs, Gum Wrappers |
| 3/ 30-39 | Nickels, newer beverage can tabs, gold rings |
| 4/ 40-49 | Medium to large gold rings, older screw caps, Non US coins, older pull tabs |
| 5/ 50-59 | Non-US, US zinc coins |
| 6/ 60-69 | Small copper and silver coins like dimes and pennies. |
| 7/ 70-79 | Medium-sized silver coins like quarters. |
| 8/ 80-89 | Large silver coins like half dollars. |
| 9/ 90-99 | Very large silver coins like silver dollars. |
Pros & Cons
---
PROS:
Weather Resistant
Search Coil is Waterproof
All-Purpose
Beginner Friendly
Lightweight
CONS:
The machine itself isn't waterproof
Detects to only to 10″ deep
Factory set frequency
>> Get The Fisher F22 Here on Amazon
Fisher F22 vs. Garrett Ace 300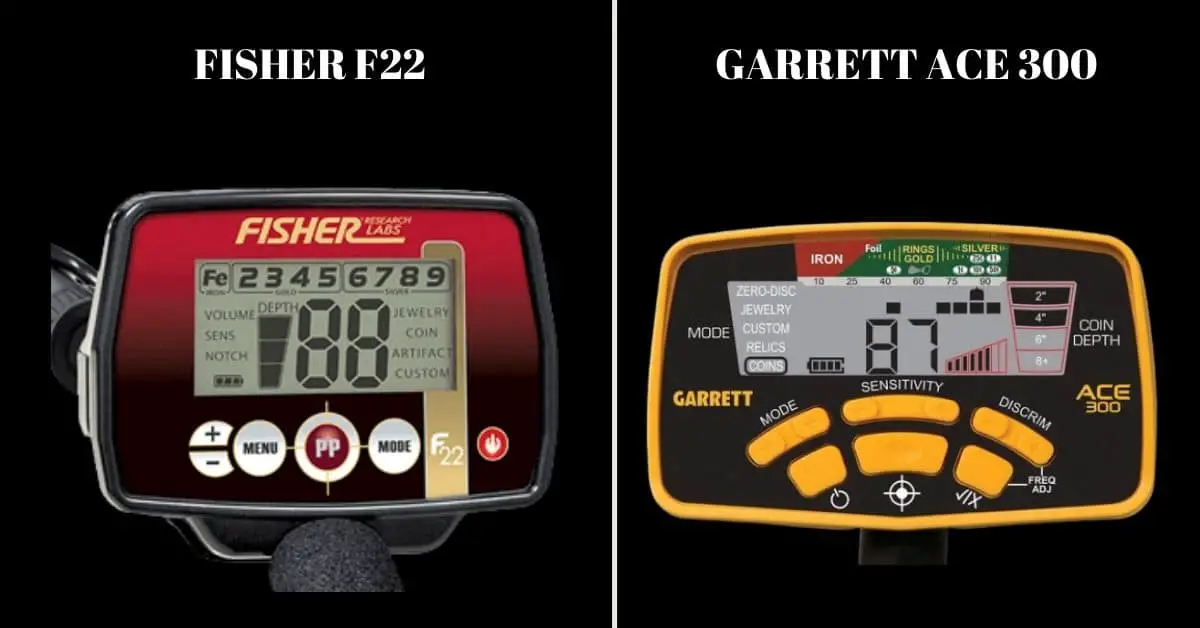 You might be debating on buying the Fisher F22 or the Garrett Ace 300. You will find that both of these metal detectors are excellent beginner-style metal detectors but there are some differences that you should take into account.
Difference #1
The F22 has a fixed length that can't be adjusted. You can adjust the length of the Ace 300 from 40″ to 53″. This can be a huge factor depending on how tall or short you are.
Difference #2
The Fisher F22 has 10 separate sensitivity settings while the Garrett Ace 300 only has 8 settings for sensitivity.
Difference #3
Fisher gives you a 5-year limited warranty and Garrett only gives you a 2-year warranty. Both not bad warranties but Fisher clearly wins the day with its 5-year warranty.
Difference #4
Garrett has an extra mode that Fisher doesn't have which is the relic mode. You can achieve the same type of mode on the F22 but you have to make this mode in the custom mode settings. So the extra relic mode is much more efficient with the Ace 300.
Difference #5
The big difference between the two metal detectors is in the tones that they give off. The Fisher F22 lets you select tones for each metal category but the Garrett Ace 300 does not have this feature. The Ace 300 gives you only a low tone for ferrous metals and a higher-pitched tone for coins and other non-ferrous metals.
Those are the main 5 differences between the two metal detectors there also is a slight price difference the Garrett Ace 300 being a little more pricy than the Fisher F22. So it's up to you which one is the best. Personally, I would go with the Fisher F22 over the Garrett Ace 300 because of the price difference and the ability to choose tones between metal categories.
For a more in-depth look at the Ace 300 check out my Garrett Ace 300 Review.
Common Issues With The F22 and Solutions
---
The following are some common issues that arise with the F22 and solutions that help combat these issues.
Speaker Volume is low or tones can't be heard
If the speaker volume becomes low or you can't hear the tones the detector gives off that means the batteries are either dying or you have the wrong type of batteries in.
Solution: Replace the batteries
No Power or Sound
If there is no power or sound then the batteries are either dead or the cable is not secured to the control box.
Solution: Replace the batteries and check the cable connections
Why does the F22 beep erratically?
The F22 will beep erratically if you are detecting near powerlines, cell phone towers, or there are other metal detectors in the vicinity.
Solution: Move away from any electric powerlines or cell towers. Stay at least 20 feet away from other metal detectors.
Why does the Fisher F22 not lock onto one target id and emits multiple tones?
This happens when multiple targets are present side by side or on top of one another. The sensitivity might be set too high or you are detecting in highly mineralized ground.
Solution: Sweep the coil at different angles, reduce the sensitivity or move to a different area.
FINAL THOUGHTS 
Well, there you have it. You now know all the features of the Fisher F22 and how it works so you can make an informed purchasing decision. The F22 is the perfect entry-level metal detector that has all the basic features one needs to have a successful day out in the field treasure hunting.
With this metal detector, you really can't go wrong with the price and features that it has on it. And if anything goes wrong with it that has to do with materials or craftsmanship you can return it because of its very long 5-year warranty. The warranty on this machine alone shows me that Fisher Labs stand behind their metal detectors!
This metal detector also makes a great gift for that budding detectorist in your life. By purchasing the Fisher F22 you will know that you have bought a quality metal detector that can get the job done in just about any soil condition you put it in.
There are cheaper metal detectors out there but they don't come close to what this metal detector has to offer. So you may ask yourself when deciding on what to buy. Do I want to spend $100 dollars on a metal detector that I might not find anything with or should I up my spending to a little more and go with a metal detector that has a solid reputation behind it and that I can actually find real buried treasure with.
It's up to you but I would opt for the Fisher F22 when starting out over the lesser name brands that cost under $100. You might as well throw your money away!
Thank you for reading. If you have any questions or comments please leave them in the comments section below. And also if you have experience with the Fisher F22 I would like to hear from you in the comments. Until next time Happy Treasure Hunting!