Magnet fishing is becoming a hobby of fishing and metal detecting enthusiasts. There are tons of places to try out magnet fishing, and the number of objects you can find could end up making you rich or put you on the front page of the paper. So how do you get started with magnet fishing?
It is surprisingly easy to get into magnet fishing. The equipment is cheap, and there isn't much needed to get out there and search for some artifacts. A few little things to learn come with time, but it is always best to be prepared. Read on and learn what it takes to get started magnet fishing.
---
How to Get Started Magnet Fishing
There are a few things you should know before you dive into the world of magnet fishing. First, there are laws and regulations for most types of fishing, and magnet fishing doesn't always fit into those areas. So make sure that you study your local game and fishing laws before you go throwing out your magnet just anywhere.
The steps to start magnet fishing are:
Equipment
Safety
Locations
Plunder
Following these steps will ensure a safe and effective time with your magnets. Remember that your safety and the well-being of others are paramount when going out to fish. Be prepared for anything and have all your emergency gear and contacts close at hand. It is always best to let people know where you are going and when you will be back. 
---
Digging Deeper: Legal Metal Detecting: Do You Need a License?
---
Find the Right Equipment is a Brilliant Starting Point for Magnet Fishing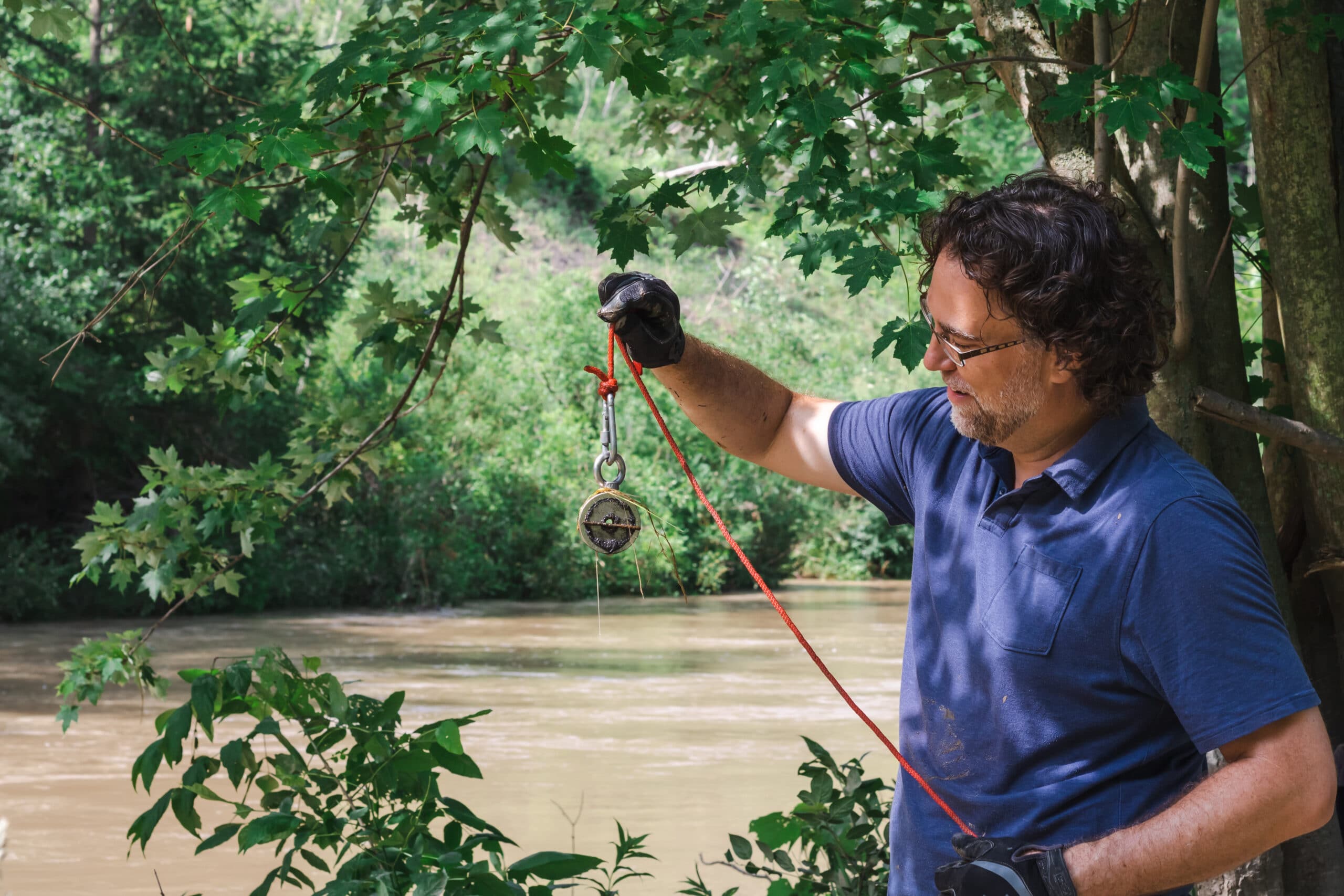 A bad carpenter blames his tools is an old saying that shows no matter what type of equipment you get, the work is in loving the activity. There are only a few pieces of gear you need unless you will be magnet fishing from a boat or kayak. These things are easy to find on the internet, and you could have them in your garage.
Take your time and research the gear. Of course, you don't want to throw money out the window by having a too weak magnet or a line that won't support the weight. But, on the other hand, spending extra minutes on the problem could end up making you a huge windfall or possibly saving your life.
---
The pieces of gear needed to magnet fish are:
Magnet – It should be no surprise that you will need a magnet for magnet fishing. You will need a strong magnet to pick things up off the river or ocean floor. These items could be covered in layers of mud and silt. A strong magnet, around 500lbs of force, is recommended.
Line – The type of line you need should be something strong that can support the same weight as your magnet pulls and something with a bright color. You don't want to lose a $100 magnet on a line that doesn't have the same tensile strength. Buying something colorful also helps if you lose the line or work at night or in a dark area.
Boat – This one is a big one. You don't need a boat to magnet fish. However, if you are going to drop your line and magnet in rushing channels of river water, there might not be any other option. Your best bet is to use a kayak, with or without a prop, to slowly move and give the magnet time to dredge the bottom.
Just because the barrier to magnet fish is low doesn't mean it is less dangerous than angling. Having the proper equipment will yield the best rewards and will protect you. Don't go out into the water without safety gear. There could be accidents with other boaters on the water, and often they happen miles away from help.
---
Digging Deeper: Can You Metal Detect Without a Metal Detector?
---
Safety is the Most Important Part of Magnet Fishing
When it comes to being out in and around the water, you must take extra time for safety. The gear you are bringing will have a few tweaks to work out before you go, and now is the time to get safe and steady. Always plan and do not take a spur-of-the-moment trip without the supplies you need. 
Being safe is always in your best interest. Make sure that you are prepared for all types of weather and insects. If you choose to take the kayak out, please take a life jacket and ensure it is secure before beginning. If you are operating early in the morning or late at night, you should take lighting to keep you and your boat visible. 
A few safety measures to take before magnet fishing are:
Knots – The knots you make on the magnet and yourself will be essential to your safety. You should have a firm knot on the magnet end of the line to support what you drag up. Also, keep a fast and straightforward knot on your waist as you wouldn't want to be dragged under.
Life Jacket – If you are using a boat of any type, you are going to need a life jacket. Choose something that is bright colored and closes easily around your body. While keeping the jacket on at all times might seem a bit useless, it could end up saving your life.
Loc-tite – Another bit of safety work is to add some Loc-tite to the magnet. It should come with an eye hook that screws into the base of the magnet. Take your Loc-tite and coat the screw on the eye hook. This will ensure that your magnet doesn't get lost from loosening while fishing.
Gloves – Even though you can go magnet fishing without gloves doesn't mean that you should. A proper set of gloves is imperative to protecting your hands from friction and possible cutting from the line. In addition, you are dealing with a textured cable that will cut your hands when the weight gets heavy. 
Safety is paramount in any outdoor situation. Campgrounds and boat launches are filled with stories of people who were out for a typical day and encountered a death-defying act of nature or man. Cover all your bases to ensure that everyone gets to go home at the end of the fishing trip.
---
Locations for Magnet Fishing can be Much Different than Regular Angling.
Magnet fishing and regular fishing are not the same. There are some elements that both share in common but nothing that makes them concrete partners. One of the biggest hurdles is where you go magnet fishing. These places will be wildly different from where you would fish for bass and could be highly trafficked.
some of the best places to magnet fish are:
Boat Ramp – Going magnet fishing by the boat ramp is sure to yield some great loot. Get on the bank and throw at the magnet as you walk. Unfortunately, people are losing tools and cell phones at the ramp daily. Dredging these high-traffic areas will be the bread and butter of magnet fishing.
Main Channel – If you want to find some good loot, you should go to where the current is more potent. These places in the main channel of a river or stream drag bits of metal and refuse to relatively close areas. Checking the channel is an excellent way to find larger items but often requires a boat.
Beach – Another great place to magnet fish is the beach. You have tons of foot traffic out into the shallows on the beach. In addition, the waves could drag jewelry and other metals out to sea. This makes magnet fishing a great way to skim the shallows for lost treasure.
Pier – Finding a pier with giant pylons is another good place to magnet fish. The pylons will attract all types of debris, and dropping the magnet down could uncover all kinds of things dropped from above or dragged in with the tide. 
Look for areas free from rocks and trees that are heavily trafficked. Likewise, you want to stay away from areas with lots of trees and undergrowth. If your line gets snagged, you could be out $100 bucks or more when you consider the price of the line and magnet.
---
Knowing What to do with Your Plunder is the Last Step
There's no telling what you will find out in the water. Some magnet fishers have been known to bring in jewels or gold worth thousands of dollars or lots of metal refuse. Knowing what to do when you find something of note is just as important as the gear you need to fish.
Some things to do with your plunder after magnet fishing are:
Jeweler – A magnet fisherman's best friend is the local jeweler. They will often take bits of gold and jewelry that require some work or repairs. Then, they are in the perfect spot to appraise and buy the stuff you find.
Pawnbroker – Another great friend to have is a good pawnbroker. They come across a wide variety of jewelry and other items in their line of work.  They can also make offers on your booty and even do some appraisal work.
The loot is the most exciting part of magnet fishing. There is nothing more exciting than grasping firmly to a piece of metal on the bottom of the lake and dragging it to the surface. If you find something of value, it is nice to know the best places to get some cash for your find. So don't be afraid to shop around until you find the right trader for your magnet fishing plunder.
---
The Best Gear for Magnet Fishing
A great thing about magnet fishing is that there's tons of awesome gear out there to sort through. So you could spend hours outfitting the proper kayak or searching for just the right magnet to make your fishing dreams a reality.
The best gear for magnet fishing is:
Magnet
A good magnet is essential for magnet fishing. MHDMAG has a great double-sided magnet that is perfect for small finds. It has a pull force of 865lbs and comes with a nylon rope. Dual sides are best for magnet fishing because it catches onto more things because of twice the surface area.
---
Boat
A good boat is a wish list item but having one is never a bad idea. Kayaks that are foot-propelled give you a much better chance of running a line and dragging behind. Your hands will be free to concentrate on the line. Kayaks or other boats could lead to unique finds but should probably come later in your gear collection.
---
Line
Having a good line is the other essential piece of the magnet fishing puzzle. You need something threaded, like a paracord, but it also has a way to attach magnets. Being 65 feet long also means that you could get out into some deep channels and find some fantastic trinkets.
---
Gloves
Protecting your hands means you need a good set of gloves. The line will damage your hands, and having a set of gloves that is dual lined and level five cut-resistant is going to be necessary.
---
The best gear for magnet fishing is crucial because it gives you a roadmap of how to assemble your equipment. The main things to concentrate on are the line and the magnet. Once you have them, you can find a good set of gloves to get you through until you find that mountain of hidden gold.
Conclusion – How To Get Started Magnet Fishing
Magnet fishing is attaching a strong, sometimes dual-sided, magnet to a high strength line. Once you have a good connection between magnet and line, you find a spot by the water free of small trees or a large amount of growth. Pick an area that has lots of people and let your magnet fly.
The gear you use is a big part of magnet fishing. You should choose appropriate gear for the trip and keep yourself safe. There aren't many pieces to round up, but you should always take care of your gear or risk losing it. 
If you have any questions or comments please leave them below. Until next time Happy Treasure Hunting!