California was the land of riches and opportunity back in the mid to late 1800s a time we now call the gold rush. According to Britannica.com, over 300,000 people ventured from their homes and farms to strike it tich in California during this time. Along with all those fortune seekers come stories of lost treasure. In this article, we will be discussing 11 lost treasures of California.
So if you're ready let's get the ball rolling! Sit back and relax as I bring you some of the most interesting lost treasure stories of California.
11 Lost Treasures of California
| TREASURE | AMOUNT | LOCATION |
| --- | --- | --- |
| Holden Dicks Gold Ore Cache | 100 lbs. of Gold Ore | In a cave on the southern side of the Warner Mountains |
| Buried Treasure Near Vallecito Stage Station | $65,0000 | Near the old Vallecito Stage Station |
| Joaquin Murrieta's Stolen Caches | $200,000 / $175,000 / $140,000 in Gold Coins | Various areas in California. See article for specific locations. |
| Henry Gordiers Lost Fortune | $1 million in gold and silver coins | Baxter Creek which is north of Honey Lake in California |
| Lost Chinese Cache at Volcanoville, California | Unknown amount of Gold | In the old ghost town of Volcanoville, California |
| Butlers Buried Gold Ore | Unknown amounts of Gold  | Amador County California |
| Rattlesnake Dicks Buried Gold | $40,600 in Gold Bullion | Trinity Mountains near Redding, California. |
| Mr. Bishops Lost Gold Coins | Unknown amount of Privately Minted Gold Coins | In Clear Creek Southwest of Redding, California. |
| Milton Sharps Buried Booty | Unknown amounts of gold and silver coins and jewelry. | Near the old stage roads near Aurora, Nevada, and Bodie California. |
| Ruggles Brothers Lost Loot | Strongbox of Gold | In Middle Creek six miles from Redding, California |
| Indians Play Skip The Rock with $20 Gold Coins | $60,000 in $20 Gold Coins | Bloody Springs a few miles southeast of Pittsville, California near the banks of the Pit River. |
Holden Dick's Gold Ore Cache
Warner Mountains
This story is about a Pitt River Indian named Holden Dick. It is presumed that Holden Dick held up a freight wagon in March of 1881 when it was traveling through Modoc County coming from Nevada to Sacramento California. The wagon was hauling over a hundred pounds of gold ore.
There were 3 men guarding the ore. Holden Dick shot and killed two of the guards. The remaining guard and driver were let go. Holden Dick jumped on board the wagon and drove north to the Warner Mountains where he buried the gold ore on a western slope.
After 5 years had past Holden Dick started showing up in the towns of Susanville and Alturas with small amounts of gold ore that he would trade for goods. He would go back to the South Warner Mountains and always return with more gold ore.
Holden Dick Kills Samuel B. Shaw
With the people of Susanville and Alturas constantly hounding Holden Dick about where he was getting his gold he got fed up and shot and killed Samuel B. Shaw. Holden Dick was arrested and sent to the Susanville jail. But on January 23, 1886, a group of vigilantes took him from jail. While they beat him they tried to get Holden Dick to tell them where he was getting the gold. He refused and the four men in the group hung Holden Dick at the blacksmith shop.
Some believe that Holden Dick probably put the stolen gold ore in a cave that he lived in. The cave which is probably collapsed by now would be located in a canyon that's close to the western slope of the Southern side of the Warner mountains. There are many canyons in the area called Eagle Peak but there might be some gold ore waiting for discovery in one of them.
---
Looking For a Top Rated Metal Detector That Won't Cost You Thousands of Dollars but works like a $2000 machine? Then you will want to check out the Garrett AT Pro. This Metal Detector Has all the top features you would expect in a quality metal detector. Check it out today it's available on Amazon!
---
Buried Treasure Near Vallecito Stage Station
Restored Vallecito Stage Station By Grnstogo, CC BY-SA 3.0, Link
Vallecito Stage Station was built in 1851 on the west side of the Colorado desert. The station was a popular spot for gold prospectors because it was on the only road that went into southern California at the time. With all those gold prospectors traveling to and from the Vallecito station, there are many accounts of robberies and murders there. And with that activity, there is also a story of buried treasure.
A stage was on its way to the station when four men on horseback stopped the stage and held it up. The bandits got away with a strongbox that had $65,000 in it but not before the driver of the stagecoach shot one of the bandits. But on closer inspection by the driver, he noticed that two of the bandits were shot dead not just the one he shot. The leader of the gang must have shot one of his own men so as to keep more of the loot for himself.
Bandits Head to Vallecito Station
The two bandits that survived and buried the loot somewhere close to the Vallecito Stage Station. Once the loot was buried the two men stopped at the station to eat and get some drinks. They got into an argument. The leader excused himself and left. But moments later he charged through the doors of the station on his white stallion and shot his partner but his partner shot back and killed the leader of the gang.
It is said that the ghost of the white horse still roams the areas where the loot was buried. With the four men dead the buried loot has never been recovered and could still be buried somewhere near the old Vallecito Stage Station.
In 1934 the Vallecito stage station was restored close to the original site with some of its original building materials. The restored station can still be visited as it resides in a San Diego County Park.
---
Joaquin Murrieta's Stolen Caches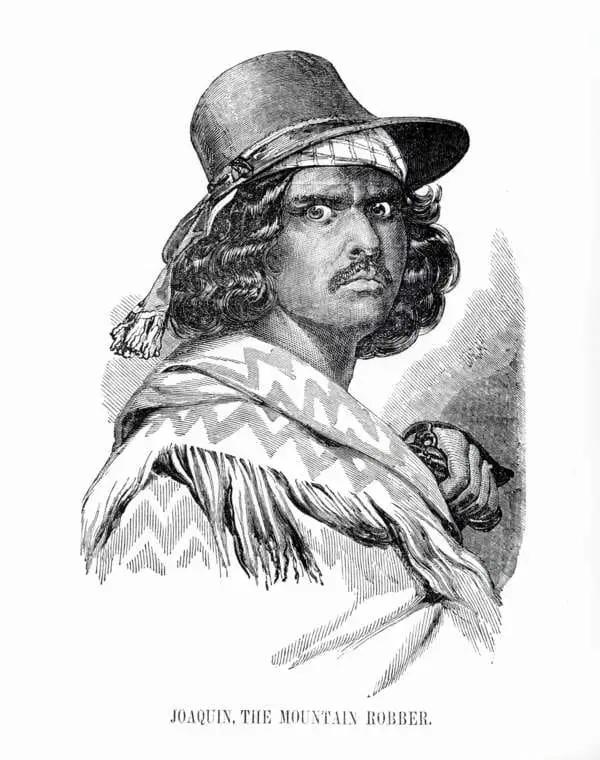 Joaquin Murrieta Carrillo was a Mexican gold prospector who along with his brother Carlos Carrillo was accused of stealing a mule. His brother was eventually hanged for the crime and Murrieta was horsewhipped. Legend has it that Joaquin's wife Rosita was gang-raped and died in his arms. This led him to a life of crime.
Murrieta had a few pseudonyms. Some folks saw him as a Robinhood of sorts for doing good for Mexico and called him the Robinhood of the West or Robinhood of El Dorado. Others saw him as a blood-thirsty Bandit.
The Five Joaquins
Shortly after the hanging of his brother and the rape and murder of his wife Murrieta started a gang that became known as the Five Joaquins. They were accused of most of the robberies and murders in the Mother Load section of the Sierra Nevadas between 1850-1853.
There are a few hidden treasure stories associated with the Five Joaquins. The first story states that $200,000 worth of stolen loot was buried between Susanville and Freedonyer Pass.
$140,000 in Stolen Stagecoach Gold
Another legend states that Murrieta and one of his gang members Manual Garcia or Three-fingered Jack held up a stagecoach near the Feather River and got away with a strongbox of 250 pounds of gold nuggets. It is said that they buried the treasure in a canyon where the Feather River runs through. The canyon is reported only a few miles south of Paradise, California.
$175,000 Cache
Legend has it that $175,000 is buried between Burney, California, and Hatcher Pass close to modern-day Highway 299.
And yet another story states that Murrieta and his gang his some of their gold and other stolen items in a burial cave that's located underneath a rock ledge. Murrieta was eventually killed by the California Rangers and his head was chopped off and set on displayed in a jar of Brandy all over California. It cost a dollar to see the head of Murrieta.
Murrieta's Caches are still waiting to be discovered somewhere in California.
---

BOOK: The Life and Adventures of Joaquin Murieta

AUTHOR: John Rollin Ridge

PAPERBACK & KINDLE: 208 pages

ASIN: B077CSDM51 

PUBLISHER: Penguin Classics (July 10, 2018) 

Available on Amazon.
---
Henry Gordiers Lost Fortune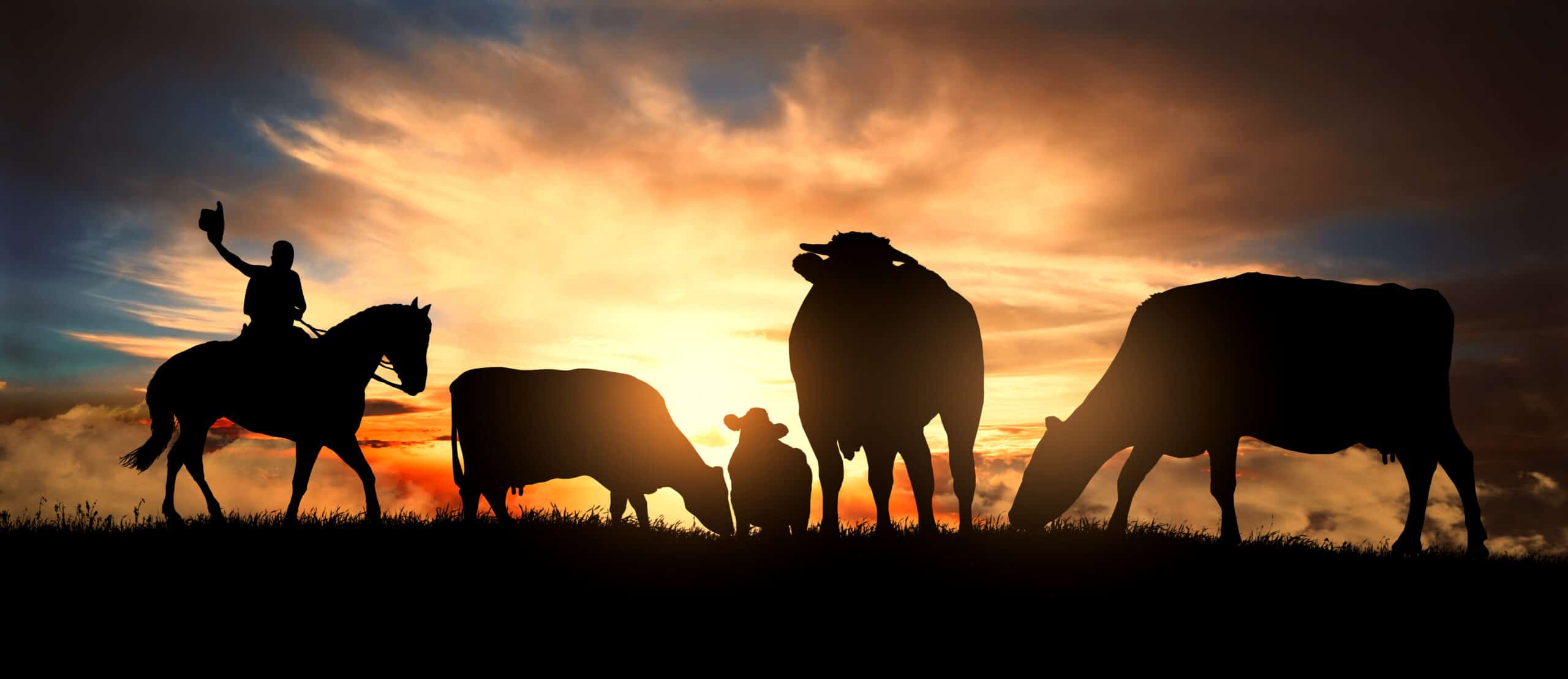 Henry Gordier was a Frenchman who struck it rich during the gold rush in California. In 1857 he had acquired enough money to buy some land on Baxter Creek which is north of Honey Lake in California. Gordier and his friend Isaac Coulthurst decided to set-up a cattle ranch there and bought a herd of cattle from some Mormons that were in the area.
Unsavory Characters Enter The Scene
Nearby on Lassen Creek lived two men by the names of John Mullen and Asa Snow. They both had bad reputations as being murders and cattle rustlers. Another man named William Combs Edwards joined the wicked bunch. Edwards had previously killed Mr. Snelling the Postmaster in Merced County California in 1857.
Edwards had a bounty on his head for $1500 and decided to flee Genoa, Nevada where he met a wealthy man named William B. Thorrington or Lucky Bill as he was called because he was known to be a cheat at gambling.
The two men parted ways and Edwards ended up at John Mullen and Asa Snows cabin on Lake Lassen. Lucky Bill went to visit them in Honey Valley at the Lassen Lake cabin. These four men soon heard about Henry Godier and his herd of cattle. They asked Gordier if he would sell them a portion of the herd but Gordier refused the offer.
Asa Snow Moves Into Gordiers Cabin
Asa Snow moved into Gordiers cabin telling everyone that Gordier sold his ranch to the men and that he headed back to France. People started to get suspicious and someone wrote Gordiers brother telling him that Henry went back to France. His brother didn't believe that Henry would have left for France without seeing him first.
When the locals in the area went to question Edwards and Mullen the men fled the area. The locals then went to investigate the ranch and found ashes from a fire that had metal buttons in it and dried blood on the ground. They found Gordiers body in the Susan River. The body had been put in a sack and sunk with a larger stone.
Asa Snow had not fled and was still living in Gordier's cabin. He was questioned by the locals but wouldn't confess to the murder of Henry. He was immediately put in jail and put on trial for the murder of Henry Gordier. Snow was found guilty and hanged.
Edwards and Lucky Bill were both found in Genoa, Nevada and they were both hanged. John Mullen was never captured or heard from again.
Search For Gordiers Fortune
Soon after the news that Henry Gordier was murdered the locals started to search for Gordiers fortune. They figured it was buried somewhere on his property but they came up empty-handed.
In 1877 Mary L Dunn found several gold nuggets near where Gordier's cabin once stood but that is all she found. Henry Gordier was worth approximately $40,000 when he died which would be around $1 million in today's money. So where is the rest of his fortune? It could either be buried on his ranch or John Mullen might have gotten away with it.
---
Lost Chinese Cache at Volcanoville, California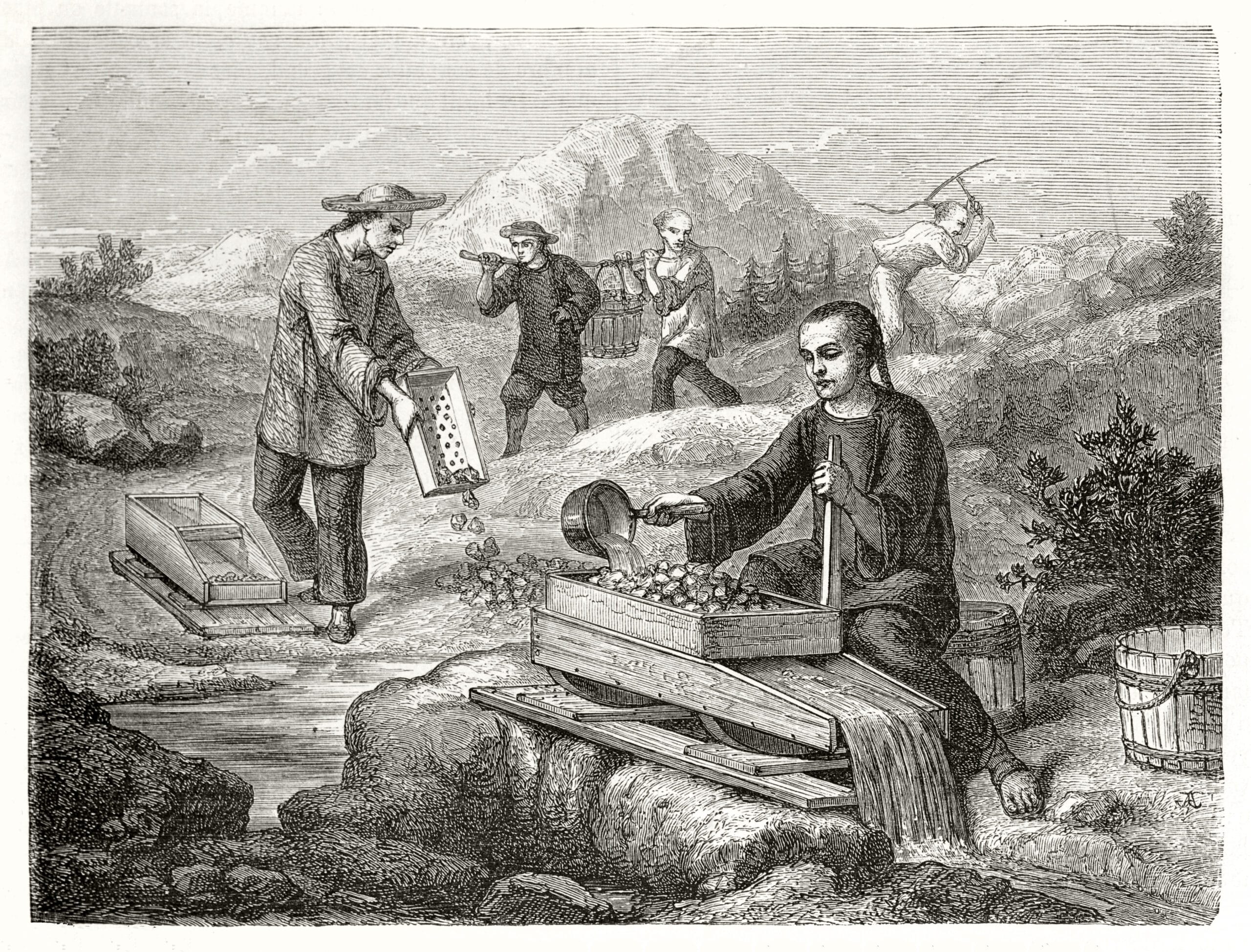 Volcanoville was a mining town in El Dorado County during the Gold Rush. Volcanoville is now a ghost town that was located south of the middle fork of the American River six miles north northeast of the town of Georgetown, California.
In the mid-1870 Volcanoville mining was declining because most of the gold was presumed mined in the area. This made the white miners resent the fact that non-Anglos were still working mines in the area. Many Chinese were murdered by the white miners and along with the Chinese miner's stories of their buried caches started to pop-up.
The Story of the Wealthy Chinese Store Owner
One such story states that a Chinese general store owner who made his wealth during the Gold Rush in Volcanoville sold his store to another Chinaman and headed back to China. But before leaving he buried a cache of gold near his store.
Years later he returned from China to retrieve the buried gold. But when he returned he learned that the town had burned down in 1879 and all the landmarks were gone so he had no way of finding the buried gold. He searched for years but never found his gold cache.
The gold has never been recovered and could still be buried somewhere in the old ghost town of Volcanoville.
---
Butlers Buried Gold Ore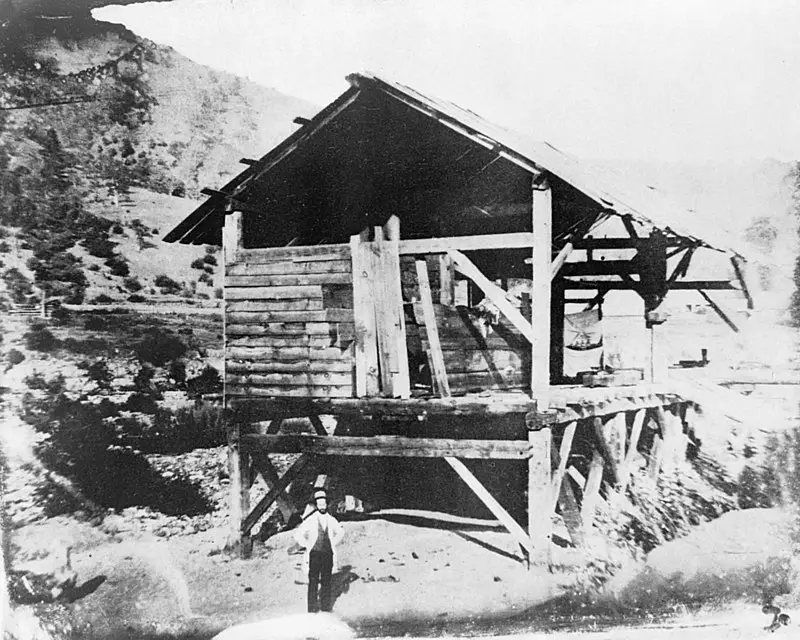 Sutters Mill circa 1850
Near Sutters Mill where gold was first discovered in California on January 24, 1848, by a man named James Marshall another claim that was rich in gold deposits was nearby. This claim was owned by a group of African American miners.
It was located at the foot of a gorge that stuck out of the Sierra Nevada mountains. Soon after starting the mine the miners left because there was no place to hold the gold. Only one miner remained and his name was Butler.
Butler opened another mine a little lower down than the previous mine. He borrowed $600 from a man named Uncle Pompey to get supplies to start his mine. After working the mine for some time it became apparent that the mine was rich.
$50,000 Gold Days
Some days he would pull out $50,000 worth of gold from the mine. People in the area started to hear about his success with the mine. Some of the people eager to get a piece of the mine tracked down Butler's former partners and persuaded them to sell their share of the mine.
Soon lawyers got involved and sued Butler. All of this made Butlers sick and he soon died because of all the controversy. It was told that Butler had $80,000 in a bank at Mokelumne Hill and another $80,000 in a Sacramento Bank. But it is also said that Butler was known to bury some of his gold close to the mine.
So somewhere in Amador County California, there is gold ore still buried waiting for some to come along and dig it up.
---
Rattlesnake Dicks Buried Gold
Trinity Mountains By Gary Dee, CC BY 2.0, Link
Richard Barter, also known as Rattlesnake Dick was an outlaw in the 1850s in California. He was known for robbing mining camps and horse thievery. Barter was eventually convicted of grand larceny for stealing horses and spent a year in San Quentin prison.
When he got out he joined the Tom Bell gang and started stealing horses once again. The Tom Bell gang committed murders and robberies around the mining camps in California. In 1856 Tom Bell died and Barter took over as the head of the gang which consisted of two brothers Cyrus and George Skinner, Bill Carter, Romera Carter, Big Dolph Newton, and an unidentified Mexican.
At the same time in 1856 Barter found out from a drunk mining engineer that extremely large shipments of gold were being sent down Trinity Mountain from Yreka and Klamath River Mines.
Barter quickly rounded up members of his gang including George Skinner to go and intercept the gold shipment. They stopped the mule train and got away with $80,000 in gold bullion. The gang then went to meet Barter and Cyrus Skinner in Folsom. But George Skinner was unable to bring all the stolen gold down the mountain so he decided to bury half of it in the Trinity Mountains.
Posse Interception
While on the way down the mountain with half of the stolen gold George Skinner and the men were intercepted by a posse that Wells Fargo had formed. They killed George Skinner and the rest of the men got away. But the posse did recover the $40,000 in gold bullion that they had on them.
Barter and Cyrus Skinner were in jail for stealing mules and when they got out they learned of the demise of George Skinner and that he had buried half of the gold on Trinity Mountain. They searched for weeks to find the buried gold but were unsuccessful.
The two men went on to commit more crimes and they were in and out of jail numerous times. In July of 1859, a posse finally caught up with Barter and Skinner. There was a shoot out and both men were wounded. The posse found Barter's body the next day and he had shot himself in the head. Cyrus Skinner was caught and put in prison.
The $40,600 in gold bullion which would be worth a lot more in today's economy has never been found and it is still buried somewhere in the Trinity Mountains near Redding. This area is now part of the Shasta-Trinity National Forest.
---
Mr. Bishops Lost Gold Coins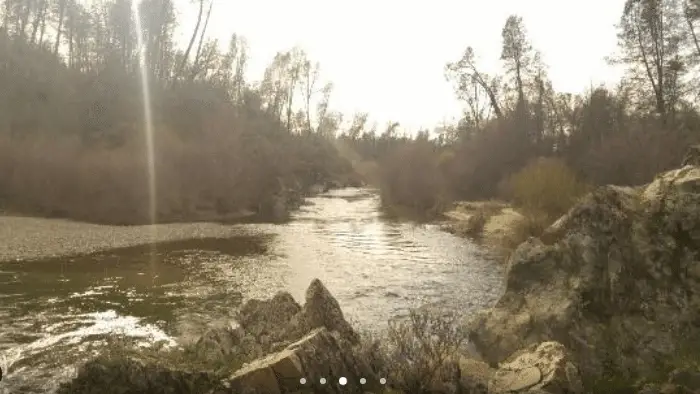 Clear Creek
This story takes place when a wagon train that a group of Mormons was hauling was crossing Clear Creek in the 1850s. They were heading through Redding, California to Horsetown. Clear Creek is normally an easy creek to cross but on that day in the 1850s, it was nothing but easy. Floodwaters were coming down from the mountains causing the creek to be running fast with rapids.
The group waited for the creek waters to settle down but they just kept raging. They were in a hurry so they decided to cross anyway. Most of the wagons made the crossing but one of the wagons owned by a man named Mr. Bishop didn't. The spot in the creek where he tried to pass was deeper than the area the others crossed and the wagon tipped over. Mr. Bishop and the horse team made it out but the wagon was washed downstream.
60 Years Later
Sixty years later in 1910 a gold prospector William Dreestelhorst was sifting through the sands of Clear Creek when he found a ten-dollar gold coin. The coin was stamped with the words California Gold and the initials SMV 1841. This was one of the coins that Mr. Bishop was hauling on his wagon before it got destroyed in the creek.
People searched for more of these gold coins in Clear Creek but no more were found. Legend has it that Mr. Bishop's gold coin cache is still waiting for discovery in Clear Creek which is located southwest of Redding, California. So if you happen to be panning for gold in Clear Creek you just might come across some privately minted gold coins!
---
Milton Sharps Buried Booty
Milton Sharp was an outlaw in the 1870s. It is said that he robbed over 20 stagecoaches during his criminal career. Many of the robberies took place in the Sierra foothills that went down to Sacramento. These Wells Fargo stages would be carrying lots of gold and silver on their trips.
Sharp is said to have been a polite gentleman when he held up the stages. Some said he would give the women back their jewelry if they started to cry. He would introduce himself and say:
A thousand pardons for the inconvenience I have caused you, but you see these are the hazards of my profession. We must relieve you of your valuables.
Sharp would then bow and thank them.
Sharp Teams up with a Ruthless Drunken Outlaw
Milton Sharp ended up teaming up with a rough drunken outlaw named W.C. "Bill" Jones who went by the alias, Frank Dow. The pair robbed six stages in a four-month time period. Their first robbery didn't amount to much but on the others, they got away with $15,000 or more.
The San Francisco newspaper got a hold of their story and many people became interested in the polite outlaw and his rough and tumble sidekick.
As the holdups went on no one got hurt until September 5, 1880, when the men stopped a Wells Fargo Express coach that was traveling from Bodie, California to Carson City, Nevada. Jones shot one of the stage horses but a guard by the name of Mike Tovey shot back killing Jones. Sharp continued robbing the stage and left Jone's body and the stranded stagecoach.
$3,000 Reward Offered For Sharp
Lawmen from all over California and Nevada heard that there was a reward for the capture of Milton Sharp in the amount of $3,000. Needless to say, many posses were formed to go after sharp.
Sharp was apprehended in San Francisco. He was then taken back to Aurora, Nevada to stand trial for the six Wells Fargo stage robberies. Sharp broke out of jail in November of 1880. This time the reward for his capture increased to $5,000. Sharp after being on the run for some time turned himself in at Candelaria, Nevada. He was sent back to Aurora, Nevada, and was sentenced to 20 years in state prison in Carson City, Nevada.
While in prison Sharp tried to escape a few times but was always apprehended. Sharp finally quit trying to escape and became a model prisoner for a time. In 1881 he tried to get a pardon but was unsuccessful. Then in 1889, he escaped once again. This time they didn't catch him for over four years. Until  October 3, 1893, he was caught in Red Bluff, California, and sent back to prison.
Sharp Gets Pardoned
When in prison this time Sharp wrote a letter to Wells Fargo telling them the names and places that he had worked during his time out of prison. Wells Fargo then recommended that he get a full pardon because they believed he was on the straight and narrow. Sharp was pardoned and released from prison on July 10, 1894. By all accounts, he led a life free of crime until his death.
For years treasure seekers searched for Milton Sharps buried loot with no luck until 1910 when two brothers named Gus and Will Hess found some of the loot buried in the foothills of Bodie and Lundy. But most of his stolen booty has never been recovered and could still be buried near the old stage roads near Aurora, Nevada, and Bodie California.
TV SHOW: Lost Gold

DESCRIPTION: Brothers explore mysteries surrounding
                                 treasures in the American Frontier
CHANNEL:  Travel Channel 

GENRE: Documentary 

May be Available on Amazon.
Ruggles Brothers Lost Loot
The lynching of the Ruggles Brothers. By County clerk office, PD-US, Link
John and Charles Ruggle were outlaws in the 1890s. Charles along with outlaw Arizona Pete robbed stagecoaches throughout California and Nevada. Charles enlisted his older brother John to start robbing stagecoaches with him.
The two brothers robbed their first stagecoach together which was the Weaverville stage on May 10, 1892, but they didn't get away with much from that one. Then on May 10, 1892, they stopped another stage on top of a hill just five miles north of Redding, California. They knew the horse would be tired after hauling the stage up the steep hill. It was the perfect opportunity.
The robbery didn't go as well as planned because Charles was shot by one of the guards. John came out of the bushes where he was waiting and shot at the driver Johnny Boyce, passenger George Suhr and the other guard Amos "Buck" Montgomery. All of them were wounded and while Montgomery was lying wounded on the ground John Ruggles went up to him and shot him in the back killing him. The driver Boyce survived and road off with the stage.
John Gets Away
John recovered the strongbox of gold that Charles had previously taken from the stage and left the scene leaving Charles there to die. John did the strongbox close by and fled. Meanwhile, the stage made it to the next town and the driver Boyce told the lawmen of the robbery. A posse was quickly formed and went and picked up the wounded Charles who was still alive. They took him back to the Redding jail and treated his wounds.
John ended up at his aunt's house in Woodland, California. But his aunt heard of the robbery and killing and sent him away and she told the local sheriff. John was arrested on June 9th while he dinned at a Woodland restaurant. The Sherriff brought John to the Redding jail where he reunited with his brother Charles.
John wanted to save him and his brother's life so he told the Sherriff where he hid the strongbox of gold. He said the strongbox was attached to a floating device in Middle Creek.
John and Charles Get Lynched
On July 24, 1892, 40 vigilantes went to the jail and took John and Charles to a tree near the Redding Blacksmith shop and hung the brothers.
The stolen strongbox of gold was never found and it could still be somewhere at the bottom of Middle Creek six miles from Redding, California. If still there it would probably be under more than a century's worth of silt.
---
Indians Play Skip The Rock with $20 Gold Coins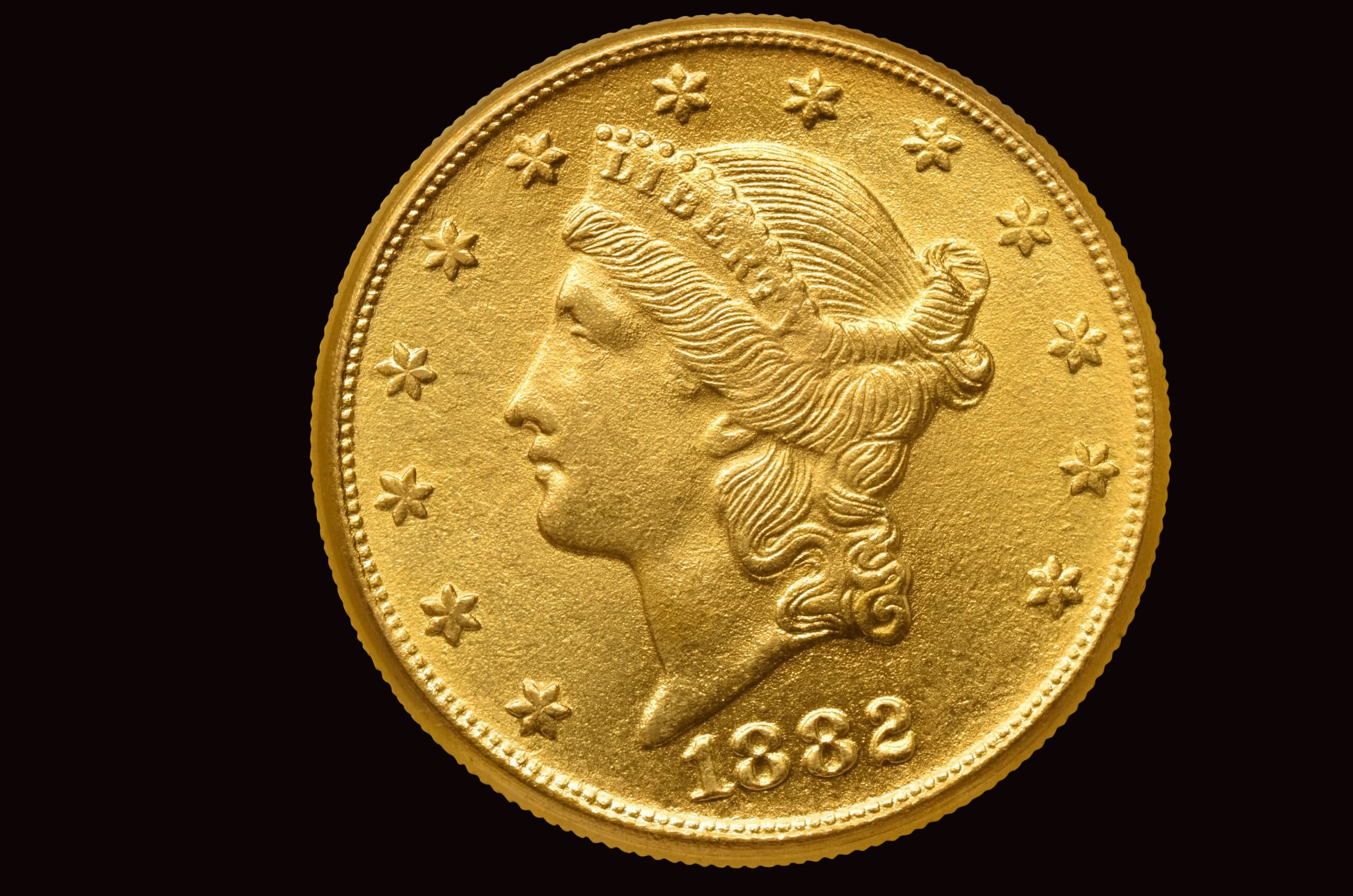 This lost treasure story takes place at Bloody Springs that's located a few miles southeast of Pittsville, California near the banks of the Pit River. There was a California Trail that went south into the Sacramento Valley and then on to the Pit River Route. Bloody Springs was on this route and many gold prospector parties were ambushed and killed here by the Pit River Indians. This is how Bloody Springs got its name.
One day an emigrant train were all killed by Indians here except for one man who got away and made it to Fort Crook where he told his story. He said the wagon train was Carrying $60,000 in $20 gold coins near Bloody Springs.
While he was hiding near the scene he noticed Indians skipping the $20 gold coins across Bloody Springs. The Indians ended up skipping all of the coins into the Pit River Gorge with most of them landing in the river. Some of them actually lodged in the rock walls on the other side.
Some of the gold coins have been found in Bloody Springs but the majority of the $60,000 in $20 gold coins which would be worth a lot more in today's values are still in the rock walls or in Bloody Springs in Lassen County California.
---
Lost Treasures of California Last Thoughts
So there you have it the 11 lost treasures of California. Besides these treasure stories, there are also many lost mines in California as well. If you are looking for some treasure hunting adventures then California would be well worth putting on your list as a place to visit.
With any metal detecting or treasure hunting make sure you get permission before going on any private property and if you are detecting on public lands make sure you have the right permits before digging.
I hope you have enjoyed these treasure stories of California and if you have any questions or comments please leave them in the comments section below. I would love to hear from you and maybe some of your treasure hunting stories. As always Happy Treasure Hunting!